After Barbecue Spot, Here's Chef Jim Noble's Next Spot on Freedom Drive
The scoop on Bossy Beulah's Chicken Shack, and what's next for Noble Smoke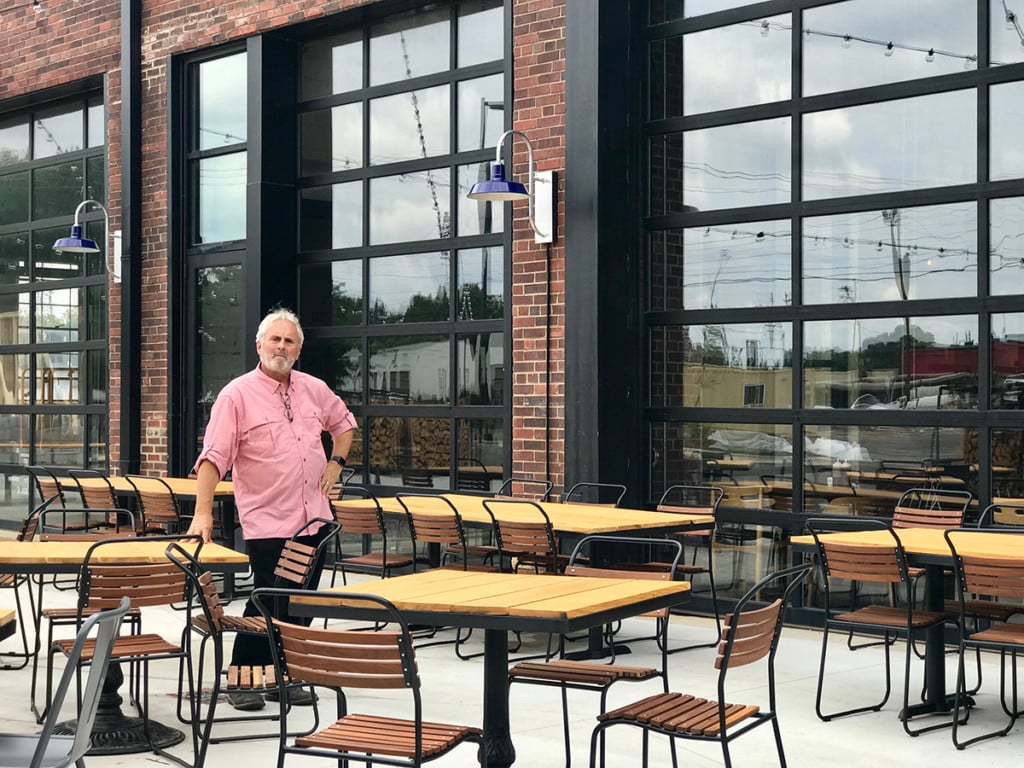 Noble Smoke opened its doors late last month, but owner and veteran restaurateur Jim Noble is just getting started. His three-acre plot on Freedom Drive will soon be home to the Suffolk Punch Blendery and his latest restaurant concept, Bossy Beulah's Chicken Shack. Here's everything you need to know about his "Noble Smoke Campus":
Lunch service is coming to Noble Smoke. Since its grand opening on July 25, the "heartfelt Southern barbecue" restaurant has been packed for dinner, beginning at 4 p.m. Once lunch hours start later this month, customers can pull into a designated "Toot 'n' Tell" pick-up area for to-go meals where carhops will come out and take their order. There's also a yellow door (you can't miss it) that leads to a pick-up counter.
There's more to come. The 10,800-square foot building, which was once a tractor-trailer garage, will soon have a room for aging barrels and a private event space. Out back will be a patio and biergarten, plus the Suffolk Punch Blendery, where you can sip on sours and wild ales from the team behind Suffolk Punch Brewery. Bossy Beulah's is just down a hill, accessible by stairs, so guests can bounce back and forth. "You'll hear the same stream of music between restaurants," Noble says.
The chicken sammie shack opens in early fall. Think of Bossy Beulah's as the kid sister—or sidekick—to Noble Smoke. Noble describes it as "the throwback food" he grew up eating. Expect a simple menu of a fried chicken sandwich, slaw, and fries. You can order your sammie bunless or add American cheese, but your customizable options end there. Each sandwich, made with Joyce Farms chicken, will run around $6. You can pair it with a classic North Carolina beverage like sweet tea or Cheerwine, and Noble hints that Maris Ochoa, pastry chef at Copain, might add a fried pie to the menu. But that's it. This menu's as straightforward as they come.
Beulah was a real person. Noble named the chicken shack after his Great Aunt Beulah, whom the family nicknamed Bossy. "All of my aunts and uncles fried chicken after church on Sundays," he says. At Bossy Beulah's, you'll get the Noble family's buttermilk fried chicken on a toasted potato bun with housemade pickles, because there's no need to reinvent a classic.
It's a sandwich with a story. The chicken shack hasn't been open since 1906 as the sign out front suggests—that's the year Bossy was born. "She was a hoot," Noble says. "She weighed about 90 pounds and smoked cigarettes all say." The 1,200-square foot former gas station will have counter seating, "just like a Waffle House," Noble says. "You can see them cooking everything, and they'll call out your name and order number when it's ready."
This project has been nearly a decade in the making. Bossy Beulah's will be the sixth Charlotte-area restaurant for Noble, who's been in the business for 36 years. (He also owns Rooster's, The King's Kitchen, and Copain Gatherings.) He's had the idea for Noble Smoke since 2009, so he was strategic in choosing the location for the Noble Smoke Campus. "These buildings have great bones…and it's hard to cook with wood in a high rise," he says with a smile. "And I'm serious about barbecue."
The Noble Smoke Campus is located at 2216 Freedom Drive. Look for details about Suffolk Punch Blendery and Bossy Beulah's grand opening in the coming weeks.