After College, After-Parties
Attending the annual CIAA Tournament is a tradition for many alumni of black colleges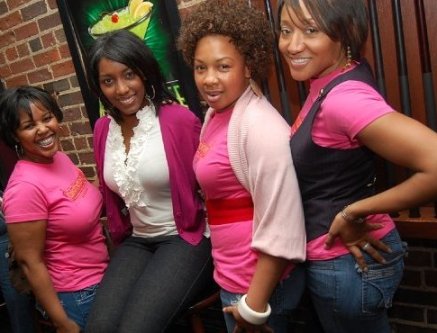 You've heard all about the basketball games, fan events, parties, and celebrities coming to Charlotte for the CIAA Tournament. It's now one of the largest sporting events in the country. But what separates the CIAA Tournament from other major events like the ACC Tournament or even the NBA All-Star Game is the close-knit alumni base from the historically black colleges and universities (HBCUs) that make up the conference.
When these folks visit for that one week each year, it's a homecoming and family reunion rolled into one.
With the thirteen colleges in the CIAA all spread along the East Coast, and the majority of the schools located in North Carolina and Virginia, many of the alumni also live in those states. So Charlotte is a convenient drive or quick flight for a majority of the tens of thousands of people who will be visiting.
"I know at least fifty to seventy-five people who are coming to town, who graduated from Johnson C. Smith," says Nepherterra Estrada, a JCSU alum and principal at Mosaic Communications and Pride Public Relations. "For JCSU, it's like a major homecoming."
JCSU certainly has the home court advantage, but you'll spot just as many alumni from CIAA schools such as Shaw, Fayetteville State, and Virginia State. And it extends beyond that and draws many alumni from larger HBCUs (and non-CIAA schools) like Howard University in Washington D.C. and Florida A&M University in Tallahassee. It's a certain spirit and camaraderie that people who attended black colleges have.
"Everybody's excited—A&T will definitely be in the house," says Rhonda Mayo, a graduate of North Carolina A&T. "We're not a CIAA school—we're in the MEAC, but it's like a second homecoming for us but on a bigger level."
Mayo is co-owner of Talk of the Town, a marketing and event planning company that is holding four events during the tournament week. She remembers going to the CIAA Tournament when it was in Raleigh (Raleigh hosted it from 2000 to 2005 before Charlotte won the bid) and says the Queen City has helped make it an even grander experience.
"When it was in Raleigh, I just remember two promoters who were really putting on events," Mayo says. "I think Charlotte is the perfect place since it's so central and has such a great downtown. I've seen a lot more people taking advantage of what the CIAA brings to the economy. You have a lot of people who don't usually have events who are having parties during CIAA, which can be a good or a bad thing. It's a friendly competition between those of us who've been doing it for a while. We've branded our events and we have them year after year."
There are easily 200 parties that are planned while the CIAA Tournament is here for the week, with just about every venue in uptown rented out, from bars and nightclubs, to restaurants, hotel ballrooms, and even museums. Trying to decide which party to attend can be overwhelming. So the veteran attendees of CIAA Week develop a process. Basically, they put together an itinerary for the week.
Estrada takes it even further. "Last year, one of my girlfriends was like 'Neph, you're a PR person, you should to put together list.'" So that's what she did, but before compiling the list of parties she and her friends would be attending she got their input by holding a conference call. "I used the conference line I use for work and had my friends call in and we discussed what we thought would be the best parties. Every year there are more and more parties so it's hard to decide. I had about eight or ten people call in."
Estrada recently held the conference call again this year and had even more people participate. But she recognizes that the experience is about more than partying.
"I'm trying to get my parents to come down—I feel like CIAA has something to offer everyone," she says. "The parties definitely overshadow a lot of things, but it's a lot more to experience. There are networking opportunities, especially for a business owner like me. And there's the education stuff, and money that goes to scholarships. The CIAA offers entertainment on many different levels. I can't think of any other event that does that. And because it's centered on HBCUs, it draws college-educated people."
Visit www.charlottemagazine.com/ciaa for our comprehensive coverage of the events and parties surrounding the 2011 CIAA Tournament.