After the Crash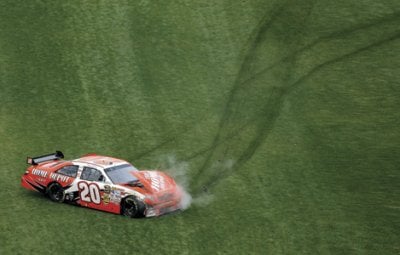 You could park for 30 bucks in a lot in front of a Waffle House a mile and a quarter away. You could park for 40 bucks in a closer-in lot in front of the hull of what used to be a Linens 'n Things or in a lot in front of the Circuit City with the sign that said GOING OUT OF BUSINESS.
You could park for 70 bucks in an even closer lot in front of a newish stucco strip center with a Vitamin Shoppe and a GameStop and a Christian bookstore where books were selling for 80 percent off.
WELCOME RACE FANS. That's what all the signs said, at the Chick-fil-A, at the Checkers, at the 7-Eleven and the Cracker Barrel.
DISCOUNT TICKETS.
CREDIT CARDS ACCEPTED.
There were cops on motorcycles. There were cops in Dodge Chargers. Red and blue lights flashed, and rumbling, jacked-up trucks with fat tail pipes and all kinds of well-kept chrome sat in the traffic up and down International Speedway Boulevard.
Apartments down from Prosperity Bank begged for tenants. FREE RENT!
Daytona Beach. Race day.
The weather report was for rain.
I came here in February to see what there was to see and to hear what there was to hear and to feel what it felt like at the first Great American Race in the new post-American world.
It's been a tough last nine months or so, and the sports business is struggling, and it will get worse before it gets better here at the dawn of this country's financial meltdown reality. Around sports, the NFL and the NBA have laid off staff, ad rates have gone down, and season-ticket renewals have lagged. Major League Baseball attendance went down in 2008 after setting a record in 2007. The LPGA reduced its schedule. A WNBA team went away. And the Arena Football League? Called off the whole 2009 season.
But no sport, not even baseball, not even the NFL, is more straight-up American than NASCAR, what with its speed, its loudness, its prerace prayers, its red, white, and blue flag-waving pomp. NASCAR, Charlotte's "home" sport, really, works best in an America of low gas prices and high optimism and relative American hegemony. Its longtime intimacy with Detroit and the auto industry, those cultural ties, that financial backing; its visibly outsize reliance on corporate money; its large but mostly middle-class fan base, which travels long distances to races: these are all very American things, and they make the sport more susceptible than any other major sport to struggle right along with the country that birthed it, grew it, supports it.
"In it," Jeff MacGregor wrote in his 2005 book, Sunday Money, "beats the heart of our national experience as citizen consumers …"
The layoffs around the garages and the tracks that make up NASCAR started in the middle of last season, got worse late in the season, and even worse than that during the winter. Some say the tally is 700, some say it's 1,000, some say it's more than that. Roush Fenway, Hendrick Motorsports, Petty Enterprises, Bill Davis Racing, Wood Brothers Racing, DEI, Chip Ganassi, Gibbs — it was a lot. Teams merged so they could survive.
And this race, in February, the famed Daytona 500, was the first event of the first season in any sport that started after a fall and a winter in which this country slid into its deepest economic downturn since the Great Depression.
On the sidewalk on International Speedway Boulevard, race-day morning, a man with a clump of tickets in his hand held them high and walked after a man with big white calves.
"How 'bout this?" he said.
Big Calves kept walking.
"How 'bout buy one get one free?"
Big Calves didn't even turn around.
We used to make stuff.
And the genesis of the sport of stock-car racing essentially was the marriage of two things we used to make a ton of.
Moonshine and motorcars.
NASCAR's first national television audience, for the 1979 Daytona 500, saw this post-race brawl between Donnie Allison, Cale Yarbrough, and Donnie's brother Bobby. The race-and the fight-made the front page of The New York Times sports section.
First, the cars: in 1950, a year after NASCAR's first official race in Charlotte, Detroit was America's fifth-largest city, population 1.85 million. Detroit at its peak wasn't just a city. It meant invention. It meant innovation. It meant industry. It practically invented the idea of the middle class, and then for a long while made good on that idea. Post-World War II prosperity in this country could be found in lots of places for sure, but it started, it could be argued, in Detroit, which built the cars for the people in a country that all of a sudden had money to spend and time to enjoy and interstates to drive on and suburban tract homes to get to after work. Mobility. Opportunity.
The American muscle cars of the 1960s and into the 1970s, too, weren't just cars. Those Camaros, those Trans Ams, those GTOs, they said: look at us. Look at what we're doing. Look at what we are.
NASCAR the organization started in 1947.
NASCAR the races started in 1949.
That's no coincidence.
"Symbols of a new, spendthrift age," Tom Wolfe wrote in his seminal 1965 Esquire piece on stock-car racing in the South, "The Last Great American Hero Is Junior Johnson. Yes!"
"Here was a sport," he wrote, "not using any abstract devices, any bat and ball, but the same automobile that was changing a man's own life, his own symbol of liberation, and it didn't require size, strength and all that, all it required was a taste for speed, and the guts."
As recently as 1985, the Big Three, General Motors, Ford, and Chrysler, made four out of every five cars sold in this country. Now, they sell roughly half that, the population of Detroit is down to 900,000, Michigan's unemployment rate is America's highest, and the heads of GM and Chrysler are in and out of Washington groveling for gargantuan amounts of cash that might not even fix the fix they're in.
Car sales in this country in February — the month of the race at Daytona — were the lowest they'd been in a generation. GM: down 53 percent from last February. Ford: down 48 percent. Chrysler: down 44 percent. Even Toyota: down 40 percent. All NASCAR manufacturers.
"What wins on Sunday," the old NASCAR saying goes, "sells on Monday."
There's no saying for a scenario in which nothing sells on Monday.
Chrysler cut its NASCAR budget by a reported 30 percent this year, and the other manufacturers made meaty cuts, too. GM, the nation's fourth-largest advertiser, which in 2007 spent close to $600 million on TV sports advertising, bought not even one single ad this year for the Super Bowl. GM's annual investment in NASCAR is thought to be somewhere between $120 million and $140 million, but it cut sponsorships with some tracks already last summer, and that's probably only the beginning. Ford ended its financial support of teams in some of NASCAR's developmental leagues. Chevy did the same thing.
Two years ago, NASCAR, which started half a century back as a racing circuit open to "American-made passenger car production sedans," let Toyota into its top-ranked series. And why not? Toyota at this point sells more Camrys in this country than Ford sells Tauruses. Race fans cried foul when Toyota was let in. A Japanese car! The irony, of course, is that the Camry is the only car in NASCAR's traveling circus that is actually made in this country. The Chevy Monte Carlo and the Dodge Charger? Canada. The Ford Fusion? Mexico.
Since 1950, basically the history of stock-car racing as an organized sport, this country's manufacturing sector has shrunk from 32 percent of nonfarm employment to just 10 percent.
Meanwhile, in Detroit, 45,000 or so properties are in some form of foreclosure, the average home price is less than $20,000, one in five people are unemployed, and one in fifty are homeless. Earlier this year there, a homeless man fell down an elevator shaft in an abandoned warehouse and died. Ice eventually covered most of his body. His feet stuck out, hard, above the surface. People saw him but did nothing. He stayed that way for weeks. It took two dozen police officers and firefighters with chainsaws to free the corpse from the ice.
On race day, on International Speedway Boulevard, the Jesus people were out.
"It's coming, folks!"
The young man with the backpack had a microphone and a portable speaker set up under the raised walkway leading to the track.
"All liars will end up in a lake of fire! All thieves will end up in hell!"
Behind him was a green metal trash can that told us in white letters to KEEP DAYTONA BEACH BEAUTIFUL.
"Our payday is coming! The payment for our sins! The payment is coming and the payment is in full!"
An older woman walked by. She had sandals on her feet and tickets in her hands.
"Half price?" she asked.
Over at the Hooters, out in the parking lot, Jack Daniels mixed drinks were selling for seven bucks and Bud bottles for four. The girls in their orange underpants and their pantyhose and their white puffy socks cooed at people walking by.
"Hey sweeeeeetie …"
A man carried a red case of Bud on his shoulder like a boombox circa 1987. The line on the ramp into the Hooters was slow moving, pretty much not moving, with people wanting to drink inside the Hooters instead of in the parking lot outside the Hooters. Two sleepy-eyed twentysomethings with wraparound shades on the tops of their heads sat on the curb and sucked burgers out of crunched-up tin-foil wrappers. A big man in a scooter called "Jazzy" had a Jack Daniels cup in his left hand and a blue metal Bud Light bottle in his right. It was 11:15 a.m.
A man sat in the grass wearing black boots and blue jeans and a flannel shirt and held a cardboard sign with a black-Magic Marker message:
IN A BAD WAY
HELPING HAND
OR 1 FREE DAYTONA TICKET
I went to the bathroom at the Barnes & Noble. In the front of the store the NASCAR table was next to the New Nonfiction table. NASCAR: The Complete History was next to The Foreclosure of America.
NASCAR grew the way America grew.
It came off the farms and out of the rural poor hills and ultimately made its way to the suburbs and the exurbs and the boom burbs of the Sunbelt and beyond.
NASCAR's forefathers came roaring out of the hollers of northwest North Carolina, all money-desperate and V-8-get-up-and-go, with five-gallon jugs of illicit white-lightning whiskey in their cars and revenuers on their tails. The farms and the factories paid only so much.
NASCAR was created on Dec. 14, 1947, by thirty-five men in the smoke-filled Ebony Bar at the top of the Streamline Hotel here in Daytona. The first official race was about a year and a half later, in June 1949, on a three-quarter-mile dirt track in Charlotte. It happened in front of 13,000 fans. But it didn't take long for NASCAR's first president to grow this thing.
"Big Bill France," Joe Menzer wrote in his history of NASCAR, The Wildest Ride, "knew that he was onto something by 1953. … One of his first thoughts was to build bigger tracks. Not just bigger in terms of seating capacity, but bigger in every conceivable aspect. Higher banks. Longer straightaways.
"Bigger, bigger, bigger."
The Daytona track opened in '59—a two-and-a-half-mile oval, banked thirty-one degrees, fast fast fast—and the big super speedways outside Charlotte and Atlanta were built in '60, and Talladega came along in '69. NASCAR raced its last race on dirt in '70, which also, not coincidentally, was the year the first car blew past 200 miles per hour.
Bigger, faster, more.
In '71, the R.J. Reynolds tobacco people had some money to spend, because the new rule was they couldn't spend it on TV advertising, so they spent it on NASCAR. NASCAR's top series became the Winston Cup in '72.
In '79, the Daytona 500 was broadcast nationally, by CBS, flag to flag, for the first time. The people watching up in the snowy North saw brothers Donnie and Bobby Allison and Cale Yarbrough after the race was over get out of their cars and fight each other with their helmets, their fists, and their feet. NASCAR the next day made the front page of The New York Times sports section.
But here's the thing: NASCAR grew steadily for roughly the first forty years of its life. Then it grew astronomically the last ten.
In '85, NASCAR got $3 million for the TV rights to its races; by '01, its TV contracts totaled $2.4 billion.
In '92, Alan Kulwicki won the championship with a team of nineteen people, including the secretary; today, Hendrick Motorsports, one of the premier outfits in NASCAR, has more than 500 employees.
In '01, Dale Earnhardt was killed when he crashed into the wall at Daytona, Turn 4, and ratings around the country shot up. Three years later, Nextel bought the naming rights for NASCAR's top series, replacing Winston, a ten-year deal that was worth a reported three-quarters of a billion dollars. Cell phones are much cleaner than cancer sticks. Much more twenty-first century.
"We're kind of on a roll," NASCAR CEO Brian France told Sports Illustrated then.
Let's pause here to think about something: before NASCAR went out to a wider America, America also was coming to NASCAR. If NASCAR started on the backs of the American auto industry, it grew over the last ten years, and really grew, less because of industry and cars and more because of this country's much more modern generator of wealth, or at least perceived wealth. Real estate. Houses. New houses.
Big houses with big lawns. And where were most of those houses being built? In the South. The South is no longer the stigmatized region it was for — let's be honest — most of the twentieth century. Read Wolfe's Esquire piece, the one from back in '65, when he came down from New York and spent time in places like Ingle Hollow, by North Wilkesboro, and it reads like some kind of anthropological artifact, fetishizing yee-haws and rebel yells. It's not like that anymore. Who lives in North Carolina? You do. Everybody does. People from Boston.
People from Buffalo. People came down from the North and from the Upper Midwest and moved to the Carolinas and to Florida and then across the bottom of the bin of the country to Texas exurbs and out-of-nowhere boom towns in the deserts around Phoenix and Vegas.
Home prices went up every year from World War II to 2006—but they went way up starting in '95, an 85 percent hike in that eleven-year span. Alan Greenspan in an op-ed in the Financial Times last year called the real estate bubble of the last decade or so "euphoria" and "speculative fever."
We lost our minds.
"Our mortgage system," Senator Christopher Dodd said in March 2007, "appears to have been on steroids in recent years, giving everyone a false sense of invincibility."
So: while we were buying Hummers and homes with no money down and subprime loans, NASCAR drivers were buying helicopters and private jets, and NASCAR the organization was building tracks near Chicago and Kansas City and in Northern California.
By last fall, less than a month after the financial markets tanked and right around the time NASCAR's teams started shedding employees, Moody's Economy.com said that 302 of the country's 381 metro areas already were in a "deep recession."
All of which is to say: NASCAR, again, more than any other major American sport, has always reflected and tied itself to the moods of the country, and in the last decade it peaked when the country peaked, for similar reasons in similar places, and now we see that it was unsustainable.
The three states hit hardest by the foreclosure crisis?
Florida.
California.
Nevada.
The first three races on NASCAR's calendar this year?
Florida.
California.
Nevada.
Here is America:
I walked into Daytona International Speedway and toward the infield at the Turn 4 tunnel. Earlier, I had walked past the kiosks and through the tents selling the NASCAR shot glasses, the NASCAR beer glasses, the NASCAR juice glasses, drink it up, and now I walked under a big banner ad for Coke Zero.
Real taste.
Zero calories.
I walked past pudgy-fingered kids and red-bellied men and women who left lipstick rings on the butts of their cigarettes and had to keep pausing to pick their shorts out from between their thighs.
I watched all sorts of shuttles and buses and trams and golf cars and E-Z-GO "club cars" with ridiculous, shiny Escalade-esque rims and all kinds of otherwise four-wheeled transportation devices that allowed people to pretty much never use their own legs and feet if they didn't want to.
I saw flags on RVs. Lots of flags on lots of RVs. American flags. NASCAR flags. Marines flags. Navy flags. POW MIA flags. SPEED Network flags.
It smelled like hot meat and suntan lotion.
It sounded like generator whirs.
The Daytona Beach News-Journal honor box outside the cinder-block men's room in the infield had a bold-lettered headline that showed through the window of the box and it said RACING STIMULUS and it read more like a plea than a declaration.
Other sports, baseball, basketball, football, they're more prone to fleecing the locals so they can build new stadiums and new arenas so they can sell beer and nachos and T-shirts and ball caps so they can fleece the locals some more. Then they get all nostalgic and talk about the sanctity of the game.
NASCAR folks are more clear eyed.
Everything's for sale.
Trinkets and knickknacks. Doors and hoods. Every surface of every outfit that looks like fire-proof pajamas. Every race. Every circuit.
Every track.
If it can be seen it is for sale.
A NASCAR race makes a baseball game look like one long list of missed opportunities to put a decal somewhere, anywhere, to add to the dollar count. Why don't baseball teams wear the names of sponsors on their uniforms? Who the heck knows?
It's not only the drivers. The driver-loyal fans are also brand-loyal fans, and they are walking billboards. FedEx jackets, black, orange and purple, and equally garish T-shirts, Home Depot hard hats. Unpaid proselytizers. It's kind of brilliant.
"This is only a sport between 1 and 5 on Sunday afternoon," Kyle Petty told some of us with pens and pads inside the press center on Saturday, the day before race day. "The rest of the time it's a business. So it's all about the economy. Everything is about the economy."
Back outside in the garages, not far from the pits and not long before the start of Sunday's race, the guys with the tools were getting the cars ready. The Home Depot car. The Jim Beam car. The FedEx car. The U.S. Army car. The Best Buy car. The Aflac car. The All Sport car. The Golden Corral car. The Lowe's car. The Ask.com car. Then the drivers were introduced, and many of them came out onto the stage, in front of the people cheering from the grandstands, carrying sweating, unopened bottles of Coke, Pepsi, whatever beverage company bought a sticker on their cars. It happens at every race. It's so … right there. Hollywood product placement packaged within American sport. It's so crassly commercial it's almost noble in its honesty.
All of this has made NASCAR and many of its people rich, rich, rich—and also, at this point, maybe particularly susceptible to this new economic reality. Roughly one hundred Fortune 500 companies have sponsored NASCAR cars. NASCAR teams rely on corporate sponsorships for as much as 80 percent of a typical annual budget. That's way more than in other sports.
Three of the top six advertisers with NASCAR last year, according to Nielsen Media Research, were automakers—Ford at number two, Toyota at number four, GM at number five. We know how they're doing these days. Number one on the list? Sprint. In the last three quarters of last year, Sprint lost $1.8 billion, and it recently announced 8,000 layoffs. Other big advertisers? The Home Depot. Recently announced 7,000 layoffs. Also Anheuser-Busch. That's not even an American-owned company—Belgium-based InBev now owns it—so who knows what kinds of changes are going to come along with that ownership shift. They stopped giving away free beer at Busch Gardens in Tampa and the people down there talked about it as if it were the end of a way of life. And maybe it was.
The DirecTV blimp hovered overhead.
There was a stage by the track before the race. Keith Urban was singing. I was behind the stage with a bunch of other folks who seemed to be stuck back there. I could hear the mayor of Daytona Beach talking. His voice was coming over the track's loudspeakers. He was talking about our troops and how they keep us safe and let us enjoy "our way of life."
Our way of life.
The mayor started introducing people. The Budweiser product manager. The senior manager of Gatorade sports marketing. The DirecTV director of advertising.
Then, behind the stage, through a door at the back of it, out popped Tom Cruise.
The mayor's voice was still loud over the loudspeaker.
The Sprint CEO. The Coca-Cola North American director of something or other having to do with strategic initiatives of something or other.
Tom Cruise was wearing aviator sunglasses. He smiled. He looked thin. He smiled some more. His face didn't change.
I was all of a sudden surrounded by a scrum of middle-aged women.
"Give me your camera—"
Pushing.
"I cannot believe—"
Shoving.
"I don't have my camera—"
We just stood there. We stood there and we watched Tom Cruise stand there. The people in our clump took pictures of the people in another clump taking pictures of Tom Cruise, who was still smiling, smiling—now waving!
Camera clicks. Cell phone snaps.
We were herded between two yellow ropes. We had to wait for a pair of behemoth trucks to pull Keith Urban's makeshift stage off pit road.
"Is this the way out?" somebody asked.
I heard somebody moo.
The pastor from the First Baptist Church of Orlando came over the loudspeakers and asked the people to pray with him. The people did.
"We thank you for NASCAR," he began, "who begins every event with prayer. They still believe in prayer.
"We thank you for Jesus Christ, You are the life, the way, the truth.
"And we thank you for the sunshine," he said, on a day that was gray with rain on the way.
"Is this the way out?" somebody asked again.
The guys down in the pits in the UPS fireproof pajamas gave each other high fives just before the start of the race. The guys in the Little Debbie Snacks fireproof pajamas gave each other knucks. Metal tools clinked around in drawers and down on the asphalt. Air was let in and out of tires. Ssssssss. Huge Sunoco 99-Octane gas cans were wheeled into position. Up and down the pits, guys tested their power wrenches, a frantic chorus of wheee, wheee, wheee.
"Gentlemen," the governor of Florida said, "start your engines!"
If you stand close enough to a Major League fastball you can hear, actually hear, the red seams cut through the air until the ball explodes into the catcher's mitt. Hssssssss … POP! Sit close enough to an NBA game, sit down on the floor, and you can hear not only the squeak of the sneakers but also the slap of sweaty skin on sweaty skin. You're reminded of how brutal beauty can be. All that said, though, there is no sound in sports, none, like the start of a NASCAR race.
They start their engines, all at once, and that's kind of cool, and then they go around a few times behind the pace car, loosening up their engines, warming up their tires, already going very fast, and that's kind of cool, too, but then the pace car darts down into the pits, and the forty-three drivers put their pedals to the floor, and …
It is awesome. Not in the colloquial sense. In the more traditional sense. The sound. The speed. It is worthy of absolute awe. People's caps get blown off when the cars go by. There are a number of reasons people watch this sport, not the least of which is the constant specter of catastrophe and the possibility of sudden death for the drivers, but NASCAR works, I think, because of that moment right there. That is the moment that cars and country crash together. What NASCAR does, I think, more than any other sport, I'd even say far more, is that it evokes a feeling.
One word.
Power.
Down in the pits, though, there's so much going on that it's easy to get distracted. The colors of the cars are so bright and they're flying by so fast that it's hard to keep perspective.
It's hard to see the wider race.
So I left the pits and went back toward the infield and climbed the stairs to the elevated Sprint FANDECK.
The stands from there looked full. Many of those tickets, of course, were sold late, and for nowhere near full price. But they were sold. This is the first race of the year. This is the so-called Super Bowl of NASCAR. So it makes some sense. But the race at Talladega last fall had empty seats for the first time in years. The race at Atlanta drew 80,000 fans. That was the good news. The bad news? That was down 20,000 fans from the year before. The race in Texas was down 20,000, too. Ad rates on TV are down. Some of the RV parks around Daytona weren't full for the first time in a long time.
"There's no comparison to this," John Dodson of the NASCAR Technical Institute in Mooresville told the Charlotte Sports Business Journal last fall. "From the mid-1970s until now, there has been nothing but growth. I've never seen anything like this."
Richmond International Raceway took $55 tickets and made them $40 tickets. Michigan International Speedway did the same thing. Auto Club Speedway in Southern California went down to $35. Texas Motor Speedway went down to $20. Atlanta Motor Speedway went down to $19. New Hampshire Motor Speedway started offering a payment plan for tickets, 25 percent down, then three interest-free payments after that. You can buy tickets to the May races in Charlotte in a payment plan for as low as $8 a month.
Driver Greg Biffle sold his helicopter. He and his Roush Fenway teammates have discussed private-jet pooling. Jeff Gordon took a $69 commercial flight from New York to Charlotte.
NASCAR has put on hold plans to expand to cities like Seattle, Denver, and New York.
Last November, NASCAR CEO Brian France told reporters the sport wouldn't "live or die" because of the fate of GM, Ford, and Chrysler. A few days later, he backtracked. "We have every intention of them being a big part of the sport in the future," he said. "We're going to do everything we can to help them get through a very difficult business cycle."
Which may or may not be enough.
"We've all overspent," said Richard Petty, the seven-time NASCAR champ, the man who around the track goes by "the King."
"We all had it so good," he said in that November AP article, "that we just kept going forward without saying, 'What if this goes bad?' "
The question for NASCAR at this point can't be so different from the question for Wall Street, and Washington, and Detroit, and all of the Sunbelt's one-time boom burbs that are filled with empty, abandoned hazards of forlorn, foreclosed homes, and the Charlotte area, too, with all the race-related business and industry from downtown to Concord to Mooresville.
The question:
What now?
Rain.
It came, finally, with the race only two-thirds done, and the cars were called off the track.
The collective downshift of NASCAR cars: When they're racing out there on the track, at their top speeds, and all together, the sound is a mechanical one, a sonic scream, clearly made by machines. At the sign of a caution flag, though, or like now with a rain delay, the sound becomes slower, lower, more guttural, propellers instead of jet engines, more … animal, more flesh and blood. More human.
So the cars came into the pits. The drivers got out of the cars. The workers put tarps on their tops.
Quiet.
The race was called after not long.
Eventually the storm let up.
But first it got worse.
Michael Kruse is the author of Taking the Shot: The Davidson Basketball Moment (Butler Books). He's also a staff writer at the St. Petersburg Times and has written for Charlotte and ESPN The Magazine.