After the Party, It's The Men's Club for Late-Night Breakfast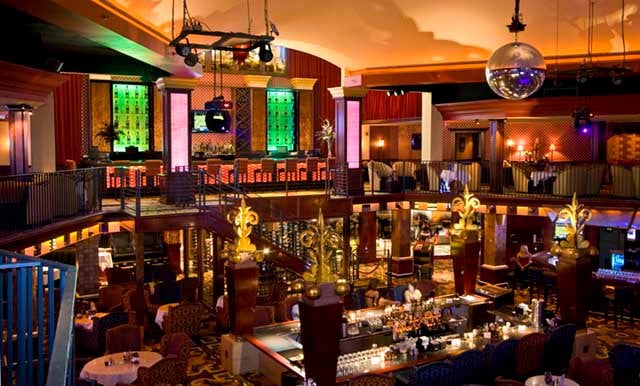 Last night, I watched this week's rerun of ABC's Happy Endings—my favorite new show—on DVR. There's a scene where Brad uses the goodwill he's earned with his wife Jane to tell her he's been invited to lunch at a strip club and the only reason he wants to go is because he heard it has amazing steaks. While you might look at that excuse as the equivalent of a man saying he buys Playboy for the great articles, some strip clubs do in fact employ top culinary staffs. That's the case with The Men's Club of Charlotte. The high-end strip club, that's tucked away behind businesses on Tyvola Road, has arguably the best late-night breakfast buffet in the city.
Here's how it works.
The after-hours breakfast buffet costs $10 and runs Friday and Saturday nights (technically early Saturday and Sunday mornings) from 2 a.m. to 3:30 a.m. Since most Charlotte bars and nightclubs, particularly those in uptown, close at 2 a.m., at about 2:30 a.m. on the weekend there's usually a line out the door in front of The Men's Club. They're partiers who've made a beeline from the club to here and they're ready to get their grub on.
You pay your $10 at the door and you're given a receipt. Your receipt then gets you a plate to the buffet. I assure you, you've probably never seen such an abundance of food: pancakes, French toast, grits, bacon, eggs, sausages, hash browns, fruit, and more. And the food is piping hot because trays are continuously being replenished from the kitchen.
While you might not believe this, most of the people who come for the breakfast buffet aren't here for the strippers—they're here because they don't mind the strippers. And quite frankly, The Men's Club is so large you can grab a table and not be near a stripper pole. Though depending where you sit, you could look up and see a guy getting a lap dance about ten feet away from you.
The food here is great and, at just $10, the breakfast buffet is a bargain. People usually arrive in groups so it's common to see nearly as many women as men, or women accompanying their men. But if it just so happens you're going here with your buddies and don't want your lady to know, and you ended up putting charges on your credit card, don't worry: the billing info on the receipt has a generic name like "Main Course Restaurant" (or something to that effect).
But if you're not comfortable going to a strip club for a late-night breakfast in the heart of the Bible Belt, luckily over the past year or so a few new twenty-four hour diners have opened in Charlotte. My new favorite is Queen City Diner, which has the best pancakes I think I've ever eaten.
The Men's Club attracts elite clientele (offering amenities such as car detailing, shoe shining, and private wine and cigar lockers) and has a stunning interior to match. The first time I went, I felt like I'd walked into a castle. Its Sky Lounge makes other clubs' VIP sections look not very important. The renowned club also has locations in Raleigh, Dallas, Houston, Mexico City, and Guadalajara. The Men's Club of Charlotte, 444 Tyvola Rd, 704-525-8525, mensclub.com/charlotte-mens-club.