After RNC Melts Away, Artists Working in Ice Grow Something Solid
See what the pair behind LigoranoReese has been up to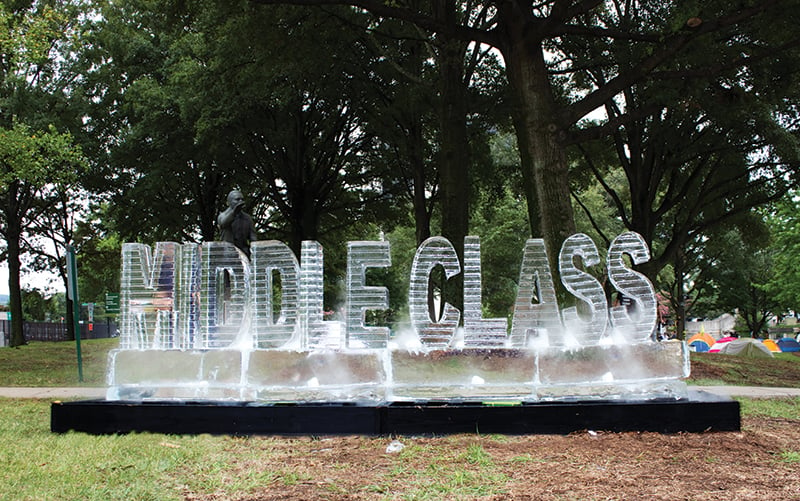 When Charlotte hosted the Democratic National Convention in 2012, the city's most provocative public artwork glistened under the skyline in Marshall Park, where a 3,000-pound ice sculpture spelled out the words MIDDLE CLASS. Created by Brooklyn, New York-based art activists Nora Ligorano and Marshall Reese, the piece melted drop by drop in the early September heat, a naturally kinetic metaphor difficult for passers-by to ignore.
Since 2008, the couple, known collectively as LigoranoReese, has installed works in their Melted Away series in cities across America, inspiring discussion at the intersection of art, values, and the theater of national political conventions. In advance of the Republican National Convention in Charlotte, they made plans for an exhibit even larger than what they'd displayed in 2012. They planned to showcase another ice sculpture, titled We the People, and join it to a multidisciplinary series of planned art exhibitions, workshops, performances, and discussions. Then the convention fell through, which in combination with COVID-19 derailed LigoranoReese's plans to show their sculpture and spend time in Charlotte.
Ligorano and Reese, who made friends in Charlotte during the DNC, decided they could still curate their planned multidisciplinary series from their home in New York. Even without the platform of the RNC, Charlotte struck Ligorano and Reese as a city open to investigations of social justice and equity issues. "Our history of installing temporary monuments and engaging with artists and residents is rewarding, but we've matured," Ligorano says. "With the RNC in Charlotte, we wanted to bring together local artists to engage other voices in activism and connect disparate communities."
The project, which the couple calls "the School of Good Citizenship," kicked off in late summer and will last until Election Day on November 3. "Issues of social mobility, gerrymandering, health care, and economic opportunity challenge not just Charlotte but the country," Reese says. "Art is a powerful platform to give voice to civic action and social change. That's what the School of Good Citizenship
is about."
The School quickly attracted community partners that included the Community Building Initiative, Johnson C. Smith University, International House, Latin American Coalition, League of Women Voters, Levine Museum of the New South, the Light Factory, UNC Charlotte, and Working Films.
The couple turned to Jonell Logan, a local independent curator and executive director of the community organization League of Creative Interventionists, to manage the school's projects. "I was attracted to the inclusivity and interest in partnering with other artists to stimulate conversation," Logan says. "Marshall and Nora established an advisory board to make sure there were multiple voices heard. Citizenship, after all, is a collective process."
A sampling of the school's planned events:
The Seeing Voices: Community (Un)Heard Workshops. A special series of three workshops over seven weekends, launched at the Light Factory in July. Workshop leaders Renee Cloud, de'Angelo Dia, Julio Gonzalez, and Héctor Vaca work with participants, who use photography and personal diaries to reflect on community. *
I Once Was Lost. Virtual choral performances in August conducted by David Tang, Jared Dougherty, Kevin Mayes, and others throughout North Carolina. *
Counting UP! What Does Your Ballot Look Like? A mixed-media exhibition of local artists' work on the theme of voting at the Levine Museum of the New South. The show runs through election day. *
Revisioning Recovery & Stories Beyond Borders. In October, Good Citizenship screens two sets of short documentaries produced by Wilmington-based, social justice-themed company Working Films. Revisioning Recovery explores climate change and environmental impact, and Stories Beyond Borders examines the struggles of immigrant families. Discussion follows. *
Civic Saturday. Good Citizenship, in partnership with UNCC, closes programming in October with a student-led event in which neighbors reflect upon and discuss civic life and responsibilities. *
Artists and activists in cities like Charlotte can benefit from the experience of seasoned counterparts from more established communities, says School of Good Citizenship advisory board member June Lambla. "Good artists, no matter where they're from, create works that can be approached universally and interpreted differently," says Lambla, an independent curator. "The challenge is to get viewers to be participants, share their views, and listen to others. Nora and Marshall are experienced at facilitating that. This programing allows for everyone's voice to count."
---
* Coronavirus has led to schedule changes. For updates on latest information, links to online program archives, and live performances visit schoolofgoodcitizenship.org.