After-Work Events, Party Like a Pin-Up, Rocktoberfest, Pink and Drink Bar Crawl, Brunch Parties, and More – Oct. 9-12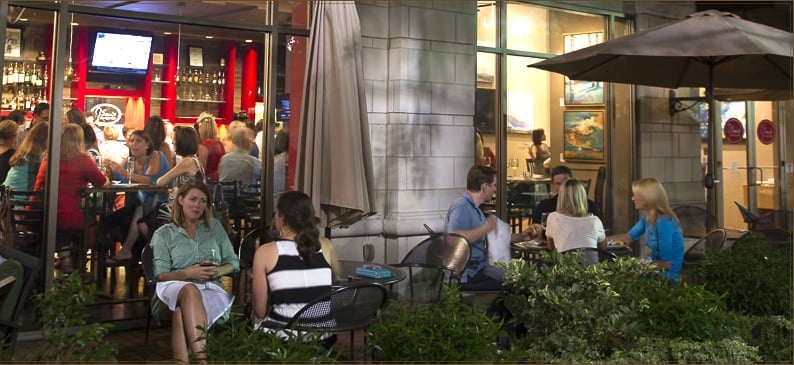 There's no shortage of fun over the next few days in Charlotte. And if you don't find at least one event on this list that you're interested in, check your pulse.
Thursday, October 9
Business After Hours
The Charlotte Chamber's monthly after-work event gets thrilling, as it invites guests out to an evening at Carowinds. There'll be complimentary food and drinks, prizes, and business-to-business networking. And an opportunity to ride The Intimidator roller coaster following the event. 5:30-7:30 p.m. Free for Chamber members; $15 for nonmembers. Carowinds, 14523 Carowinds Blvd., charlottechamber.com/events.
Charlotte Green Drinks
It's a monthly gathering for the eco-conscious and eco-curious to network, enjoy drinks, and discuss ways to improve the environment. This evening's guest speaker is Kim Reitterer from EarthShare NC, an organization with the goal of connecting more people and resources to keep North Carolina air and water clean, keep wildlife protected, and the economy strong. 5:30-7:30 p.m. Free admission. Heist Brewery, 2909 N. Davidson St., greendrinksclt.com.
The Thursday After-Work Flow
This is a new, monthly rendezvous (taking place the second Thursday of each month), featuring a live band, music by DJ Shogun, and food and drink specials. Presented by Digital Divas and Talk of the Town Marketing and PR. 6-11 p.m. Free admission. Sydney's Martini and Wine Bar, 401 N. Tryon St., sydneysmartiniandwinebar.com, facebook.com/events/330020800503442.
Art Show and Live DJ
It's an event that reflects this venue's mission of "bringing farm-to-fork table fare, fine wine and spirits, and original artwork to SouthPark." The featured artist during this special evening is Ted Lee. Presented by J.Sam's and HD Artists Gallery. 7 p.m. Free admission. J. Sam's, 4625 Piedmont Row Dr., jsamsplace.com, Facebook.
Flywheel's Blue Carpet Event
Get in an intense workout and socialize all in the same event. It's a night of complimentary classes—choose between Flywheel or Flybarre—along with raffle prizes, beverages, snacks, discounts on "fly" gear, and more. 7-9 p.m. Free admission; RSVP at charlotte@flywheelsports.com. Flywheel Sports – Charlotte, 2907 Providence Rd., facebook.com/flywheelcharlotte.
We.Are.CLT Presents The Social Hour
It's the kickoff of a new networking event, complete with an after-party, and guests will enjoy a posh atmosphere for mixing and mingling, drink specials, food, and music by DJ Skillz. 7 p.m.-2 a.m. Free admission until 9:30 p.m. with RSVP. Suite, at EpiCentre, 210 E. Trade St., suitecharlotte.com, thesocialhouratsuite.eventbrite.com.
Friday, October 10
Happy Birthday Dale Earnhardt Jr. … Junior Turns 40!
Charlotte Cider Fest 2014
This inaugural event appeals to your cider-loving taste buds, featuring sampling of some great mixed drinks. 6-10 p.m. $15. Rooftop 210, 210 E. Trade St., facebook.com/rooftop210, charlotteciderfest.eventbrite.com.
Pink Is the New Black
Toast to breast cancer survivors, with a complimentary glass of Luc Belaire Rose. Benefiting Carolina Breast Friends. $10 donation requested. Bubble, at EpiCentre, 210 E. Trade St., bubblecharlotte.com.
Party Like a Pin-Up Calendar Search Finals
Each Friday during the last several weeks, beautiful ladies have competed in rounds of this 1940s-style pin-up calendar contest. Now, 12 ladies will be chosen, one representing each month. The night will also serve as an awards event for Charlotte Fashion Week. 8 p.m.-2 a.m. Free admission. Automatic Slims, at NC Music Factory, 820 Hamilton St., facebook.com/automaticslimsclt.
Charlotte Gets F***ing Weird

GFW is a festival-inspired EDM party that features some of the region's best DJs, dancers, artists, and performing acts to bring to life the energy found at a music festival. The lineup includes: Kyle Biddy and Boy Beats World, Edward Shouse and Daniel's Jack, Le Bang, Citron, Popraffy, Byrne 1, and Kiing Boo. 9 p.m.-2 a.m. $20. Label, 900 NC Music Factory Blvd., labelcharlotte.com, facebook.com/gfweird. [photo credit: Key Vision Photography]
Saturday, October 11
Rocktoberfest
Spend your afternoon tasting beer from 15 breweries, traditional Oktoberfest food, participating in a stein-holding competition, live music by bands Time Sawyer, Below the Belt, and Disco Lemonade, and music from DJ Wiggz. Noon-6 p.m. $20 in advance; $30 day of. Draught, 601 S. Cedar St., draughtcharlotte.com.
South End Hops Festival
Raise money for a great cause while enjoying a fall day at this festival, featuring local and national craft beers, food trucks, and live music by Of Good Nature and Heroes At Last. All proceeds will go to the Chronic Illness Relief Fund. 2-6 p.m. General admission, $35 in advance, $40 day of; VIP admission (admitted at 1 p.m.), $50. Corner of Carson and Mint, 308 W. Carson Blvd., southendhopsfestival.com.
Pink and Drink
It's an Uptown bar crawl for a great cause, making stops at Prohibition, Ri Ra, SIP, Roxbury, Tilt, Hooter's, Fitzgerald's, Phil's, and Connolly's. Guests will receive entry at each bar, drink specials, a commemorative koozie, and more. Proceeds will benefit Carolina Breast Friends. 6 p.m.-2 a.m. $10 in advance; $20 day of. Early registration, 6-8 p.m., Tilt On Trade; late registration, 8-10 p.m., Prohibition, eventbrite.com/e/pink-drink-uptown-tickets-13252523655.
Race Day Party
If you're not venturing to Charlotte Motor Speedway to experience the Bank of America 500 in person, watch the NASCAR race here at Dale Jr.'s bar. Wings on special for 88 cents in honor of the sport's most popular driver. 7 p.m. Whisky River, at EpiCentre, 210 E. Trade St., whiskyrivercharlotte.com.
Style of Charlotte Fashion and Hair Show
Charlotte designers and stylists will showcase their work, and guests can compete in the best-dressed contest. Presented by Material Girl Hair Boutique. 8-10 p.m. General admission, free with RSVP; VIP, $10-$30. Vanity, 500 W. Fifth St., vanitycharlotte.com, materialgirlshow.eventbrite.com.
Signature Saturdays
Taking place the second and last Saturday of every month, this edition features live jazz by Tragik Sounds, followed by music from a guest DJ. Drink specials include $6 martinis and $99 Moët bottles, and the food menu is available until midnight. Presented by Eddietainment. 9 p.m.-2 a.m. Free admission before midnight; for VIP tables, eddiet456@gmail.com. Vapiano, 201 S. Tryon St., facebook.com/vapianoclt, eddietainment.com.
Keys to the Cellar
It's a new, monthly party catering to newcomers to the Charlotte area. Music by Power 98's DJ LP. Hosted by The Rosewood Club. 10 p.m.-2 a.m. Free admission with RSVP; VIP table, $50. SIP, 200 N. Tryon St., sipcharlotte.com, keystothecellar.eventbrite.com.
Cocktails | Dance
This South End nightclub typically reaches capacity on Saturday nights, and this go-round celebrates the birthday of Yussra Mansour, its VIP manager. Music by DJs STRTR and Edward Shouse. 10 p.m.-2 a.m. Free admission, early arrival suggested; VIP tables available. Oak Room, 200 E. Bland St., oakroomclt.com.
Sunday, October 12
Gather – Brunch at the Market
It's the second event in this food series by Chef Rochelle Baxter of Queen City Pantry. Guests will enjoy a family-style, farm-to-table brunch with four courses and cocktails. Noon-3 p.m. $50. Atherton Market, 2104 South Blvd., athertonmillandmarket.com, eventbrite.com/e/brunch-at-the-market-tickets-13231278109.
The Natural Hair Brunch Experience
This is a meet-and-greet event designed to support women in the natural hair community with an opportunity to connect, share personal hair tips, and learn about upcoming events. Hosted by Chenelle BJ and Morrell Negron. 11:30 a.m.-2:30 p.m. Free admission; buffet, $20. Heist Brewery, 2909 N. Davidson St., thenaturalhairbrunchexperience.eventbrite.com.
NFL Day at TKB (weekly event)
Each Sunday, this bar shows NFL games all day, and offers free pizza and wings at halftime of the 1 p.m. game, which is often the Panthers game. Noon. Free admission. The Kilted Buffalo – Langtree, 119 Landings Dr., Mooresville, thekiltedbuffalo.com, langtreelkn.com.
Brewery Tour Charlotte
On this monthly beer tour, the party bus takes guests to breweries around the city. Ticket includes transportation, a commemorative pint glass, seasonal beer samples at each stop, snacks, and more. Arrive at least 15 minutes prior to departure. 1-5:30 p.m. $55 in advance. Bus departs from World of Beer South End, 222 E. Bland St., brewerytourcharlotte.com.
Autumn Matic

Many of you have the next day off for Columbus Day, but even if you don't, this is a day party. Two popular Charlotte party promoters are teaming up again and bringing in two renowned spinners: DJ Skillz and DJ Ngenius. Presented by Eddietainment and Moxie Society. 3-8 p.m. Free admission before 4 p.m. with RSVP; VIP tables available, vip@bubblecharlotte.com. Bubble, at EpiCentre, 210 E. Trade St., bubblecharlotte.com, autumnmatic.eventbrite.com. [photo credit: Eddietainment/Moxie Society]
An Evening of Smooth Jazz
It's a celebration of Marvin Ross's 30 years in radio, and features jazz by Shableek. Presented by Carolina Jazz Friends. 7-10 p.m. $10-$20; VIP sections available. Sydney's Martini and Wine Bar, 401 N. Tryon St., sydneysmartiniandwinebar.com, bit.ly/1xStDWq.
Ones to Watch… The Week Ahead
Tuesday, October 14
Carolina Brawl 2
Witness several boxing matches, including Charlotte's own Lee "The Silverback" Campbell and Rodney "Shonuff" Wallace, in a large nightclub setting. Doors open 6:30 p.m.; fights begin 7:30 p.m. General admission, $30 in advance; ringside seats, $50; VIP seats, $75-$100. Label, 900 NC Music Factory Blvd., carolinabrawl.com.
Wednesday, October 15
Dusk Till Dawn Social Series
After Charlotte magazine's successful kickoff of the #DTDsocial last month at Sullivan's Steakhouse (click here to see photos), the next event in this series takes you to a new hotspot at NC Music Factory, the recently opened Eight Sushi and Asian Kitchen. Guests will enjoy complimentary hors d'oeuvres, drink specials, and the chance to win a gift card from the event's sponsor, Diamonds Direct. 6-8 p.m. Free admission; RSVP required at www.charlottemagazine.com/DTDSocialSeries.
Verify dates, times, prices, and other info at the web addresses listed for each event.
Be sure to bookmark www.charlottemagazine.com/Blogs/Dusk-Till-Dawn to stay plugged into Charlotte's nightlife and social scene. Click here to sign up to receive the weekly Dusk Till Dawn e-newsletter. Follow me on Twitter @HollidayInk; email me at jarvish@grownpeopletalking.com.