After-Work Mixers, Santa Bar Crawl, NoDa Krampus Krawl, Ice Skating Date Night, and More – Dec. 11-14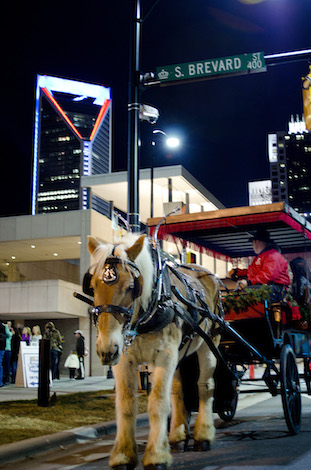 It's beginning to look a lot like Christmas (parties)! And Saturday is a special date: 12-13-14. Get in order all weekend with this list of social events.
Thursday, December 11
Yelp's Big Fat Wrapping Party
Yelp Charlotte is throwing a gift-wrapping party, where you're encouraged to bring any and all of your gifts and have them wrapped for free. Donations will be accepted to benefit nonprofit organization Bright Blessings. The event will also include complimentary food and drinks from local restaurants, and discounts on purchases made at the host boutique. 6-8:30 p.m. Free admission. The Boulevard at South End, 1440 S. Tryon St., yelp.com/events/charlotte-yelps-big-fat-wrapping-party.
The Thursday After-Work Flow: Holiday Edition
Taking place the second Thursday of each month, this after-work event features a live jazz band, followed by hip-hop and R&B music from DJ Shogun, and food and drink specials. At this edition, Digital Divas and Talk of the Town Marketing and PR will be collecting unwrapped children's toys for the Salvation Army. 6-10 p.m. Free admission. Sydney's Martini and Wine Bar, 401 N. Tryon St., sydneysmartiniandwinebar.com.
The Social Hour: The Gathering Edition
It's a toy, clothing, and food drive in addition to being a social event. There'll be drink specials, light hors d'oeuvres, and music by Harvey Cummings and DJ DR. Presented by We.Are.CLT in association with Youth Educational Society and Sigmas of Charlotte. 7 p.m.-midnight. Free admission before 9:30 p.m. with RSVP. Suite, at EpiCentre, 210 E. Trade St., thesocialhouratsuite4.eventbrite.com.
Friday, December 12
Pull The Cord: Drop Shop Closing Party
The Enemy To Fashion pop-up shop is concluding, but not without a little party. There'll be complimentary drinks, prize giveaways, and all of the merchandise will be on sale. 7 p.m. Free admission. Custom, 3206 N. Davidson St., facebook.com/events/1530810013843939.
Chocolate Buffet and Martinis Social Mixer
Popular local Meetup group Awesome Random Adventures hosts this social mixer, which also includes "Speed Friending" along with a chocolate theme. 7-11:30 p.m. $10. Bubble, at EpiCentre, 210 E. Trade St., adventuresincharlotte.com.
Release: Classic and Soulful House 70s Disco Party
Deep House Providers' monthly house music party continues, this time with a disco theme and featuring music from DJs Humidity, Ray Anderson Jr., Johnny Darling, Kneeka, Real, and Sean E. Boy. 7 p.m.-2 a.m. $10. Petra's Piano Bar, 1919 Commonwealth Ave., petraspianobar.com, facebook.com/events/599197166869203.
Nightmare Before Christmas Full Moon
It's a mysterious pre-Christmas party at this popular Uptown nightclub. 10 p.m.-2 a.m. Admission varies. Whisky River, at the EpiCentre, 210 E. Trade St., whiskyrivercharlotte.com.
Saturday, December 13
Sovereignty: Seeds & Stars Day Party
Come out and learn more about The Line 100 initiative, while enjoying music from DJ Steel Will and a complimentary drink. Noon. $10. Cosmos Cafe, 300 N. College St., theline100.com.
15th Annual Santa Bar Crawl
More than 15 Uptown bars and nightclubs are participating in this crawl that goes from day to night. Drink specials at each location include a $3 beer, $4 shot, and $5 cocktail. Holiday attire, i.e. Santa suits, are encouraged. 2 p.m.-2 a.m. $15 in advance. Uptown Charlotte, santabarcrawl.com.
NoDa Krampus Krawl
Krampus is a fearsome figure in European folklore, with long horns, a shaggy body, sharp fangs, but who works for jolly old Saint Nick. Krampus will run wild in NoDa throughout this night, making several scheduled stops at bars and galleries. 5:30-10 p.m. Free admission. NoDa, nodakrampuskrawl.com.
Holiday On Ice Ultimate Date Night
The coveted holiday ice skating rink kicked off for the season a few weeks ago, and this particular night is a special event for couples. Admission includes skate rental for two, hot chocolate, a rose, s'mores package for the fire pit, a keepsake photo, carriage ride, and a gift bag. There'll also be live music from The Holiday Singers, and the event is being hosted by 107.9 The Link's Ramona Holloway. 8-11 p.m. Admission for two, $50. NASCAR Hall of Fame Plaza, 400 E. Martin Luther King Jr. Blvd., wbt.com/holidayonice/datenight.aspx.
The Grays Holiday Party
Herb and Felicia Gray, along with V101.9 FM, are hosting this annual party benefiting the Gantt Center. There'll be hors d'oeuvres and a complimentary featured drink before 11 p.m., and music from a live band and DJ Shogun. 8 p.m.-2 a.m. $50. The Harvey B. Gantt Center for African-American Arts + Culture, 551 S. Tryon St., bit.ly/CelebrateTheGraysHolidayParty2014.
Signature Saturdays
Taking place the second and last Saturday of every month, this edition features live jazz by Shableek, followed by music from DJ Shaun Nyce. Drink specials include $6 martinis and $99 Moët bottles, and the food menu is available until midnight. Presented by Eddietainment. 9 p.m.-2 a.m. Free admission before midnight; VIP tables available. Vapiano, 201 S. Tryon St., facebook.com/vapianoclt, eddietainment.com.
Ugly Sweater Holiday Party
Break out your tacky holiday sweater, head to this Saturday night hotspot, and enter to win gift cards. Music by DJ Edward Shouse. 10 p.m.-2 a.m. Free admission (entry not guaranteed); VIP tables available. Oak Room, 200 E. Bland St., oakroomclt.com.
Sunday, December 14
Southern Afternoon Tea and Holiday Cheer
Brighten your season with holiday tea at this historic mansion, while shopping for gifts from some of Charlotte's top boutiques, who will be on site. Sandwiches, canapes, scones, and sweets will also be served. 2-4 p.m. Adults, $35; kids, $15; RSVP at kellis@tlwf.org. Duke Mansion, 400 Hermitage Rd., dukemansion.com.
Holiday Beauty Suite
Shop local vendors, treat yourself to a day of beauty, and decorate a keepsake wine glass. Hosted by Nicole "Empress Nic" Banks, and presented by The Queens English PR. 3-7 p.m. $10. Taste Cafe & Lounge, 2415 W. Morehead St., holidaysuite.eventbrite.com.
Verify dates, times, prices, and other info at the web addresses listed for each event.
Be sure to bookmark www.charlottemagazine.com/Blogs/Dusk-Till-Dawn to stay plugged into Charlotte's nightlife and social scene. Click here to sign up to receive the weekly Dusk Till Dawn e-newsletter. Follow me on Twitter @HollidayInk; email me at jarvish@grownpeopletalking.com.