Ahead of Demolition, Old Goodyear Store Used for Artist Residencies in Uptown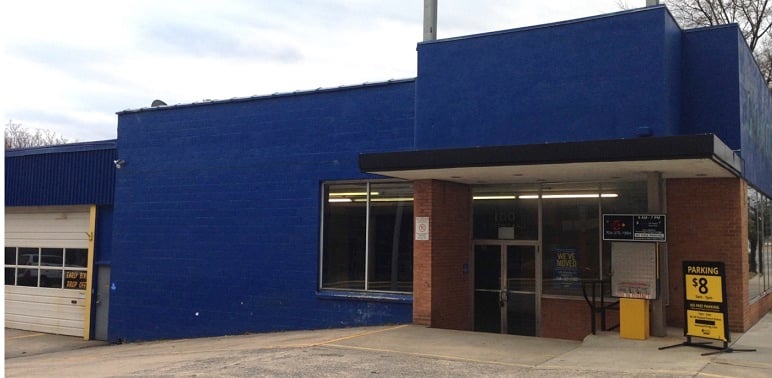 FOR FIVE DECADES, the Goodyear Auto Service Center at 100 East Stonewall Street served Charlotteans and their automobiles. Now, the space is slated for demolition in the fall, and the building will be replaced by a mixed-use building owned by Crescent Communities. It's a common story in a growing city, but this one has an unlikely ending: Before the Goodyear store is demolished, it will spend its last few months as a vibrant hub for Charlotte artists.
Skyline Artists In Residence, directed by The Wall Poems of Charlotte and Amy Herman, is a residency program that takes over the building from July to September. Each month, three artists or artistic groups use partitioned space in the gallery to create work. Some of the pieces are tailored to the space itself, whether it's a new mural for a wall or a theatrical work. Artists will have 24-7 access and a stipend to work in the space. And at the end of each month, a showcase brings all of the work together for the public. Amy Bagwell, who directs Wall Poems, hopes the artists' relationship with Crescent can become part of a trend. "If we can demonstrate more and more this direct relationship that can create something pretty quickly and help emerging artists, it can be a model," Bagwell says.
Crescent Communities is the sponsor of the project, partnering with Moore and Van Allen, PLLC, Little Diversified Architectural Consulting, The Wilbert Group, and Charlotte Center City Partners. Crescent first reached out to Bagwell and Herman a few months ago. In April, Herman spoke at Crescent's first event for the Skyline Series, an initiative that was intended to celebrate and push the conversation on Charlotte culture. (Wall Poems was also present at the event, with art director Graham Carew painting a live mural.) Herman, an artist and founder of pop-up vintage market series VTG CLT, spoke on the need for space for artists in Charlotte at the event.
"The space in Charlotte—the physical space—is very expensive," Herman said, to the packed Goodyear room that hosted the first Skyline event. "There isn't a lot of opportunity for creatives and artists to have work space, gallery space, or even flexible space. So continue to keep creatives in mind, as real estate continues to escalate in Charlotte."
Three months later, Skyline Artists In Residence announced its first line-up. July's roster consists of installation artist Kathryn Godwin, sculptor Todd Stewart, and painter Holly Keogh. The public showcase for their work, a free event, will take place July 31. Other artists who will use the space in the next three months include experimental theatre ensemble XOXO, sculpture artist Matthew Steele, and painter Robert Childers. As much as it's an opportunity to showcase Charlotte work, Bagwell says these residencies are intended to also honor the building they inhabit.
"It's a very elaborate celebration, honestly," Bagwell says. "It's almost like a Viking funeral. This is a place that's alive, and it'll become something else. We want to celebrate that."
Although the venue has an expiration date, Bagwell and Herman hope this idea won't end here. "This is a pilot program," Bagwell says. "We're going to mess up. But we hope to see this duplicated in other transitioning and empty spaces across the city. There's no limit to an idea to like this. It just takes a certain level of interest, enthusiasm, and optimism."
Tyler Niess, chief marketing officer of Crescent Communities, also hopes for the move to become a trend. "We think it is important for a growing city to take on projects like this," Niess says. "We're excited that we can offer this building as a tool for the creative community over the next few months, and we hope it's a catalyst for us all. We see this as an example of one of the often overlooked but most impactful roles a developer can have: as a placemaker. This goes beyond designing and building buildings. We look for ways to embrace the community and do what we can to help it grow and evolve."