Aid Hurricane Harvey Relief By Eating At These Charlotte Restaurants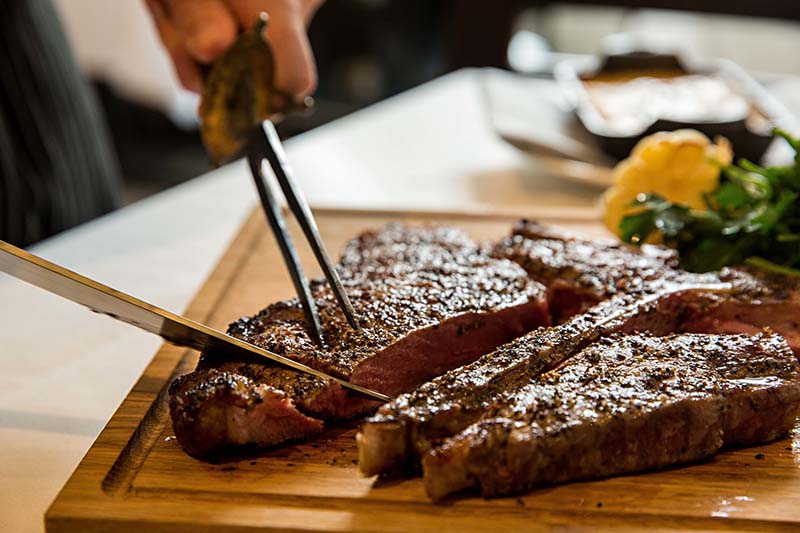 THESE CHARLOTTE RESTAURANTS (and one spice shop) are giving visitors a chance to aid in Hurricane Harvey relief. We'll be updating the list as new opportunities for Charlotteans roll in.
Dogwood Southern Table, Dressler's Metropolitan, Dressler's Birkdale, & The Porter's House
Eat dinner at any of the four Rare Roots Hospitality restaurants on Tuesday (Sept. 5) to send money to the Red Cross Hurricane Harvey Relief Fund. The restaurants will donate 10 percent of the night's profits. 4905 Ashley Park Ln., Suite D; 1100 Metropolitan Ave #125; 8630 Lindholm Dr., Huntersville; 7417 Waverly Walk Ave.
Sullivan's Steakhouse Charlotte
Spots in Del Frisco's Restaurant Group are sending money to Houston area food banks. The goal is $1,000,000, and you can help them reach it by eating at Sullivan's Steakhouse Charlotte. Through Sept. 4, 20 percent of all sales at their restaurants will go toward the effort. 1928 South Blvd. #200.
Angry Ale's
Marsh & McLennan Agency of Charlotte is teaming with Angry Ale's for a Sept. 5 fundraiser. A $10 suggested donation at the door will be collected between 3 p.m. and 8 p.m., and 100 percent of those proceeds go to the Red Cross. 1518 Montford Dr.
Reid's Fine Foods
Ten percent of sales on Saturday and Sunday (Sept. 2-3) go to the Houston Flood Relief Fund, which was started by the Houston Texans' JJ Watt. 2823 Selwyn Ave.; 4331 Barclay Downs Dr.
Midwood Smokehouse, Paco's Tacos & Tequila, Mama Ricotta's Restaurant, & Heirloom
FS Food Group restaurants each have their own opportunities. Fifty cents from every pork sandwich at a Midwood Smokehouse location, penne a la vodka from Mama Ricotta's, or queso from Paco's Tacos goes toward relief from Monday through Sunday. And $2 from every shrimp and grits meal sold from Heirloom from Tuesday through Saturday also contributes. Midwood Smokehouse: 540-C Brandywine Rd., 12410 Johnston Rd., and 1401 Central Ave.; Paco's Tacos: 6401 Morrison Blvd #8a; Mama Ricotta's: 601 South Kings Dr., Suite AA; and Heirloom: 8470 Bellhaven Blvd.
littleSpoon and Comida
Five percent of gross sales this weekend from these sister restaurants go toward the Watts effort. 2820 Selwyn Ave.; 1205 Thomas Ave.
The Cowfish
Panthers running back Fozzy Whittaker is teaming up with this SouthPark restaurant for a fundraising dinner on Sept. 12. Whittaker's nonprofit, Fozzy's Future Heroes, receives $3 from each entree sold to help Harvey victims. 4310 Sharon Rd., Ste X05.
And If You'd Rather Eat at Home: Savory Spice Shop
You can either donate to the Red Cross on the shop's website or by buying any size bottle of Native Texan BBQ Rub. Every purchase of a bottle send $1 to Red Cross. This effort runs through Sept. 10. 2000 South Blvd. #520.