Aix en Provence Adding Waxhaw Restaurant In Former Heritage Space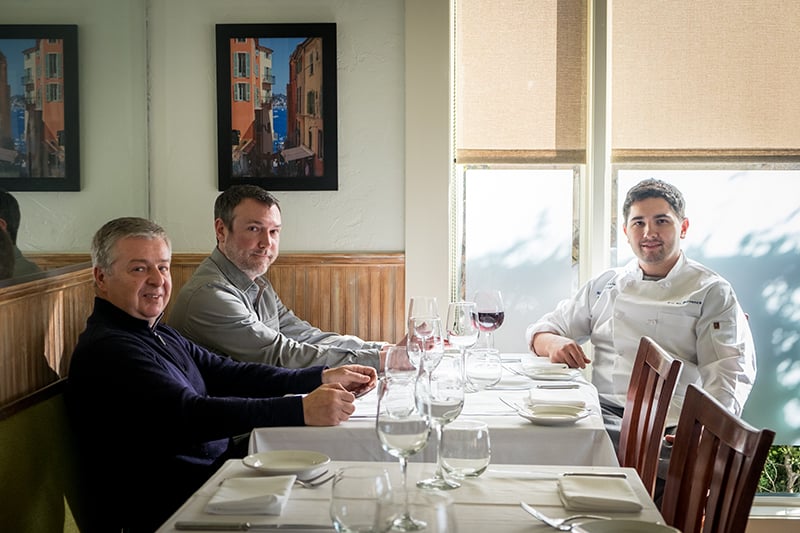 THE OWNERS of Aix en Provence are opening a second restaurant in the former Heritage Food + Drink space in downtown Waxhaw.
Bryan St. Clair and Patrick Garrivier, familiar faces to Aix regulars, have been looking to expand for several months now. When they learned of the possibility of taking over Paul Verica's former space, they headed down to Waxhaw. The drive, past cows and horses and farmland, reminded Garrivier of his home country of France.
The new restaurant will be called Le Cochon D'Or, which translates to "The Golden Pig." It's inspired by both the abundance of farms surrounding Waxhaw and the cuisine the restaurant will serve. Chef Nicholas Tarnate says the menu will focus on Lyonnaise cuisine. Lyonnaise dishes often use pork, and charcuterie is a signature, as well. The menu will also draw on Alsatian cuisine, which is heavily influenced by German tradition.
Compared to the menu at Aix en Provence, this magazine's best new restaurant in 2017, Cochon D'Oor will be "very hearty, flavorful, just a little more comforting," Tarnate says.
The changes to the Waxhaw space will be mostly cosmetic. The lower level bar will become smaller to accommodate more guests. If all goes as expected, it will open for service at the end of December.
Aix en Provence favorites, such as the cassoulet, will have a home on the new menu. Guests can also find a few pasta dishes—"I love pasta and I have to do it. It's therapy," Tarnate says. Some Lyonnaise staples on the menu will be boudin blanc, which translates to white sausage, made with chicken and pork, served with pomme (potato) purée and fruits, usually roasted figs or prunes; quinelles de poisson, which Tarnate calls a fish dumpling in lobster sauce; and a lobster mac-and-cheese.
Residents of Waxhaw had mixed emotions to the news that Verica was closing Heritage Food + Drink to open a restaurant in the Elizabeth neighborhood, but they're getting a sister restaurant to one of the best in the city.
"When you drive through the French countryside and you stop at the little villages," Garrivier says, "they have those little restaurants where you come in and you don't know what to expect, but when you look at the menu and you eat you're like, 'Wow!'"
The owner hope for a farmhouse chic vibe fitting of the French countryside; they're still deciding on the smaller details, such as whether they'll opt for tablecloths or rustic wooden tables with placemats. One thing that won't change across concepts is the level of customer service guests have learned to expect from Aix.
"Bigger isn't necessarily better; it's a manageable size for us," St. Clair says while discussing the new restaurant at Aix en Provence, "just like this place. We can touch every table and greet every guest and say goodbye to every guest. That's very important."
The process of turning Terra, on Providence Road in Myers Park, into Aix en Provence took them three or four weeks, and the owners hope to stay on a similar schedule for the new restaurant and open quickly. They expect to keep the same hours as Heritage, which was closed for dinner Sunday and Monday. The addition comes almost exactly two years after Aix en Provence opened, on December 28, 2015.