Alfresco Alternative
Spice up your summer picnic with dishes that offer a twist on the traditional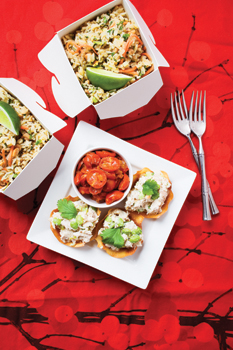 Picnics are usually old-school summer gatherings held with friends, family, and, of course, Grandma's classic Southern cooking. There are occasions, however, that call for mixing things up. Charlotte Symphony's annual Summer Pops series at SouthPark is the perfect spot to show off your exotic-fare know-how with a spread that won't look anything like what's on your neighbor's blanket. These three recipes tap flavors of Asia but use seasonal ingredients—plus, they're easy to make and most importantly, easy to transport.
Wasabi Chicken Salad in Crisp Wonton Cups
The wasabi in this recipe is not overly spicy—it's more of a background flavor. Its slight heat dissipates after a few days, however, so if you make it a day or two ahead of time, simply add a bit more wasabi to your taste.
Makes 8 servings as a light salad, or fills 16-18 wonton cups

Wonton Cups
18 wonton skins
Vegetable oil

Preheat oven to 375 degrees. Brush the bottom of a cupcake or muffin tin with vegetable oil, lay one wonton wrapper over each cup, form to the cup, and lightly brush the wonton with a bit more oil. Bake for about 8 minutes, until the edges are golden. Remove and allow to cool completely before filling. Can be made early in the day and held, uncovered, at room temperature until ready to fill.

Wasabi Chicken Salad
1 small roasted chicken (homemade or rotisserie), chilled
1/4 cup mayo (full fat or light)
1/4 cup plain yogurt (Greek, full fat or light)
3/4 tablespoon wasabi paste (from a tube)
1/4 teaspoon salt, to taste
1 stalk celery, minced
1/4 cup fresh minced chives
Handful of cooked edamame

Pull the chicken meat from the bones and dice. Set aside. Mix together the mayo, yogurt, and wasabi. Toss the chicken with the mayo mixture and season with salt. Add in the celery, chives, and edamame to the mayo and chicken mixture. Cover and set in the refrigerator or in a cooler until ready to serve. Do not fill wonton cups with chicken salad until just before serving.
Thai Rice Salad
Flavorful and filling enough to be a main course, this dish is a good one to bring along for vegan friends (just replace the fish sauce with more soy sauce).
Serves 8

4 cups cooked rice (jasmine, basmati, or brown
rice work well), cooled
1/2 cup light coconut milk
2 tablespoons fish sauce
1 tablespoon soy sauce (plus more to pass)
2 cloves garlic, minced or pressed
2 tablespoons, plus 2 teaspoons lime juice,
plus slices of lime
2 teaspoons sugar (or 1 and 11/2 teaspoons brown sugar)
1/2 to 1 teaspoon cayenne pepper
1/2 cup cashews, chopped
1/2 to 1 cup raw shredded carrot
1 bunch pencil-thin green onions, sliced thin
(from the white part up to the ends)
Handful chopped, fresh cilantro

While waiting for cooked rice to cool, mix together the dressings (everything but the rice and cashews). Once the rice is room temperature, toss with the dressings, then toss in the cashews, carrots, green onion, and cilantro. Serve room temp or chilled with lime wedges and soy sauce.

Indian Summer Roasted Cherry Tomatoes
This recipe is great for a picnic because it requires no refrigeration—best served at room temp. It's also a good one to bring for vegetarian or vegan guests.
Serves 4, but can easily be doubled
2 pints ripe cherry tomatoes, washed
and sliced in half lengthwise
2 heaping tablespoons fresh minced ginger root
1 tablespoon plus 1 teaspoon curry powder (spicy or sweet)
1/4 cup minced shallot
1/4 teaspoon sea salt
Olive oil

Preheat oven to 400 degrees. Toss the tomatoes with ginger, curry powder, and shallot, then drizzle over a bit of olive oil. Toss. Rub some olive oil on a baking tray, pile the tomatoes on the tray, arranging in one layer. Scrape all the bits left in the bowl onto the tomatoes and sprinkle with salt. Bake for about 10 to 20 minutes (depending on your oven), until the tomatoes are just beginning to droop but are not fully cooked. Serve at once or hold at room temp for up to 8 hours, or up to two days refrigerated (bring to room temp before serving).