Alive After Five Returns, Pubs and Pucks, Bags and Bunnies Cornhole Hop, Bunny Hop Bar Crawl, Easter Brunches and More, April 2-5
Put on your bunny ears and hop along to one of these events. There's sure to be something for every-bunny.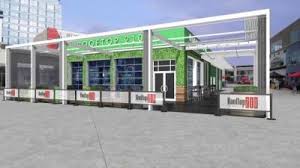 April showers are supposed to bring May flowers, right? With the first weekend of April before us, it looks like all you'll be showering yourself with is another beautiful weekend here in the Queen City. From Easter brunches to the return of Alive After Five, there's something for every-bunny here. See y'all out there.
Thursday, April 2
Alive After Five
The warmer weather brings rooftop parties back to the Queen City. Billed as the city's "largest weekly happy hour," this year also brings the addition of a beer and wine garden. In addition to the live music and socializing on the rooftop, Alive After Five, this year, invites you the EpiCentre's plaza area from 5 p.m. until 7 p.m. to sample up to five beers or wines for an extra $10. Aside from that, this weekly party has free admission. Come alive at 210 E. Trade St. Buy your beer and wine garden tickets here.
Shaggy at Suite
Remember that song you couldn't get out of your head in 2002? It was probably Shaggy's "It Wasn't Me." The reggae-fusion singer will be at Suite tonight to keep your Alive After Five party going a little bit longer. Suite is at 210 E. Trade St. Tickets are $10, and you can buy them here.
Friday, April 3
Pubs and Pucks
Call it one last hurrah for our Charlotte Checkers. As they prepare to move to the Bojangles Coliseum next season, this is your last chance for an evening of hockey bookended by bars. A $15 ticket buys you your entrance into the hockey game, free cover to Prohibition, Fitzgerald's and Connolly's on Fifth and, according to the event description, "a couple of cold ones on the RockHouse tab." The evening starts at 5:45 p.m. at Prohibition and goes until Prohibition shuts down the night. Prohibition is at 200 N. Tryon St. Buy tickets here.
Teacher's Lounge
Calling all teachers! Celebrate the start of your spring break and your weeklong vacation from school and bell schedules at Apostrophe Lounge's special evening, The Teacher's Lounge. There's free admission because teachers deserve a break. Doors open at 4 p.m. The Teacher's Lounge is at 1440 S. Tryon St. For more information, visit apostrophelounge.com.
Easter Bunny Bash
With an appearance by the one and only Easter Bunny and a Peep-eating contest, this event is certain to make your Good Friday, well, good. There's free admission before 11 p.m. with RSVP. Doors open at 9 p.m. BAR Charlotte is at 300 N. College St. RSVP here.
Don't get turnt down. Get wine up! Twilight Lounge and Eric Bachata Promotions brings you this weekly event to help you "unwine" after a long workweek. Bring six of your girlfriends and a bottle of wine is on the house. Twilight Lounge is at 7030 Smith Corners Blvd., and the party starts at 10 p.m. Free admission with RSVP.
Saturday, April 4
Bags and Bunnies Cornhole Bar Hop
This isn't a bar crawl. It's a bar hop because Easter is the next day. Get it? This event is labeled as "part cornhole, part putt-putt, part bar crawl and all fun," and we can see why. You'll travel to seven different Uptown bars throughout the evening and, all the while, throw cornhole bags across the bar, down stairs and around corners as the miniature golf-meets-cornhole course progresses. Registration for teams of two starts at Re:Public at 5 p.m. The evening ends at Tilt on Trade with an Easter egg hunt with hundreds of dollars in cash to be found. Additionally, teams who come in first, second and 17th on the cornhole course will win prizes. Your night starts at 314 N. College St. Register your team here.
Dayjavu Day Party
Hosted by Streetz's 103.3 FM's Chewy and Reshika Renee, this day party features the music of DJs Shaun Nyce and Rico Rozay. RSVP to this day party and get in free before 5 p.m. After that, it's $10. The day party gets pumpin' at Label, 900 NC Music Factory Blvd. RSVP here.
The Bunny Hop Bar Crawl
If you need more Easter-themed bar crawls, this one's for you. A $20 ticket gets you a T-shirt, which will serve as your free entrance to each of the eight Uptown locations on the crawl. Try to complete each task on the back of your shirt during the crawl. Samples include twerking at Blackfinn and kissing a stranger at Rooftop 210. Check-in starts at 7 p.m. at Rooftop 210, 210 E. Trade St. Buy your T-shirt here.
Easter Tea
It's almost Easter, so you're allowed to be a little fancy, right? Join the Ballantyne Hotel and Lodge for its afternoon tea today from 1 p.m. until 4 p.m. Adult reservations, which are required, are $32 and children are $16. Your tea is served at 10000 Ballantyne Commons Parkway. For more information and to call for reservations, click here.
Sunday, April 5
We know there are dozens of places at which you could choose to spend Easter brunch, but here's just a small sampling of places that are rolling out the buffets while you roll out your finest hats. Happy Easter, Charlotte.
BLT Steak
From eggs Benedict, to crepe soufflé, you'll be sure to find a springtime favorite for brunch. This restaurant is serving up your Easter meal from 11 a.m. until 2 p.m. at 110 N. College St. For more information or to make a reservation, click here.
Ballantyne Hotel and Lodge
From 11 a.m. until 3 p.m. enjoy an endless buffet of salads, breakfast items, a carving station and desserts at this Ballantyne staple. Rumor has it the Easter Bunny will also make an appearance. The buffet is $75 per person and $35 for children aged 5 to 12. Reservations are required. For more information, click here.
Blue Restaurant
Featuring live jazz music and an enormous buffet, this brunch from 10:30 a.m. until 2:30 p.m. would be a fine place to spend your holiday. Adult meals cost about $40 and children aged 6 to 12 cost about $15. For more information or to reserve a table, visit bluecharlotte.com.
Mark Your Calendar
Wednesday, April 15
Dusk Till Dawn Social Series
Are you ready for the next edition of #DTDsocial? Charlotte magazine invites you out after work to enjoy food and drinks with Charlotte's finest. This month's social gathering is at Blackfinn from 5:30 p.m. until 7:30 p.m on Wednesday, April 15. Free admission with RSVP requested. Blackfinn is in the EpiCentre at 210 E. Trade St. RSVP here.
Verify dates, times, prices, and other info at the web addresses listed for each event.
Be sure to bookmark www.charlottemagazine.com/Blogs/Dusk-Till-Dawn to stay plugged into Charlotte's nightlife and social scene. Click here to sign up to receive the weekly Dusk Till Dawn e-newsletter.
Want your event featured in Dusk Till Dawn? Follow me on Twitter @Jared_misner and let me know about your event, or send me an email at dusktilldawnblog@gmail.com.