All About That Base
Pat McCrory's effort to lift himself out of the unpopularity pit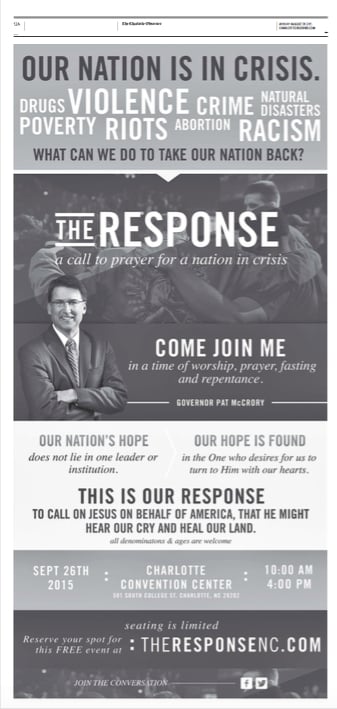 Gov. Pat McCrory has never been much of a Bible-thumper, at least not publicly. So more than a few people went all chin-rubby when they opened their copies of The Charlotte Observer this morning to find the ad to the left taking up all of page 12A.
"Take our nation back"? "Worship, prayer, fasting and repentance"? Gov. Pat leading a tent revival, "The Response," at the Convention Center? Seriously?
One one level, it's not that hard to see why. The man needs to round up some people willing to vote for him.
McCrory's poll numbers are dismal. The most recent Public Policy Polling survey of 957 North Carolina voters, including 406 GOP primary voters, shows Democratic Attorney General Roy Cooper leading, 42 percent to 39. McCrory's approval numbers are even worse, with 35 percent of voters polled approving of the job he's done as governor. A recent Civitas poll of unaffiliated voters shows McCrory trailing Cooper as well.
A candidate can do two things about numbers like this: try to win over people disinclined to vote for him; or induce people more willing to vote for him instead of Cooper to show up on Election Day. So round up the rural vote, bring 'em to Charlotte, and pray—the crowd to Jesus, the governor to His voting bloc. "There is hope for our country," The Response's website proclaims, "and while it lies in heaven, we will find it on our knees." Right there at Stonewall and College.
Of course, McCrory is wading into some dangerous waters here, too. Louisiana Gov. Bobby Jindal caught some hell for speaking at a Response rally in Baton Rouge in January—even though the event was organized and financed by the American Family Association, the Mississippi evangelical organization.
The AFA, which the Southern Poverty Law Center classifies as an extremist group, is known for some odd positions, such as the notion that natural disasters are God's punishment for America's acceptance of homosexuality and abortion. The AFA organized a similar event that then-Texas Gov. Rick Perry led in 2011. I'm trying to confirm whether the organization is behind the Charlotte event and other planned Responses in Florida, Alabama, and Mississippi; I left a message today at the phone number listed on The Response website, for a Lakeland, Fla., event production company called Resource Group. I'll let you know if I hear back.
If it is, we can expect some of the same protests and objections that accompanied the Baton Rouge rally in January. That might be good for rallying the base but just as bad or worse to those voters who cling to the memory of good ol' moderate Mayor Pat. Where's he gone, and is his replacement this desperate?