All-Day Dining
Terrace Cafe may have drawn attention for its delicious breakfast fare, but the restaurant's lunch and dinner menus make it worth a trip at all times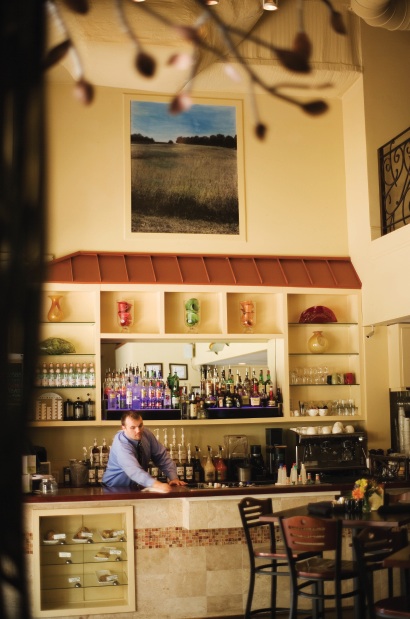 Terrace Café is a restaurant that wants to be all things to everyone. It's a breakfast joint, a bistro-style lunch counter, and a Southern fine-dining restaurant. Yet the moniker "café" is misleading, because in many ways Terrace Café is really a diner. Sure, it's refined and even elegant in ways you wouldn't expect at a diner, but the similarities are undeniable. Consider breakfast: classic dishes like steak and eggs, and shrimp and grits are available, but there is no stone left unturned. Waffles, French toast, oatmeal, and four types of eggs Benedict, as well as three egg omelets served Jersey style with eggs whipped into a froth and spread out in a thin layer. Breakfast items all come with a choice of grits, crispy hash browns, or fruit, but there are also twenty other side choices including coffee cake, country ham, and bacon. Plus, breakfast at Terrace is served until 2:30 p.m., which is marvelous because, really, having an omelet for lunch every now and again is highly underrated.
Terrace is in Piedmont Row, near Del Frisco's, Brio, and the recently opened Georges Brasserie. It's a dynamic area, especially in the evenings when live music from the restaurants wafts through the center of the fabricated citylike environs. Terrace, tucked away in the corner, is deceptively large. The entrance, located under a small awning in the corner, is purposefully unpretentious, but the space is big (it seats 110), with a vaulted two-story dining room set off by the bar and lunch counter. The light brown and beige color palate complements the treelike light fixtures and wine bottle accents. Tables are roomy and well spaced, but the flatware and dishes are a bit too modern and square for the setting. On a solo lunch visit, I sit at the counter and strike up an impromptu conversation with a fellow patron and Chef Thomas Kerns. The casual discourse flutters between current events and recent draft picks. It's that kind of community diners are known for, and I enjoy the experience immensely. Servers are affable and knowledgeable, if a bit harried when Terrace gets quite busy.
The lunch menu features several sandwiches and a selection of salads. Unfortunately, this is where we begin to see some missteps from the kitchen, both in the design and the execution of the menu. Many of the salads are overdesigned and complicated. I'm not sure if there is a need for two fried oyster salads, and I am positive that a tomato and mozzarella salad should not, under any circumstances, involve candied walnuts and Craisins. One of the signature salads is the Penick Wedge. This is a carnivorous version of the wedge salad, deconstructed and served with a Wagyu beef patty that is also available as a sandwich. In the case of both the salad and the sandwich, we're not asked about preferred cooking temperature, and I recall that an annoying North Carolina law prohibits cooking ground beef less than medium in cases where the restaurant does not grind its own meat. This is a shame, because the $12.50 Wagyu burger indeed arrives medium, which is a waste of good Japanese beef. Either grind your own and cook it to the temperature that patrons desire or don't serve expensive Wagyu. Other sandwiches fare a bit better, though, like a moist chicken sandwich that is tender and drenched with pepper Jack cheese on a toasted bun.
Dinner has been added to Terrace's menu, and with good reason. Starters include crisp and tart fried green tomatoes, which pair well with a creamy onion relish. Onion rings, offered also as a side, are caramelized underneath a light shell of tempura batter, and an asparagus bisque is creamy and redolent of a cool summer evening. Also spectacular is the scallop appetizer, served with a sublime hollandaise sauce studded with sweet pearls of lobster. The scallops are cooked perfectly and lightly crisp, and we hungrily devour them.
Like breakfast and lunch, there are daily specials. A little-known warm-water fish, the tripletail is broiled and served over spinach in a golden white-wine beurre blanc. One of its signature items is the Montana Ranch steak and egg, which features an eight-ounce filet served beneath a perfectly poached egg with bacon, leeks, a smoked Gouda pancake, and a thick shower of baby watercress. And, oh yeah, there's also crawfish, sautéed spinach, and black truffle butter. As the plate arrives, my senses are assaulted with this array of flavors, textures, and aromas, which make it difficult to detect the star of this dish. This minor problem is a recurring one. Like the aforementioned tomato salad and a few others, Chef Kerns would do well to pull back on the number of ingredients in a few dishes. He certainly can cook, and it appears he has the chops to run a large restaurant with three full menus, but it might make the dishes a little better—and his life a little easier—if he were to simplify.
Terrace makes its own desserts, and they are cleverly plated and fun. A white chocolate lemon truffle is layered in a highball glass and a decadent flourless chocolate torte is served in a miniature cast iron skillet, complete with a tiny oven mitt. At Terrace, breakfast is clearly the star, but with a few wrinkles in the lunch and dinner menu smoothed out, Charlotte will have a triple threat worthy of repeat visits at all times of the day.
Terrace Cafe, 4625 Piedmont Row Dr., Ste. 105, 704-554-6177
$$-$$$, BF, L, D, BR, FSB