All in the Family
A glimpse behind the counter at Price's Chicken Coop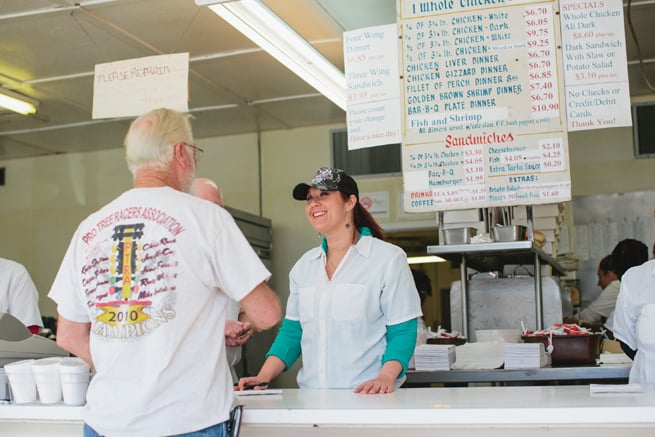 My story's kind of funny. I moved to Charlotte from Asheville, which completely thinks of itself as Foodie Capital, U.S.A., and I made myself a promise. I said I'm going to school [at UNC Charlotte], and I'm never going to work in another restaurant again. But God's got a sense of humor, and this is exactly where he placed me. Ever heard of the [Island] of Misfit Toys? From Rudolph [the Red-Nosed Reindeer]? Well, that's us, all of us, at Price's Chicken Coop.
At the Coop they put family before anything. And when you work here, you're part of the family. At the same time, they still allow us to be ourselves instead of trying to change us. They'd take you exactly as you are. It is so much different than working at a corporate restaurant. And most of the time, it's way busier. But when you come in, just watch. Watch how all these personalities work together—frying, bagging, taking orders. My best way of describing it—ha!—organized chaos. The busier it is, the better we do.
And the owners work as hard as their employees. Look! My owner is over there right now—see him frying?—giving one of the boys a break. You won't find that often. We have two managers and two owners and they have an open-door policy, too. It doesn't even have to be work-related for us to go in there. They want to build us up, not bring us down, and that is so important.
"Maybe it's crazy to say that giving someone a box of chicken makes you happy, but it does."
There have been some really memorable days. One of them—I'd been here about a year—it was the first football game of preseason, and everyone was all hyped up for Cam Newton. There was just this energy I'll never forget. A couple of the football players were even in here. Oh, you see everyone! Barbara Walters was in during the DNC. And Wolfgang Puck! One day, he just walked right in through our back door. I just said, 'Oh my. You're Wolfgang Puck.'
But it's not about who you see. It's about how you make people feel.
There's this one couple that comes at 5:30 p.m. every Saturday. He's a pilot, and she's a stay-at-home mom. It's their date night! We'll be leaving for the evening, and they'll still be sitting out in their car, eating the chicken. It's so sweet. Maybe it's crazy to say that giving someone a box of chicken makes you happy, but it does.
The marinade. That's the secret. They don't overthink it. Plus the peanut oil. It doesn't burn as bad, and we change the oil twice a day. The hardest part is cutting the chicken. We do that ourselves. It can take about six hours. We have a great time, but we work really hard, too.
I'm actually about to graduate. I'll have a bachelor's in accounting. But do you think I'm going to leave this place? No. No way. Because they're amazing to us. Maybe I'll help with the books. But I won't need a fancy title. I'm just happy being Ida. Ida from Price's Chicken Coop. —Ida De Zwaan