All in the Family
Hendrick Motorsports, with star drivers Jeff Gordon and Jimmie Johnson, was already the best professional sports team in the country—perhaps ever. Now it's got Junior. And with the 2008 NASCAR season getting underway, it's the team's chance to officially become a dynasty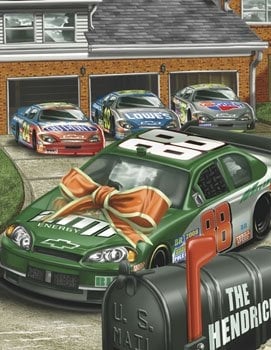 The Hendrick Motorsports complex, tucked away behind a quiet neighborhood on the Charlotte-Concord border just a couple of miles from Lowe's Motor Speedway, is the size of a small college campus. Several buildings, comprising more than 600,000 square feet, house a racing museum, race shops, and offices for Hendrick personnel and their drivers: Jeff Gordon, Jimmie Johnson, Casey Mears, and new team member Dale Earnhardt Jr.
The HMS complex has come a long way from the single 5,000-square-foot building, which is still there, that Rick Hendrick leased when he started the team in 1984. On a cold day during the first week in January, Marshall Carlson, general manager of HMS, is quick to point out this fact.
As Carlson walks through the complex, from the lobbies to the race shops to the conference room, he greets by name every Hendrick employee he passes. It would later become apparent that he picked up this trait from his mentor and father-in-law, team owner Rick Hendrick. Just a couple of days past New Year's, operations are in full swing at HMS. Testing for Daytona begins in two weeks.
"Last season, three of our four drivers made the Chase for the Championship," Carlson says. "This season we want it to be four of four. Last season, we had three drivers in the top five, this season we want it to be four drivers in the top five. I don't know how we're going to top winning 50 percent of the races, though," he laughs.
Hendrick Motorsports is approaching dynasty status. If it can't top itself with wins this season, then it has succeeded by making itself more exciting. The best team in the sport has added the most popular driver, Earnhardt Jr. The attention alone, not to mention the additional sponsorship money, will pay dividends for HMS. And the team has set the bar higher after an already historic season. Team owner Hendrick is a smart businessman. But now there's even more pressure on Earnhardt Jr. to deliver.
Walking through the 24/48 race shop (named for Gordon and Johnson's cars; there's an adjacent 5/88 race shop for Mears and Earnhardt Jr.), cars are lined up on each side. One side is Gordon's and the other is Johnson's. They're in just about every phase of production, including a couple that are just the steel chassis. Carlson says each team has about twenty cars; once the season starts that number will go down to about sixteen.
"We may have a couple more cars than most race teams," Carlson says. "We kind of err on the side of performance, instead of worrying about the cost it takes to have an extra two cars. Jimmie won the championship and Jeff finished second, so this shop produced the number one and two teams on the circuit last year."
Between March 11 and June 10 last season, HMS won ten of twelve races, including four each by Gordon and Johnson and one each by Mears and Kyle Busch (who was let go to make room for Earnhardt Jr.). Then, during the Chase, NASCAR's version of the playoffs, Johnson and Gordon combined to win six in a row leading up to the final race. Matt Kenseth won that bout at Homestead-Miami Speedway, but by then Johnson and Gordon had all but secured the number one and two finishes in the standings.
"What Hendrick Motorsports did in 2007 is utterly ridiculous," says Marty Smith, an ESPN NASCAR analyst and Huntersville resident. "Never in a million years, given the parity we've seen escalating in the sport since the late '90s, did anyone envision that a team would have a year like that. What Johnson and Gordon did, just those two and not even including Kyle Busch and Casey Mears, what those two did, they ran away. They ran away and hid from the rest of the sport. It was a tail whipping that not a lot of people expected."
But people are expecting even more with the addition of Earnhardt Jr. His highly publicized negotiations with Dale Earnhardt Inc. (DEI), the team founded by his late father, ended last May after he and Teresa Earnhardt—his stepmother and DEI co-owner—couldn't reach an agreement. He wanted more ownership and operational control of DEI.
After being courted by what is rumored to have been twenty different teams, the most sought-after free agent in NASCAR history signed on with HMS in June. He'd kept very private during the process, but an article in the May 21, 2007, issue of Sports Illustrated, titled "Hitting the Road," turned out to be prescient:
The deciding factor could be a team's ability to provide Earnhardt with something he couldn't find at DEI: the feeling that he is part of a family. "Man, I look at the fun that other drivers have with their owners," Earnhardt said last Thursday. "I want a guy who's going to be at the track and give me feedback. I want to feel really part of an entire organization. That's a big part of racing, and I want that."
Earnhardt Jr.'s new association with HMS has been the most talked-about topic in NASCAR for months, with media and fans comparing it to dominant teams like the New York Yankees and New England Patriots.
"[The Yankees] was actually a parallel I used when the whole Dale Earnhardt Jr. to Hendrick Motorsports phenomenon broke," says Smith. "Because you have a driver line-up that is not only way up the list in terms of sheer talent, but also marketability, which, as you know, in NASCAR is bigger than it is in any other sport. Because sponsorship runs our sport. And to now have Dale Jr. there, it only bolsters—I mean it's ridiculous. Here you have a guy who garners the most money, who attracts the most sponsors in the sport. And now he's joining Jeff Gordon and Jimmie Johnson. It's almost unfair."
As NASCAR becomes increasingly more popular, so do its drivers. Drivers appear in more television commercials than ever before. Races are now televised and broadcast on major networks (NASCAR is in the second year of an eight-year, $4.48 billion TV contract with ABC, ESPN, Fox, and TNT). It's because of NASCAR that people around the country know where Concord and, for some, Charlotte is. Eighty-six percent of race teams are based in this area, and the majority of drivers have homes here.
The buildup begins each January during the annual media tour held at Lowe's Motor Speedway. What started as a one-day tour twenty-five years ago now spans four days. This year's tour welcomed more than 200 journalists, many representing national publications and television stations. As the journalists are loaded onto buses and driven to several of the race teams' shops for individual press conferences, all of the buzz is about Hendrick Motorsports. Nearly 300 people—journalists, sponsors, and HMS staffers—fill the room in the auditorium HMS recently renovated for events such as this. Even by NASCAR's standards, this is a very highly attended event. The Carolina Panthers and Charlotte Bobcats would kill for this kind of scene. But this is what winning and superstar athletes garner.
The stage is set, literally. Hendrick, Gordon, Johnson, Mears, and Earnhardt Jr. take their seats. As more than thirty television cameras roll and flashes fire from many more cameras, each of the five men on stage field a few questions.
"It was really exciting to have Jimmie and Jeff battle for the championship last year," says Rick Hendrick, chairman and CEO of Hendrick Motorsports and with his 167 Cup wins second all-time among owners. "And I'm really excited about having Dale Jr. and Tony Eury Jr. here [Dale Jr.'s cousin and crew chief]. This is kind of like family."
Most of the questions are about Earnhardt Jr., even though one of his teammates is the back-to-back defending Cup champion (Johnson) and another has won four (Gordon).
"There were a lot of unknowns bringing Junior in, and he has stepped up in a way that I've been very impressed with," says Gordon. "I think it's only going to make all four of these teams better, share more information, and go out there and continue the success we had last year, if not more so. I don't know if that's possible, but I know that I just want one spot more than I had last year," he laughs. "I'm not asking for a lot, just one."
Gordon then goes on to further compliment Earnhardt Jr., and also to seemingly put to rest any uncertainty as to how the new driver will fit in with such an established team of winners.
"I don't think it's any secret that Jimmie, Casey, and myself are not just teammates but we're good friends," Gordon says.
"And that certainly plays a big role into how much information we share, how much we talk, and how we communicate. When you bring someone like Dale Earnhardt Jr. in…you never know how it's going to mix. While we haven't gone into races and done our team briefings yet, all I can tell you is that [so far] I've been extremely impressed."
Earnhardt Jr. coming to HMS represents not only indications of a potential dynasty, but it affects big business as well. NASCAR is a sport that is largely funded through corporate sponsorships, and when Earnhardt Jr. left DEI he not only left behind the number 8 he had made so famous (he's now number 88), but also the red Budweiser car he'd become synonymous with. Yes, all those stickers on his car and patches on his uniform had to change.
"That had a huge effect on the merchandise business," says Scott Warfield, director of marketing for Motorsports Authentics. The Concord-based company is the largest licensor of NASCAR memorabilia. "Just like any other sport, if you're a Kobe Bryant fan and he gets traded from the Lakers, you want that new jersey. You want to be up to date. So there was a little fallout last year; some of that apparel for Dale Earnhardt Jr. was hard to get rid of. Now, with that being said, it presents a great opportunity for us this year, because now that all of the new stuff is in, fans want that new Dale Earnhardt Jr./Mountain Dew/AMP/National Guard/Hendrick/number 88 for the new stuff."
It's NASCAR Night at Charlotte Bobcats Arena. The annual event is an attempt for the Bobcats to attract NASCAR's growing fan base, and for NASCAR to increase its local relevance, particularly downtown (the NASCAR Hall of Fame will be opening a few blocks away in a couple of years). It's a cold night and one of two days in January on which Charlotte sees snow. It's not enough to stick, but it's enough to keep people in. But that doesn't stop fans from showing up to Chalk Talk, a laid-back question-and-answer session held in one of the arena's lounges about an hour before the Bobcats take on the Memphis Grizzlies. NASCAR driver Denny Hamlin sits on a stool on stage and fields questions from fans who are visibly excited to be standing so close to him. It's one of sixty such appearances Hamlin says he makes a year as part of his team and sponsor obligations.
Hamlin won one race last season and finished twelfth in the final standings. Like the other drivers in the league, he watched HMS run away with the checkered flag in eighteen of thirty-six races. But he chose to learn from those whippings.
"They're such a strong team because they have four teams that really work well together," says Hamlin, who drives for Joe Gibbs Racing. "And that's important, to have a team where the chemistry jells well together. It's not just about the driver nowadays. It's important for us to find who works well [together], and I think that's what Hendrick does such a good job of, putting the right people in the right places. We're just a three-car team, but we were really like a two-car team last year. So now that we're bringing Kyle on board we've got three solid, good teams, and hopefully we can exchange more information. Because we know that's what the 24 and 48 do."
In a large suite inside Bobcats Arena, several NASCAR employees and executives are mingling while taking in the game. Paul Brooks, president of NASCAR Media Group, recently moved to Charlotte from Daytona Beach when his division moved its offices downtown. He says when teams perform like HMS, it increases interest in the sport, and that is good for business.
"It's all about racing and competition," Brooks says. "That's really what drives the business, and certainly what brings the fans to the races and has them turn on their televisions each week. And that, in essence, brings the sponsorship and all the other business aspects.
"Every sport has its superstars and megastars, and certainly for us Dale Earnhardt Jr. is at the top of fan interest, as is Jeff Gordon and Jimmie Johnson, and many of them. What Michael Jordan was to the NBA, Dale Earnhardt Jr. and the Jeff Gordons and Jimmie Johnsons of the world are to our sport."
HMS's key to success is simple. It's an age-old principle that is essential to any business: communication. It starts with Rick Hendrick communicating his vision. And it translates to the drivers and crew chiefs sharing information in the race shops and during the prerace briefings, which include all four drivers and all four crew chiefs. NASCAR is a unique sport in that ownership groups can own several teams. So not only are the HMS drivers competing against forty other teams, but they're also competing against one another. It takes great management to get everyone to buy into a unified team concept.
"Rick is the best boss, and best motivator, and partner you could possibly ever have," Gordon says. "He knows how to handle so much of everything that comes in, from the sponsors to the teams, the crew chiefs, the drivers. There are a lot of personalities that are sometimes tough to handle, but nobody does it better than Rick."
"We have a secret weapon—and that is Rick Hendrick," Carlson says. "He is unequivocally the strongest leader, mentor, team owner that anyone could imagine. His interaction with all of us that work out here, at every level, is constant. He has a really neat way of challenging us constantly to improve and to get better, to be even stronger. And at the same time, he's going to roll his sleeves up and be right there leading the charge with us."
Not only was Hendrick instrumental in assembling his team, but he's created an environment that allows two drivers, whose cars are located in the same shop, to go head to head all season, finish one and two, and the number two driver actually be happy for the number one. Carlson says the only rule Hendrick has is for the drivers not to wreck each other on the track. Though it does get heated at times.
"[Jeff] and I have had full-blown arguments," says Johnson. "But the fact of us getting out what we feel and how we felt someone was wrong, and talking through it has helped us build more respect for each other. And we just better understand one another that way. It hasn't been all roses, but we have a great deal of respect for one another on and off the track and what each other is all about. And it's okay to disagree from time to time."
This is just the sibling-type atmosphere Earnhardt Jr. was looking for when he decided to leave DEI. It's interesting, though, that he's found that family environment after leaving his family's team.
"I'm going to get along good with the teammates; I'll make sure that happens," Earnhardt Jr. says. "I'll make sure I get along great with everybody. If there are any problems, we'll figure them out and get them settled."
Earnhardt says he's enjoyed the level of communication he's had thus far with Hendrick.
"He doesn't know much of what it's like to have me as a driver and I don't know much of what it's like to work for him as an owner," Earnhardt Jr. says. "So I just make sure I tell him everything I'm thinking so he knows what's going through my mind, and he knows what's on my mind, and what's important to me."
What's important right now to Earnhardt Jr. is winning. While he has seventeen career wins, he didn't win any races last season and has only two wins in the last three years. The most popular driver in the sport (last fall he launched his own candy bar and this spring he's opening a nightclub in downtown Charlotte) is in danger of becoming the Anna Kournikova of the sport. He earns more money from endorsements than racing.
"I desperately want to get into victory lane as soon as I can," Earnhardt Jr. says. "I miss that feeling. Not to prove it to you, not to prove it to anybody else or myself. I just miss the feeling of winning. I miss getting out of the car and celebrating. That was fun. And that's why I do it."
Hendrick, proven winner that he is, knows how to keep things in perspective, even if it means downplaying this season's expectations to an absurd degree.
"We're tied for last place [going into this season]," he says. "There are forty-five teams and we're tied for last with them. We're focused on coming out of the gate strong and we want to hopefully make the Chase and battle for the championship. And we know it's going to be a super tough year. A lot of people were getting ready for '08 when we were trying to win the championship with the last ten in the Chase."
As the NASCAR season kicks off February 17 with the fiftieth running of the Daytona 500, it will be the start of another long season. Nine months, to be exact. But what makes a season even longer is not winning. The last few years have flown by for Gordon and Johnson, but not so much for Earnhardt Jr. He's on their team now. So if HMS won half the races last year with Gordon and Johnson, does this now mean it will win two-thirds? Not likely. But if Earnhardt Jr. runs away with a few checkered flags, we'll be looking at a new family dynasty.