All Years Remembered: WFAE at 40
Charlotte's NPR station celebrates four decades of format changes, resonant voices, and the gradual growth of a thriving news source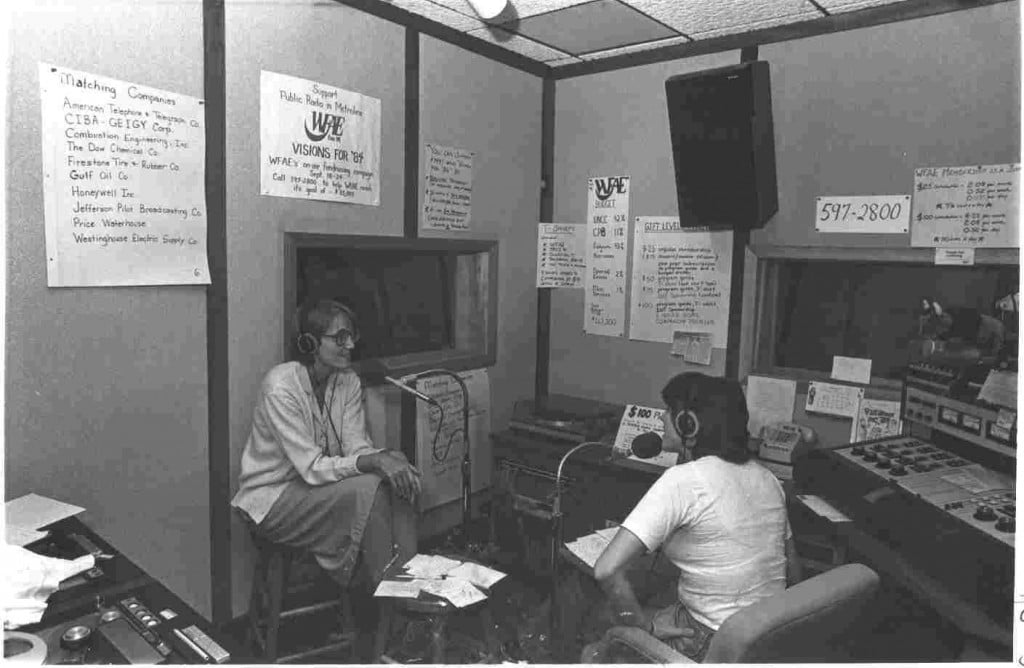 WFAE-FM, Charlotte's National Public Radio affiliate, celebrates its 40th anniversary today, which compels some of its long-timers to recall when it seemed the station wouldn't last until its 10th.
Its nadir: September 1989, Hurricane Hugo, which knocked power out all over town. WFAE now has its own 100,000-watt transmitter, but back in '89, it shared one with the public television station WTVI. Roger Sarow had been WFAE's president and general manager for about a year, and after Hugo hit, he managed to secure a gasoline generator—"You know, just like one of those you put in the back of a pickup truck and pull the handle to start"—and use it to broadcast again. At 10 watts. "We found one of the last ones in town," Sarow says.
Things went fine until Sarow ventured behind the WTVI building in the wind and rain to pour gas into the generator—and spilled it. Charlotte's NPR news source, in the person of its president and GM, was under threat to life and limb from a hurricane and fire risk. "I was standing out there in water and gasoline," he says, "and just had to say, 'We've got to hang it up until we can get power back.'" That took five days.
***
Conditions are better today. On Tuesday morning, the station plans a special 40th-anniversary episode of Charlotte Talks with Mike Collins, which Collins and crew will broadcast live from the plaza at Spirit Square, complete with coffee and birthday cake for anyone who wants to drop by.
It's just one in a series of 40th-anniversary events that Jeff Bundy, WFAE's executive director of branding and engagement, and his team plan in the coming months. They include a virtual event July 20 with NPR foreign correspondents Eleanor Beardsley, Sylvia Poggioli, and Ruth Sherlock; a virtual step challenge called "Charlotte Walks" early next year; a gala in the spring; and several events, details to be announced, from the station's biggest new initiative, a "race and equity team" the station began to assemble after George Floyd's murder. It's "a team of journalists and editors," Bundy says, "who will be inserted into every aspect of what we're doing at WFAE."
All of it reflects the station's growing prominence in a Charlotte media sphere that's transformed in the last decade. This year, WFAE expects to surpass $8 million in revenue for the first time, up from $4.8 million just six years ago. Its donor base has nearly doubled as well, from 12,731 supporters in the 2014 fiscal year to 24,428 this year.
WFAE has grown with—and, in many ways, in response to—the waning of The Charlotte Observer as the Charlotte region's central news source and the emergence of startups like Charlotte Agenda, now Axios Charlotte, and The Charlotte Ledger. Those outlets' subscription-based business models more closely resemble the donation-driven operation that WFAE, as an NPR affiliate, has relied on from the outset—a model that, WFAE President and CEO Joe O'Connor tells me, "allows for something beyond advertising."
"There's a lot we have inherited from the Observer in terms of wanting to achieve the same level of excellence they have, their ability to hold powerful people accountable, and to tell really compelling stories that connect the community," O'Connor says. "So we have an obligation to step up where newspapers can't—and this is across the country, not just Charlotte—where those newspapers no longer can do so because the economic model isn't working."
In response, a station that once lacked the staff to place reporters in the field has nearly doubled the size of its newsroom since 2015—and, in April, hired three reporters through the national service program Report for America specifically to cover issues of race and equity. WFAE plans to raise $1.2 million to pay for them, an editor, and assorted community events over three years, and eventually expand to a nine-member team that'll help guide the station's operations and news content from now on.
After the Floyd murder last year and protests that followed, O'Connor says, the station's 24-member board of directors felt the need "to do something positive, to do something that's going to make a difference this time, that's not going to be ephemeral. It's going to be permanent. We're going to make something happen in order to tell stories better, that have an impact that can create understanding and compassion and empathy in an effort to change people's minds, so that they understand the degree of suffering going on because of racism in this country."
***
No one had any reason to think WFAE would apply itself to such consequential efforts in the beginning. "Go back to 1976," says Paul Stribling, then a freshman at UNC Charlotte, who would later work for the station for 30 years. "There was no public radio in the Charlotte market at all. Charlotte was starting to become a bigger market, a bigger area. And it was, to me, pretty amazing, looking back, that there was nothing."
It launched April 18, 1977, broadcasting from the basement of the Cone University Center at UNCC. (FAE stands for "Fine Arts Education.") The 10-watt signal barely reached beyond campus, and it went off the air in December 1979 to prepare for eventual relaunch as a full-fledged NPR affiliate with a 100,000-watt signal. That day came June 29, 1981, when WFAE became recognizable as the station that now airs Morning Edition and Wait Wait… Don't Tell Me!—and, for that matter, Charlotte Talks.
Still, for the next 15 years, WFAE couldn't quite decide on its identity. It broadcast only 18 hours per day until 1987 with what Sarow calls "a real mixed format": classical music, local news, national news from NPR, mainstream jazz, and contemporary (or "smooth") jazz, "which some listeners loved and other listeners absolutely hated with a passion." The membership-drive numbers kept showing that news and talk brought in more donations. In 1996, WFAE ditched jazz, ceded classical music to WDAV-FM in Davidson, and switched format to all-news and talk, with original local news reporting and complementary national NPR shows like Fresh Air and The Diane Rehm Show during the day.
The change established the foundation for what the station would become and, predictably, infuriated some loyal listeners. "I got a handwritten note from somebody," Sarow says, "who said, 'We just wanted to let you know that we're longtime listeners of WFAE. It was a wonderful station. Thank you. You totally ruined it.'"
***
Time and pledges have validated the decision. Sarow and the board launched Charlotte Talks in 1998 and began to use it as a springboard for much of the station's local news reporting. WFAE expanded significantly until Sarow retired in 2015 and O'Connor replaced him, and it's grown at an even faster rate since. Reporting accolades have followed: three national Murrow Awards since 2010 and, in 2019, a national Gracie Award for She Says, a serial podcast.
"Joe and the current staff do one of the hardest things to do, which is original local news reporting," says Sarow, now 70. "They have grown the news commitment that we had back in those middle days of WFAE, the late '80s and early '90s, when it was a big deal if we were able to keep a news staff of two or three people." He sees what the station has become and feels "a definite sense of pride."
Pride, of course, but also gratitude. No one in public radio can afford to take listeners for granted. Stribling, who eventually worked his way from student volunteer to program manager, emphasizes the bond that forms over the years between a public radio station and its longtime supporters. That's not something you typically find with commercial radio, and certainly not with satellite. Over time, you come to know and trust those voices, those names.
"I was just going through stuff that I got over the years, and it stops you in your tracks because it just lets you know how important what you're doing is," says Stribling, 64, now program director for Boise State Public Radio in Idaho—where he helped launch a Charlotte Talks-inspired news and discussion program called Idaho Matters. "How many people have the luxury of a job where they hear that?
"It's just that personal connection, and it all goes back to what radio is. It's such an intimate medium, and the relationship of the listener with the station and its people and programming is that magical connection. That rises above everything else."