Almost Famous
Is that an aisle runner or a red carpet? The distinction can be hard to make, but it's good to know the difference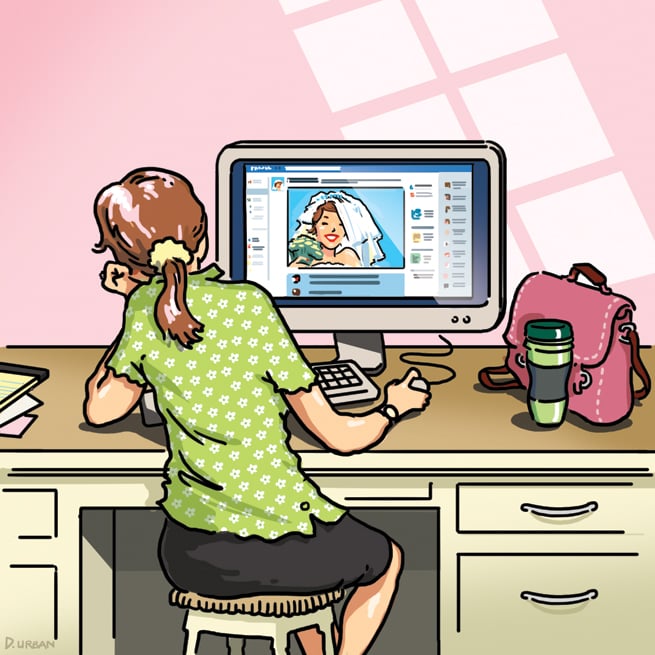 Take a quick scroll through your Facebook News Feed and glance at the profile photos beside each update. Chances are you'll see a smattering of well-angled selfies, a few irreverent group shots, a bevy of chubby babies making silly faces, and an ever-growing number of blushing brides perfectly posed with their toned arms and glossy lips tilted toward the camera. Choosing which radiant shot to anoint as your Facebook profile photo is not going to be an easy task. Should it be the soulful close-up in which your skin looks flawless and your eyes are glittering? Or the silhouetted shot in front of the arched window that makes you look like royalty surveying your kingdom? The sweet shot with your eyes closed while you dance with your hubby? The exuberant candid of you coming down the aisle with the million-watt smile? You are bound to look blissful and—yeah, let's admit it—super bangin' in every single one of them. Everyone will tell you so. And they'll be right. You will be a positively stunning bride and you should enjoy every glorious minute of the adoration.
Actually, you've probably already been enjoying it for a while now. It started when you got engaged and your left hand became a subject of intense fascination. Strangers in the elevator asking when the big day is. Constant requests to tell the romantic proposal story. Everyone smiling, squealing, and fawning over you. It's a little like being famous, isn't it?
Well, brace yourself, honey, because the fun is just beginning. In the weeks leading up to your wedding you'll acquire an entourage big enough to rival Beyoncé's—hair stylist, makeup artist, seamstress, photographer, personal pastry chef, and probably even a driver. Your admirers will nod supportively while you debate the perfect shade of nail polish to complement your flowers and sigh with envy as you discuss the merits of Bali versus Fiji for your upcoming romantic getaway. And you, ever the benevolent diva, will decree what color of dress your bridesmaids will wear, what music people will dance to, and what brand of bubbly will be in their glasses when they raise a toast to you at the end of the night. Every time you lean in for a kiss from your hunk, the crowd will swoon.
A few weeks later when you've returned from your sexy, sun-kissed vacay, you'll comb through the professional portfolio of photos and the dozens of paparazzi shots uploaded by your adoring fans and look for that perfect shot that encapsulates your most glamorous day. Find it you will, and with a few clicks it becomes the icon of your online self—solid proof that you really are the glossy, deliriously enamored girl that the cameras captured that day. The congratulations continue to roll in for your starring turn as the "Girl in Love." You'll scroll contentedly through your digital wall, which is now shellacked with hues of happy tidings while you cuddle up next to your costar and re-live all the amazing moments of your big day.
And then, day by day, bit by bit, normalcy encroaches. Another young starlet posts a picture of her sparkly new accessory and becomes an overnight sensation that everyone is rushing to comment on while your notifications dwindle to a few halfhearted likes. Before you know it, you've become just another girl on the elevator with a wedding band nestled next to her engagement ring. Sure, the occasional curious onlooker might think to ask, "How long have you been married?" But for the most part the only attention you'll get will be from single guys who will take a glance and move on like a casting director eliminating a headshot or from single girls who will see your rings and breathe a sigh of relief that you won't be competing against them for their big breakout role. You'll settle in to a life after fame filled with normal things like grocery shopping and gas pumping, and not a single person will attempt to photograph you doing any of it. According to your Facebook profile photo, you're still a gown-wearing, peony-holding, show-stopping goddess. In reality, you're just another married lady.
I'm not painting this graphic picture to ruin your buzz or make some grandiose statement about the commercialization of the wedding industry. I'm telling you this because I wish someone had told me to keep a cardigan handy to help ward off the chill after the spotlight burns out.
Right now, the fact that you're in love with your leading man is headline news. For the friends and family anxiously awaiting the chance to celebrate on your big day, it's dedicated–segment–on–Entertainment Tonight big. And that is a wonderful thing. Revel in it! The adoring outpouring of support that a wedding bestows upon a couple is a beautiful foundation upon which to build the rest of your life together.
It also just happens to feel a bit like a fame high that will suddenly be snuffed right around the same time that you lick the seals on the last of the thank-you notes. Tales of domestic bliss such as "Husband and Wife Break in New Cuisinart, Resulting in Decent Pesto," aren't likely to make the front page in anyone's world—except for maybe the aunt who bought you the Cuisinart. And that's OK.
Marriages thrive on intimacy, not spotlight. So even though you're bound to feel a bit wistful about the heady days of being a marquee bride, your most defining role is the one that each of you plays for each other every day for the rest of your lives. It's the audience of one that counts. Not the adoring masses.
So, let's make a pact, shall we? Set a deadline to take down the Facebook profile photo of you in your wedding dress. Your life and your marriage are defined by so much more than that one glamorous day, so don't let your online presence become a symbol of a limited identity. I'd suggest you do it one month after you return home from the honeymoon, but I'll be lenient and allow up to three before I start to silently judge you. After all, your triceps do look really fierce in that shot.