Along the Way: 'It's Hard Out Here'
A meeting with a stranger, two slices of pepperoni, and 300 Bible verses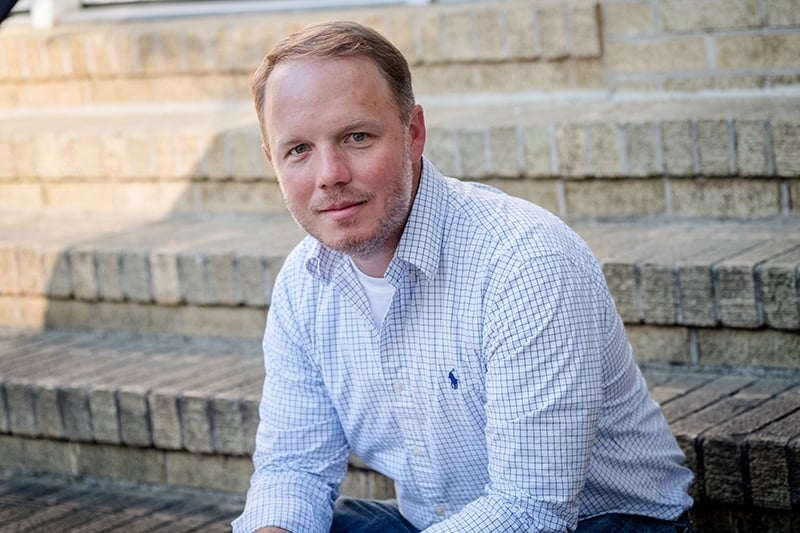 I WAS STANDING on the outskirts of Romare Bearden Park one evening when a short man with a mustache appeared and said, "Looks different, doesn't it?"
It was the second Tuesday in May. I was on my way to a primary election night party for a friend who ran for office, and I'd been scrolling through the results to see what expression I should wear when I walked in.
The man kept talking. He tilted his head toward the skyline.
"Man, everything's changed," he said.
He nervously shifted a Gatorade bottle filled with water back and forth between his hands.
He kept talking. He said he got out of jail a week earlier. Said he'd landed a job as a cook at the Mellow Mushroom uptown. He said he had a tent behind the Home Depot on Wendover Road. I asked if he'd tried a shelter. He said he'd spent one night at the men's shelter, but someone stole his stuff, so he wouldn't go back. He said he'd been incarcerated for 30 years. He said his name was Glenn.
He did not say, "Can I have money?"
He said he was waiting on his first paycheck that Friday. He said, "I hope I get to Friday." Then he started sniffling and a couple of tears fell out. I could tell he wasn't prepared for that. It surprised him, and me, as he looked down and choked out, "It's h-h-hard out here."
I reached back and grabbed the couple of dollars in cash I had and handed it over. He told me he couldn't take it. I pushed it back toward him, and he said he'd use it to wash his clothes.
He kept talking. He said he'd gone to jail for robbery. Then had years added for murder—he said he killed a guy who'd tried to assault him in jail. He said he was in cellblock H in Raleigh's Central Prison when ABC's Ted Koppel spent the night there in 1994 to capture rare video of what life's like in an American prison.
He spoke with an accent I was familiar with—bud was bouuud—and his skin was a dark tan. He sounded and looked Lumbee, as in the prominent tribe in Lumberton, not far from where I used to live.
He said he was a licensed electrician, but the only job he's found so far is this cooking thing. I asked him how many shifts he had that week. He pulled out a piece of paper and pointed at it—the next one was 10 a.m. the next day, Wednesday.
He said, "If you come in tomorrow and tell them you want me to make your lunch, that would mean everything to me. It really would."
I went to the election party, upstairs in a nice restaurant with good people, many of whom have devoted their careers to helping people like Glenn.
The next day, I went to the Mellow Mushroom for lunch. Honestly, I didn't expect to see him.
It's hard to know what to believe these days, in an era when messages are more profitable than truth.
But there was Glenn, shoveling pizzas in and out of the oven. He came out, snapped off a blue rubber glove, and shook my hand. He thanked me for coming. I asked how he'd slept. "Barely," he said.
He made the lunch special, two slices of pepperoni for $6.50, and brought it out.
He came out again to say goodbye. I handed him a little more cash. He thanked me and said that if I ever needed work done around the house, he was my guy. I laughed and asked him his last name, and he told me.
That night, I searched his name in the public offender database, and there he was again, sometimes under the name Glenn, others under Glen, and once under "Little Chief."
His first arrest was for larceny in 1985, when he was 19. Then breaking and entering. Every arrest after that—outside of one misdemeanor assault charge—had something to do with stealing from people. No murders, though. And he hadn't been released the week before we met but more than a year before we met. In fact, he's not even on parole.
I guess sometimes we embellish our crimes at the expense of our virtues.
Afterward, I searched through newspaper archives and found two records for him from North Carolina. First, in 1975, when he was 9, he was mentioned in an obituary for his father, J.C. The second time was two years later in 1977, when he was a fifth-grader and in a photo with 11 other kids who qualified for summer camp by memorizing 300 Bible verses during the school year. It's hard to tell which one's him, but they were all proud of themselves.
I went back to Mellow Mushroom a few weeks later to look for Glenn/Glen/Little Chief. The manager smiled and told me he wasn't there anymore. Said he'd gone to Texas to "figure things out."
I found him on Facebook and sent him a friend request. I'm still waiting for him to accept me.
If you read this and know who I'm talking about and where to find him, tell him I said hey. I hope things are changing for the better.