Along the Way: Pedaling Away the City-Suburb Divide
Searching for a (green)way to bridge the gap that separates us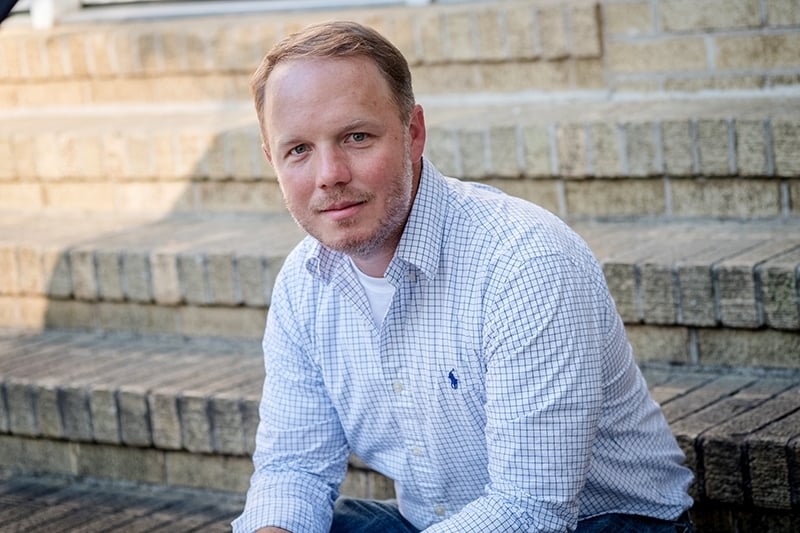 I LEARNED to ride a bike on a bumpy, gravel driveway in front of our family's house in the woods of rural southern Maryland. By comparison, Charlotte's streets, which have asphalt and everything, are luxurious. 
Scary, too. I went out on a long trip in early September, and a man in a compact car blasted his horn at me at the four-way stop at Pecan and Commonwealth. Another car nearly clipped me as I rode up Trade Street into uptown. And a security guard outside Bank of America Stadium grabbed my handlebars to stop me from rolling through a pregame concert ahead of the North Carolina-South Carolina football game.
The greenways, though, are peaceful pathways, a little country in the city. Stewart Creek Greenway is my favorite, as it winds through the creases of the quickly changing Wesley Heights neighborhood. On this September ride, I set out for the new southern stretch of the Little Sugar Creek Greenway, from Tyvola Road to Interstate 485, which opened in 2018.
The path is wide out there, easy going, and it ends underneath 485. I sat there for a few minutes and listened to the cars above my head—ba-dum, ba-dum, ba-dum—and thought about how remarkable it is that someone who lives in east Charlotte can ride his bike to damn near Ballantyne.
When I moved to the city in 2013, south Charlotte seemed like an odd land. At least one group, the South Mecklenburg Alliance of Responsible Taxpayers, itched to secede from the city. They'd moved there for space and for family, they argued, and they had different priorities and politics and interests than the center of town.
Now, at the turn of the decade, plans for a new Ballantyne are emerging, and they look a lot like the new Charlotte. Developers have drawn up ideas to take a piece of a golf course—the sacred ground of suburbia—and turn it into a center with restaurants, mixed-use buildings, and more urban living spaces that include some affordable housing.
What seemed impossible seven years ago, Ballantyne becoming a full-fledged participant in Charlotte's living experience, might soon happen.
The next question, then, is: Can we extend these connections beyond Mecklenburg County?
Over the past year, as I've followed and covered the long race for North Carolina's 9th Congressional District, which stretches from southeast Charlotte to Bladen County about 150 miles to the east, I've grown more concerned about the disconnect between rural and urban areas of North Carolina. During my 20 or so years as a writer in the state, I've heard all the tropes about Charlotte from people who don't live here: You couldn't pay me to live around all those people. All Charlotte cares about is money. You can't even drive through Charlotte without getting shot.
Politics in the internet age are making the divisions more obvious. In the 9th District special election, Democrat Dan McCready won all but a few precincts in Mecklenburg County, but he lost thousands of votes to his new Republican opponent and the eventual winner, Dan Bishop, in rural counties east of here.
Charlotte's the biggest city I've ever lived in, by a lot. To me it's still an overwhelming place, but in all good ways. Endless entertainment and food and chances to connect with new people from new places.
But when I go out to these rural places now, the people I talk to—black and white, Native American and Latino—make it clear that their concerns are different from the concerns of Charlotte. Theirs are more about survival: Will we live through another flood? Where will our kids work? Will our hospitals stay open?
And then they come here and see scooters and self-serve beer joints and bicyclists joyriding on the streets.
So what do we do? UNC Charlotte's Urban Institute has spent two years searching for remnants of economic and cultural ties between Charlotte and the surrounding areas. The institute is releasing the findings from the Carolinas Urban-Rural Connection project this fall in a series of public forums, topped off with an all-day conference on November 21.
It's not a bike path to Rockingham, but it's something. As prosperous as Charlotte is, the Urban Institute found that connecting with the areas around us is more than a mission of goodwill and outreach. These places have a lot to teach us, too, not the least of which being resilience and humility.
After sitting underneath the 485 loop that symbolically separates our city from the rest of the state, I set out for home. It took more than an hour—back up through Starmount and behind Park Road Shopping Center and into Freedom Park and past Carolinas Medical Center and around CPCC and through the patios of Plaza Midwood—but I could hardly get over how smooth a ride it was, back and forth from the center of a major American city to a neighborhood that once thought of seceding.