Along the Way with Michael Graff: Front Porch Perspective
A devil cat, godly men, and an understanding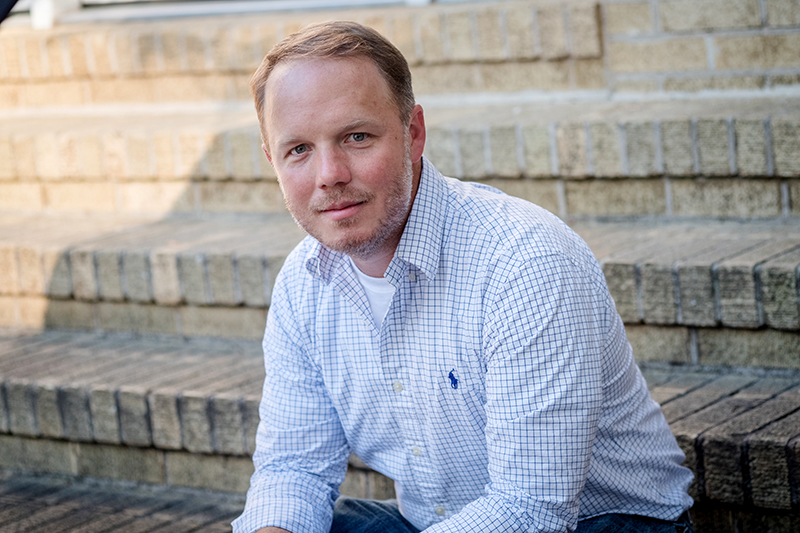 TWO GOD-FEARING MEN in white shirts and ties approached my front door the other morning with pamphlets in their hands. I was on the porch with a laptop on my knees, and they saw me before I saw them, so there was no escaping.
"Working from home today?" one guy asked.
"Yeah," I said, looking intently at the screen to exaggerate the act.
"I won't take up much of your time," he promised. "Just want to drop this off. Have you ever heard the phrase, 'Someone's watching over you'? That's what this is about. Have a good day."
He was gone as soon as he'd arrived. I picked up the periodical. The cover story was, "Angels: Are They Real? Why It Matters."
I'm not a religious person, but I enjoy a moment when the universe sends timely remarks. This was an interesting day for such a question—"Angels: Are They Real?"—to arrive on doorsteps. That morning, the attorney general and president said they'd end a program that protects children of undocumented immigrants from deportation. Of the 800,000 young people in the United States who benefit from the protection, about 27,000 live in North Carolina, many of them having moved here at such a young age that they don't have memories of the country in which they were born.
The news made me think back to this past summer, when I was fortunate to take part in the Southern Foodways Alliance's summer symposium. Most of the three-day event celebrated Charlotte's immigrant-owned food establishments, with a heavy tilt toward Latino spots along Central Avenue. The speakers included Rosalia Torres-Weiner, a local artist and native of Mexico; Las Delicias Bakery owner Zhenia Martinez, whose parents moved here from Mexico when she was 11 in 1985; and Oliver Merino, an activist and "Dreamer" whose parents took him across the Arizona desert from Mexico in 1998, when he was just 10. They're people who make our city better.
The main event was a dinner prepared jointly by Kindred Restaurant, a two-time James Beard Award semifinalist, and Tacos El Nevado, which has locations on Central Avenue and South Boulevard. Kindred owners Joe and Katy Kindred collaborated on the menu for months with Tacos El Nevado owner Victor Santiago and his niece, Nereyda Mali. The result was a dinner that swept 14 dishes in front of our faces, from tacos to flounder to lamb shoulder to peas to upside-down cake. By no means am I a food expert, but I'm a sucker for passion, and in that regard, it was the best meal of my life. After we ate, the chefs and their staffs walked out in a line through the dinner tables. We clapped, then stood and clapped, then whistled and yelped. Nereyda cried. So did Katy. I swallowed a lump in my throat.
Less than three months later, here I was reading news of nationalism on my computer and watching Jehovah's Witnesses deliver news about angels, and I was hungry. So I went to Tacos El Nevado, twice, first for a taco lunch by myself and later a torta dinner with my fiancée. Each time, the televisions blared. "El Pdte. Trump Revoca DACA," the scroll read at lunch. And at dinner, "Fin De DACA: Unos 800 Mil Dreamers En Un Limbo Migratorio."
In these times, with leaders acting to squeeze from this land any collective curiosity toward the unfamiliar, I imagine door-to-door sales of anything are slow, particularly faith.
Before I left my porch and went to lunch that day, I watched the Jehovah's Witnesses go from closed door to closed door, and I remembered our neighborhood cat. She's roamed our street for the past couple of weeks, and in my encounters with her, she hasn't been all that friendly. I'll try to pet her; she'll hiss and show me the back of her throat. On one occasion, she hopped up on the ledge and stared at me, with a look in her eyes that seemed to have been sent straight from the devil. My neighbor across the street leaves food and water for her, and despite that gesture, the other day I watched her take swats at the cat he actually owns.
She was on his porch when the men approached. They walked up slowly and carefully. She hissed; they continued. Another hiss, another step. When they reached the porch, the cat howled and jumped aside and sauntered off. But she didn't swat. Instead, she plopped down a few feet away and allowed the men to ring the doorbell. Nobody was home, but for those few seconds I watched this devil cat and these godly men share a piece of property that, in the grand scheme of things, belonged to neither of them.