Alvin Ailey American Dance Theater Comes to Charlotte
A conversation with Robert Battle, Ailey's artistic director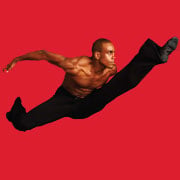 When Robert Battle was named artistic director of Alvin Ailey American Dance Theater last July, he became only the third person to head the company since it was founded in 1958.
He was a logical choice. Battle has a long-standing association with the Ailey organization. A frequent choreographer and artist-in-residence at Ailey since 1999, he has had many of his works performed by the company. In fact, the company's current repertory includes his ballets The Hunt, In/Side, and Love Stories.
Battle's rise to the top of the modern dance world began in Miami. He showed artistic talent early and studied dance at a high school arts magnet program before moving on to Miami's New World School of the Arts, and finally to the dance program at The Juilliard School. Upon his graduation from Juilliard, he joined the Parsons Dance Company and danced with them from 1994 to 2001. Battle founded his own Battleworks Dance Company, which made its debut in 2002 in Düsseldorf, Germany as the U.S. representative to the World Dance Alliance's Global Assembly.
He has regularly conducted residencies at universities throughout the United States and gives master classes around the globe. Battle was honored as one of the "Masters of African American Choreography" by the Kennedy Center for the Performing Arts in 2005, and he received the prestigious Statue Award from the Princess Grace Foundation-USA in 2007.
Here's what Battle had to say about the legendary company and their upcoming stop in the Queen City.
Revue: What does it feel like to take over as artistic director at one of the most revered dance companies in the world?
Robert Battle: It feels great! It is not only one of the most revered dance companies and most important cultural institutions in our country, but I believe [it] represents the great ideals of the American dream. To think of how it started with one black man from the South during an oppressive time who had a vision of how he wanted to express his experiences in this country. And then that experience became a universal expression and the company is now over 54 years old, recognized by the U.S. Congress as a vital American "cultural ambassador to the world," [and has] performed for over 23 million people. That, to me, is a great feat for any cultural institution. So, it's an awesome feeling to know that I get to carry that into the future.
Revue: What's your artistic vision for the company? What will you leave untouched? How will you leave your own mark on it?
RB: My artistic vision really is about past, present, and future. Reaching back to those seminal works of art as it pertains to dance and having that be the guide to understand how we arrived at where we are today and an indicator of where we possibly can go into the future. The notion is that anything is possible and that we're only limited by our own imagination and nothing more. So I think you will see the gamut of different choreographers, different ways of expressing this thing called dance which really is a celebration of life.
And, of course there's Revelations, our signature work that doesn't need any change or improvement. It's a masterpiece and it will remain that way, the way it was intended. What I will always honor is the notion, as Mr. Ailey would say, "Dance came from the people and should be delivered back to the people." This idea of being accessible to our audiences and the communities we touch, not just as a performing company, but also through all of the outreach and through The Ailey School. All of this expresses a bright future and that will remain untouched and, if anything, expand.
Revue: Your Takademe will be performed at the May 17 show. How would you describe that work to someone who hasn't seen it?
RB: Takademe is set to Indian music by Sheila Chandra. When you learn to play the tabla, the Indian drum, you also learn how to speak the syllables and then play that rhythmically on the drum. That already is very interesting, in terms of your ears, but then what you see is a visualization of the music.
It's a special work to me because I created it in Queens, N.Y. in a living room that was very small (so that explains why the dance doesn't travel very much). But the dance has traveled from that little living room in Queens, and now it travels all over the world through the Alvin Ailey American Dance Theater. So it's very special to me as I take the helm of this company that I remember my beginnings as well.
Revue: What made Ailey the legend he remains? How would you describe an Ailey-choreographed work? What sets it apart from any other choreographer? What are some of Ailey's hallmarks?
RB: I think what is so special about Alvin Ailey—the genius, the choreographer—is the humanity in his work that touches people on so many levels. In Revelations, you can go from tears to joy by the end of that ballet. But then in a work called Streams, one of the works I brought back into the repertory, it's a very abstract work. He had such versatility in his expression, but still with that twinge of humanity. He also could be very funny in a work like Night Creature—a collaboration he did with the late Duke Ellington that can be very coquettish and funny. Again, he's able to reach people through dance in a way that I think no one else could.
Then there's a work also that we do that he created called Memoria—a tribute to his dear friend, Joyce Trisler. After her death, he wanted to make a work to celebrate her life. She was a marvelous teacher and choreographer and dancer and they shared the same mentor, Lester Horton. But more than that, she was a great friend to him and so this dance is very haunting, mysterious, transcendent, and beautiful.
Revue: Ailey was known to encourage and accept artistic input from his dancers. Is that reputation true? Has that philosophy continued since his death?
RB: Yes, because there are so many levels of input from dancers. It's not just that the dancers offer the choreographer steps, but I really think he was inspired by his dancers, their physicality and who they were as people. He was interested in seeing the dancers as people first and then dancers. When you think of Judith Jamison, his muse who took the helm after his death, you think of that seminal work, Cry, created in 1971. This is a masterpiece, and I think he saw something in her that inspired him to create that work.
Cry was a birthday gift for his mother but it was also dedicated to all black women everywhere. One of the reasons I chose Arden Court by Paul Taylor, created in 1981, is because of the way he uses the dancers in the work, especially the male dancers. They have this wonderful adagio close to the end and I just imagined my dancers performing that work. I know for myself, when I look at my dancers I think of choices for the [Company]. And as a choreographer, I'm inspired by these 30 marvelous people and artists.
Revue: The Company is performing three different programs during your stay in Charlotte. Describe how each of the shows is different.
RB: I think again you get the sense of past, present and future when you think of going from Arden Court to my first commissioned work, Home, by Rennie Harris who's a hip-hop choreographer. It's inspired by the stories of people living with or affected by HIV. Over 1,300 people submitted stories to a "Fight HIV Your Way," contest, and ten of those stories were chosen by a panel to become the inspiration for this dance. The music is house/gospel. So you go from William Boyce, Arden Court, baroque music, to house/gospel in Home and then onto Joyce Trisler's ethereal 1958 solo called Journey to the music of Charles Ives' "The Unanswered Question." So you have this sort of abstract, beautiful, haunting music and beautiful solo in Journey and then you move onto those traditional spirituals in Revelations.
The second program with Streams, that I previously mentioned, has urban folk dance created by Ulysses Dove in 1990. He left us all too soon but he left us some wonderful gems so we always try to keep Ulysses Dove's work alive in the repertoir. This work is about relationships … love, and the loss of love and the return to love and some of the difficulties of relationships. It's quite a strong work.
Then you move on to Minus 16 by Ohad Naharin, which is new to the repertory. Minus 16 is a very eclectic work he created it in 1999 with many different sections and wonderful surprises. It starts during the intermission so already you're sort of off balance at the start; it already challenges the way we're used to seeing dance, and it just continues to build from there. It has a wonderful moment of audience participation. I don't want to give away the whole thing, but you'll remember it when you see it.
In the third program, in addition to Memoria and Takademe, we have another work that I choreographed in 2001 for six men, and it's called The Hunt. I studied martial arts before I studied dance, and this work is inspired by my studies in karate so it has that kind of hard-edged feel. It's very tribal with an urban edge—propulsive and electrifying. It's almost like a war dance of sorts but there's certainly camaraderie amongst the men as they work through the three sections of this choreography. It definitely leaves both the audience and the dancer gasping for air. It's quite a workout, but it's quite wonderful.
Revue: Who's the audience in Charlotte for an Ailey ballet? Do people who aren't typically ballet or dance fans come out to see your shows because of Ailey's reputation?
RB: Yes, I think the wonderful thing about this company is that the audience is so vast that it's not just the [person] who normally goes to see dance in the theater but oftentimes, it's people who are not in the arts at all. It's very much a diverse audience that comes to see the Ailey Company. I really think it's because Mr. Ailey wanted dance to be accessible. It didn't matter if you ever saw a dance performance in your life, but when people come to see an Ailey performance, they still have something they take away from the performance that keeps them coming back again and again.