Amanda and Buzz
September 7, 2013: The VanLandingham Estate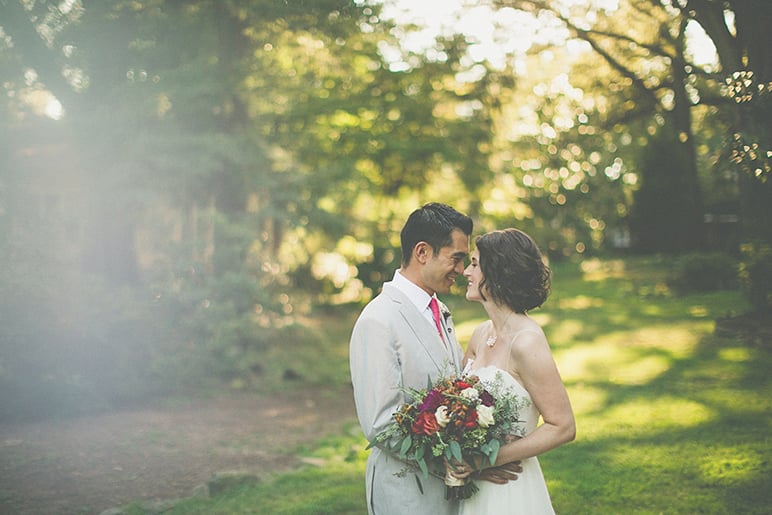 Photographs by The Schultzes
Amanda Tolleson and Buzz Teodoro met during a Harvard Business School volunteer trip helping entrepreneurs rebuild after Hurricane Katrina. Four years, three international travel adventures, and two dogs later, this pair of quirky New Yorkers chose Charlotte for its proximity to family and the VanLandingham Estate for its garden nooks and natural style. The Place for Flowers designed a rustic wedding arbor of orange roses, green hydrangeas, white roses, and English ivy as the backdrop for the couple's exchange of their handwritten vows on love and joyfulness. The bride's engagement and wedding rings were her grandmother's, which the Rev. Rebecca Nagy mentioned in her words on lasting love.
After the ceremony, guests moved to the lawn to play bocce, badminton, and bean bag toss while sampling shrimp cocktail and specialty cheeses. An "untent" was decorated with market lights and white globe lanterns, open to the autumn sky. With a wedding theme of country vintage, the couple displayed rich fall colors of cream, merlot, and burnt orange, with escort cards made from dyed travel tags with a stamp for meal choice attached to an antique wall hanging. Seated at long, wooden farm tables rented from Hey Love! Events, guests feasted on salmon and pork tenderloin from mismatched china and tasted some of the six different cakes from Cheesecake Etc.
Taj and Pac Man looked dapper for their walk down the aisle in custom bowties from Etsy.com's Silly Buddy.
---
Buzz's groomsmen paired J. Crew suits with festive argyle socks from Happysocks.com and floral navy ties from the Tie Bar.
---
The Place for Flowers designed giant colorful bouquets with wine-colored dahlias, burnt orange rose hips, red and pink roses, silvery rosemary, brunia berries, and eucalyptus, creating what looked like a cluster of gathered forest flowers.
---
With six different cakes on antique cake stands and rustic lovebird cake toppers by BraggingBags on Etsy.com, guests chose between lemon pound cake, chocolate, or raspberry and lemon cake.
---
Fan programs were adorned with raffia ribbon and a doily.
---
The Place for Flowers decorated the couple's rustic wedding arbor.
---
Amanda's attendants chose navy blue knee-length dresses.
---
The reception took place in the romantic "untent" at the VanLandingham Estate.