Amigo's Second Album Rewards Attentive Listeners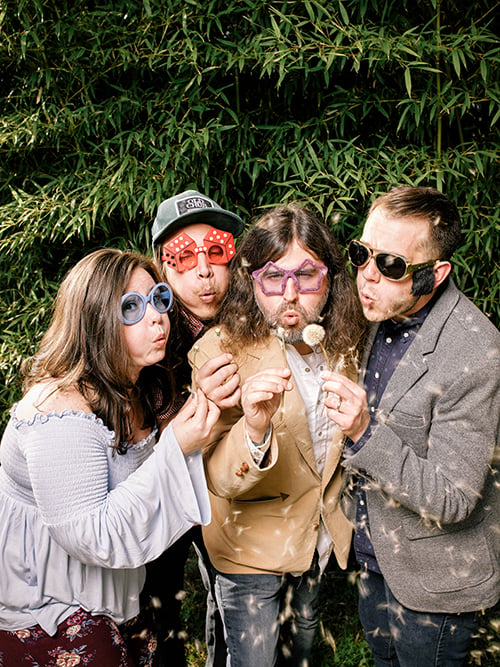 "Sounds like a hit."
The words were from Mitch Easter, the famed music producer behind R.E.M.'s early albums. The song was from Amigo, the Charlotte band recording in his Kernersville studio.
"That's high praise from a dude who has quite literally made hits. Lots of them," says drummer Adam Phillips.
It's easy to see the song "Those Old Clothes We Liked Are Back In Style Again" fulfilling Easter's prophesy. It's already getting radio play, and for us Gen Xers giddy to return to the flannel of our youth, it sounds like something of an anthem.
Amigo released And Friends, its second full-length album, in January. The band—Phillips, Slade Baird, Thomas Alverson, and new addition Molly Poe—worked with Easter to create a vintage rock and country sound, with influences from Creedence Clearwater Revival and Doug Sahm. The album's writing takes some risks; a few songs are slower, and most reveal an earnestness that might make Amigo's second album a truer introduction to the band than its first.
Baird's lyrics reward the close listening that comes with settling in with an album, the liner notes, and full attention. Among the slower songs is "I Wanna Live," a simple yet powerful song about emerging from depression. Even upbeat songs reveal a personal side, such as "Underground Medicine," Baird's ode to the mail-order catalog that connected him to punk rock records when he was a teenager in Clover, South Carolina, in the '90s.
Amigo's first album, Might Could, hinted at a personal side. "(Miss You) Every Day That You Are Gone"—a standout on that record—can either seem like the saddest happy song or the happiest sad song. Horns, claps, and "bop!" accompany a story of a heart-wrenching breakup; I don't know whether to cry or dance. But this album goes further, embracing earnestness free from winking.
"We've been playing longer and wanting to try new things," Baird says. "Now we have the confidence to say, 'Let's not hide behind the tongue-in-cheek thing. Let's be completely earnest and lay it all out there.'"
This sincerity connects with both new fans and old friends. There are the musician friends who performed on And Friends, including John Teer from Chatham County Line and Eddie Garcia from 1970s Film Stock. And there are the friends at their shows, including more than 250 who packed Plaza Midwood's Snug Harbor for Amigo's album release show in January.
And, of course, there's their buddy Mitch Easter, who predicts this aptly named band is about to make many more friends soon.