Amélie's Opens in Uptown
The French cafe has opened its newest location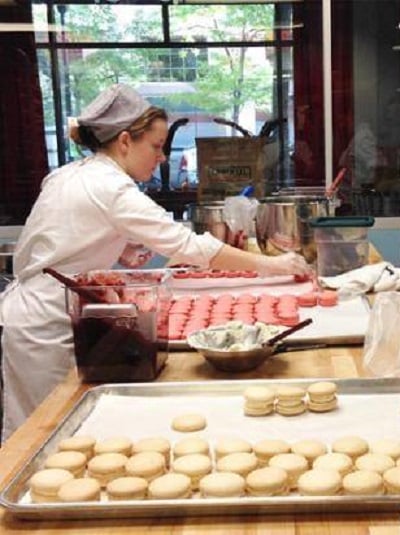 Way back in May, we got the scoop on Amélie's expansion into uptown. The team signed a lease for an 11,000 sq ft space in the Two Wells Fargo building – a move aimed at replacing the previously operated 800 sq ft uptown shop at 330 S. Tryon St. The space had closed in 2014 when the Chamber of Commerce needed more space – muscling Amélie's out of the spot.
The space is familiar, with the cafe's signature blue stripes painted on the walls, pots-and-pans chandelier, and mixture of odds and ends ranging from flying Marie Antoinette to the Eiffel Tower. A big design feature here is the glass window into the production kitchen, which works to provide bulk items like pastry shells to Amélie's other locations. There's also a private space on the upper level which can hold 65-70 diners – perfect for parties.
Last night, amid a sea of supporters, Amélie's dished up macarons, mousse, brownies, sandwiches, and more in the new, giant space. Unlike the known NoDa space, there's a separate area for coffee orders in the back plus a full wine and beer (and more coffee) spot on the side – complete with the stamped wine boxes which were used in the Carmel Commons space. That may help combat the lines which have been known to wrap around the other locations.
Currently, the plans for the location's hours are to be open from 6 a.m. to 11 p.m. Sunday through Thursday; 6 a.m. to 2 a.m. Fridays and Saturdays. The 24-hour plan will possibly be put into rotation after the new year. The hours alone will be a tall order, considering the space can hold more than 200 people.
To celebrate the addition of another Amélie's location, we're directing you back to an article outlining the making of those, gooey, delicious, decadent salted caramel brownies which always fly out of the case at the French cafe (although macarons are now at the top of the "most popular list" for Amélie's; but we love a classic). Check out the recipe here. Since opening its flagship store in NoDa back in 2008, Amélie's has transformed from one bakery to five (there's a location in Atlanta in addition to the stores in NoDa, Carmel Commons, Fort Mill, and, now, uptown).