Amy + John
Charlotte City Club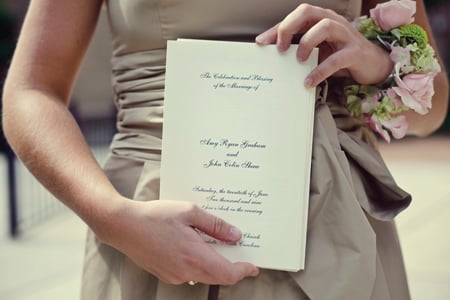 June 20, 2009
Amy Graham and John Shaw didn't want a big wedding. But the moment the couple, both twenty-seven, toured the Charlotte City Club, they knew they had to scrap their intimate affair. "We knew that it would be such a fun place to have the reception because of the different rooms where there could be dancing," says Amy, a microbiologist. The City Club took care of the wedding details: from finding wedding photographer Cheyenne Schultz to arranging the florals from the Blossom Shop.
As a nod to Amy and John's Scottish and Irish heritage, a bagpiper greeted guests at First Presbyterian Church. At 5 p.m., in an Alvina Valenta gown, Amy was escorted by her father to meet her groom. "I think having all of our family and friends there made it such an emotional occasion," Amy says of choking up during the ceremony.
Self-proclaimed foodies with a passion for local eateries, the newlyweds served chicken satay and pot stickers from Thai Marlai, and pulled pork from Lancaster's Bar-B-Que. In lieu of a traditional wedding cake, guests sampled strawberries and cheesecake dipped in a chocolate fountain. Then they worked it all off by dancing to the tunes of a DJ from Split Second Sound.