An Edible Landscape
Eat Your Yard! author and gardening expert Nan K. Chase offers dos and don'ts for creating a beautiful—and bountiful—Charlotte landscape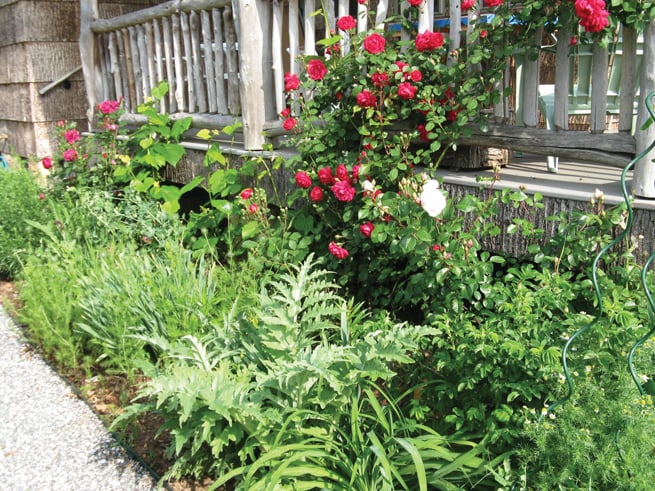 Any plant that goes into my edible landscape has to meet these requirements: is it beautiful up close and from a distance? Does it have landscape interest at least two or three seasons a year? Does it produce enough harvest for fresh eating and preserving?
Those guidelines—plus ease of growing—mean my small urban garden is packed with fruit trees, grapevines, plenty of wildflowers with edible parts, lots of roses for nutritious hips, and native fruiting shrubs. Vegetables hide among the perennial flower beds, and fragrant herbs fill in the gaps. Bees and other pollinating insects love it, and crop yields are high (Callaway crabapple is my top performer, and I make juice and cider from two little trees).
Zucchini and cucumbers are not invited in—too insect- and disease-prone and not pretty enough—and I plant only a few of the smaller tomato varieties. Instead, garlic and leeks provide landscape drama, as do globe artichokes, ornamental mustards, red and savoy cabbages, and bay laurel—gourmet fare all around and hardy through a Charlotte winter.
I didn't intend to design an edible landscape when I moved to North Carolina more than 30 years ago. However, I was inspired by the wonderful growing conditions and the Carolinas' richly varied plant life, which produced beautiful gardens that honored the contours of the land but also yielded plenty to eat and drink. I tried to emulate that.
When the movement to so-called edible landscaping began a few years ago, I cringed when I saw homeowners digging up the front lawn to plant squash and tomatoes, which are some of the worst-looking garden plants once they are past their short prime. That's not landscaping.
Since then, my quest has been to write and speak about the edible landscape, with an emphasis on "landscape." Here are some of the most common questions and concerns I hear from gardeners around Charlotte:
I have a lot of shade. What can I grow? First look to see if you can trim existing trees and clear out thick understory growth. That can let in enough light to grow the pawpaw tree; it is slow growing but shapely and colorful in autumn and eventually bears sweet fruit. The serviceberry is another edge-of-forest native. This shrub or small tree has gorgeous white blossoms and intense fall color. The berries are delicious and good for juice and baking.
I find it too hot to garden in the summer. What can I grow? Don't grow anything! There are so many good vegetable crops that thrive in the cooler weather of fall, winter, and spring that it's all right to rely on local farmers markets for good, quality summer cukes, tomatoes, melons, and beans. Instead of worrying, enjoy your flowers and wait for a change in the weather so you can plant cool-temperature greens, onions, and potatoes. During the summer, your roses and fruit trees are setting fruit, so be sure to provide plenty of water. Some herbs, on the other hand, do well in hot, dry conditions. A few okra seeds sown in the flower bed will produce nice decorative effects, and blue popcorn adds vertical accents in containers or small gardens.
What about pest control? Try to do a little garden cleanup every day. Providing good air circulation around plants helps keep diseases from getting started, so remove dead leaves, strangling vines, and matted plant material from all beds. Get rid of the bird feeder and instead make sure to keep a birdbath filled with water; birds and wasps will eat a lot of garden pests once they find your place. If some plants continually have insect trouble (as cucumbers do for me), just avoid those and plant tough, reliable, food-producing plants such as yucca (the roots are edible) and prickly pear cactus (for amazing vitamin C–rich juice). Other wildflowers, such as Jerusalem artichokes and some rose varieties, come back year after year with minimal care.

What is the fastest way to start an edible landscape? Herbs—without a doubt! You can put a little potted herb in the garden and take snips off of it for dinner. So plant a wide variety of herbs to begin. Once they take hold, you will have enough to use in soups, stews, and sauces as well as in herb vinegars, herb wines, and syrups, and you'll have plenty to dry for the winter. Some vegetables mature in two or three months, others over the course of a year. Berries and vines take about two years to produce, fruit trees a year or two longer. Planting some from each category will assure a steady stream of fresh food and will guard against
devastating crop failure.
Nan K. Chase will speak about her book, Eat Your Yard, at Charlotte-Mecklenburg Public Library branches this spring. Visit cmlibrary.org/programs for details.