An Emotional (and Bloody) Send-Off at Tremont Music Hall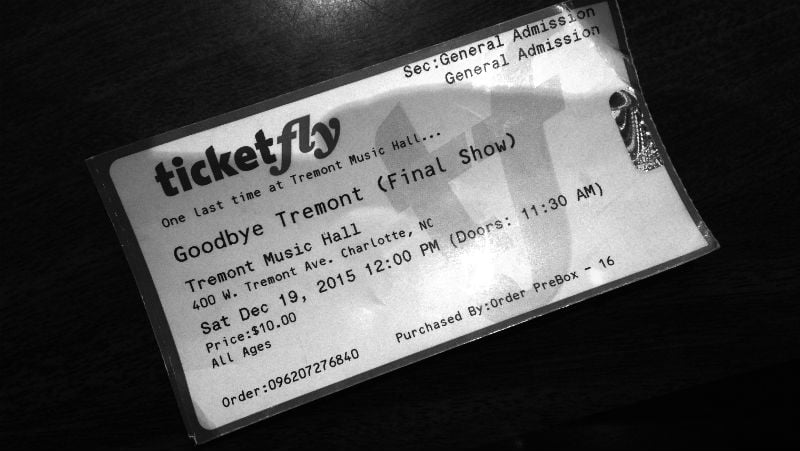 IN THE MOMENTS between pained screams and jabbing shards of glass into his forehead, Jeff Clayton was getting sentimental. Tremont Music Hall was more than just a venue for legendary Charlotte band Antiseen. It's where the punk act held its 30th anniversary show. Last year, the space hosted a funeral service for founding member Joe Young. And on Saturday night, Antiseen performed the last-ever set at the venue, which has been sold for redevelopment in South End. "This has been our home for 20 years," Clayton said, a preamble before a performance full of chugging guitars, stage destruction, and self-mutilation.
At 12 hours, the #GoodbyeTremont show was a marathon of moshing, hugging, screaming, rapping, and shared memories on two stages. The festivities were a reflection of the genres Tremont came to embrace. A rotating cast of metalheads, horrorcore rappers, and patch-clad punks recalled stories from their favorite shows, as both performers and attendees. Amps and guitar cases were adorned with weathered stickers that carried the venue's name. 403 Mob rapper Ghost Unknown was one of the many who became visibly emotional. ("We're just some f—ing kids from King's Mountain," he said, fighting back tears. "And we love all of you.")
"We have a long history that goes back way longer than I've been here," owner John Hayes said. "This place has memories, friendships that last to this day. People have been married in this building. It means a lot to a lot of people. The building may be going away, but the memories are never going to fade. People will remember what we've done here. The energy that fans brought here is going to be hard to replicate anywhere else in Charlotte."
And Tremont Music Hall wasn't just a gateway for musicians, said Tremont staffer Christina Jones. Manning the door on Saturday night, Jones recalled her own memories as a show-goer. She first stepped through those Sharpie-covered doors for a Paramore show in 2004. The Philadelphia native even met her husband at the venue. And for her and other staffers, the night was bittersweet.
"Everyone is a little off tonight," Jones said. "I know for a fact that everyone who works here works here because this is their second home. They spent years and years coming to shows, getting to know staff. That's why I'm here. I've been kicked out of this place a hundred times. The fact that they even gave me a job is ridiculous. This is Charlotte's heart, so it's super sad and crazy to see it go. I have a good memory for every brick that built this place."
Across the venue from that conversation with Jones, Hayes was being welcomed onstage by yet another performer. (A guitarist in his own right, he performed with some of the acts when requested.) But it wasn't until right before Antiseen's set that Hayes addressed the packed crowd, thanking them for years of memories. He completed the 20-year arc of Tremont by welcoming past owners Penny Craver and Dave Ogden to the stage. "Tonight's not about me, and it's not about the building," Hayes said. "It's about the family we've established here."
That final soliloquy was followed by Antiseen's blistering, hour-long set. Singer Clayton took an axe to the stage between tunes and broke bottles above his head. It was a punk rock funeral. And as he did for other acts, Hayes joined them for the last couple songs with his own guitar—which became yet another instrument destroyed in the smoldering heap left on the stage Saturday night.
As the feedback faded, many attendees shuffled out of Tremont Music Hall and into the chilly night air of Charlotte's South End. Others lingered to hug staff members one more time. It was a fitting end for #GoodbyeTremont, a night of both somber reflection and celebration. And during those last moments at the venue, some optimism was offered by Clayton, the man whose face has been bloodied by the show's end: "The happy part about all of this is that you still have us."