An Evening At The Wine Palette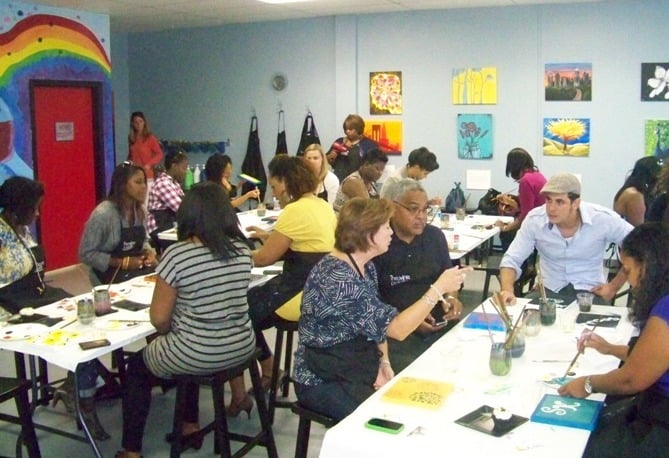 I'm always looking for new and different ways to experience an evening or night out. I'd heard a little about The Wine Palette since it opened in June in Plaza Midwood, and I finally got the chance to check it out Saturday when a friend and fellow blogger had a party.
Simone McDowell, of HoneeBee Gifts, threw a party to celebrate the redesign of her blog. The Wine Palette hosts private events, so Simone welcomed about thirty of her friends and fellow bloggers, and we had the place to ourselves from 5-8 p.m.
We were each given an eight-by-eight-inch white canvas, brushes, and a variety of paint colors to choose from. Looking at the paintings on the wall was inspiring, but who was I kidding: I might as well have two left hands when it comes to drawing of any kind. But I did use local artist Michelle Moricola's painting of Charlotte's skyline, which hung on the wall, as my muse. After painting my canvas black for the background, I painted the names of my three blogs and attempted to paint Charlotte's skyline above them. That didn't go so well (which is why I won't show the picture here). Yet, I had a lot of fun doing it.
I don't think I'd painted anything—and certainly hadn't mixed any colors—since high school art class. Several of my fellow adults were struggling as well—that was part of the fun—while some actually completed works that would be suitable to hang at home or the office. I'm jealous.
Simone was an excellent host. She served wine and cupcakes (with her HoneeBee monogram on them), and raffled off prizes and gave everyone gift bags.
And The Wine Palette was an excellent choice of venue. In addition to holding private events, its calendar is filled with sessions that are open to the public in which you can sip wine while taking painting lessons. For you couples, there's a "Splash of Abstract—Date Night" event scheduled for Friday, October 21, 7-9 p.m. Cost is $30 person and you can click here to register.
The Wine Palette, 1308-C The Plaza, 704-334-3111, thewinepalettenc.com.
Be sure to bookmark www.charlottemagazine.com/Blogs/Dusk-Till-Dawn to stay plugged into Charlotte nightlife.
Click on a photo below to begin slideshow.