An Ever-Expanding List of Christmas Arts Events in Charlotte (2015)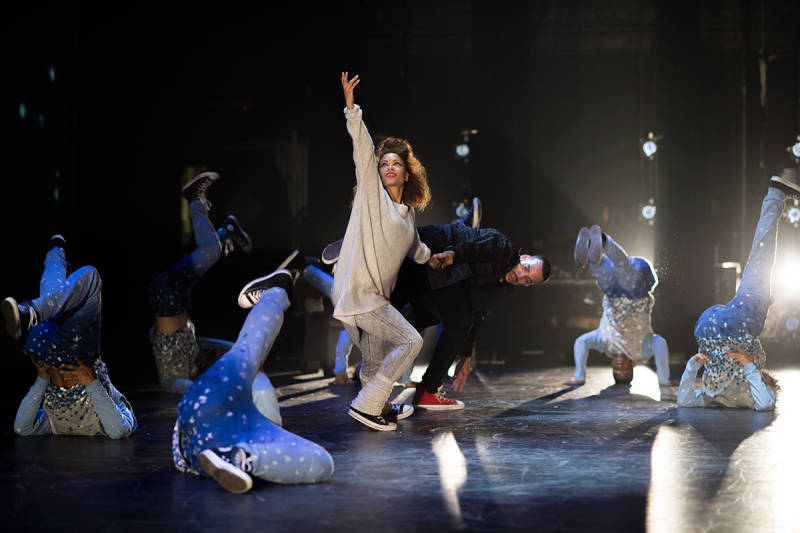 AND NOW, here they come—all of the Christmas musicals, concerts, and dance recitals you could want. But you can't go to all of them. In this (growing) list of events, learn a bit about each and get the specifics you need to make your December schedule.
---
THE GREAT AMERICAN TRAILER PARK CHRISTMAS MUSICAL
(Dec. 2-27) This is a familiar December title for the Actor's Theatre of Charlotte. Tunes such as "Christmas in My Mobile Home" offer insight into the humor found in the fictional Armadillo Acres trailer park.
CHARLOTTE SYMPHONY: MAGIC OF CHRISTMAS
(Dec. 3-6) Sing along with the symphony for this night of Christmas cheer. Albert-George Schram conducts, and he's joined by Charlotte Symphony Chorus, Charlotte Children's Choir, singer Michael Andrew, and Martha Connerton/Kinetic Works Dance Company.
NICK LOWE'S QUALITY HOLIDAY REVUE
(Dec. 3) The British singer-songwriter offers his own Christmas-themed numbers, with backing from Los Straitjackets. Lowe released his first holiday record, Quality Street, in 2013.
THE BRIAN SETZER ORCHESTRA: 12TH ANNUAL CHRISTMAS ROCKS TOUR
(Dec. 4) Rockin' Rudolph is the latest Christmas record from the prolific guitarist. This is the 12th year for the Christmas Rocks Tour, which now includes those new tunes. Names like "Yabba-Dabba Yuletide" and "Rockabilly Rudolph" give you a hint for what you're in for.
THE SOUTH END HOLIDAY PARTY
(Dec. 4) The Charlotte Art League hosts a night of live music, photo-booth hi-jinx, and comedy from Improv Charlotte. There's also an opportunity to do some last-minute Christmas shopping with the artists' work on display.
JAZZ AT THE BECHTLER: JINGLE BELL JAZZ
(Dec. 4) Get jazzy with these renditions of "Deck the Halls," John Coltrane's take on "Greensleeves," and, of course, "Winter Wonderland." The Ziad Jazz Quartet is the band behind this monthly concert series.
A CHRISTMAS CAROL
(Dec. 4-13) For the ninth consecutive year, Theatre Charlotte is telling the story of Ebenezer Scrooge and his visiting trio of ghosts. This year's schedule boasts 11 performances of the tale.
THE NUTCRACKER
(Dec. 4-6) Charlotte Youth Ballet is behind this take on the classic production. The show consists of more than 100 performers, from tots to seasoned dancers. The production runs for three days and four performances.
HOME FREE FOR THE HOLIDAYS
(Dec. 7) You may know Home Free as a winning group in NBC's The Sing-Off, the popular a cappella reality show. For this performance, the country vocal act applies its talents to seasonal favorites.
MUSIC AND MUSEUM: A SKYLARK CHRISTMAS
(Dec. 8) This choral program is a first for the Bechtler. The Skylark Vocal Ensemble offers works like "Away in a Manger," "Lo, How a Rose E'er Blooming," and "Videntes Stellam." The chamber group will also read from the King James Bible.
A SWINGIN' HOLIDAY CELEBRATION AT THE BOOTH PLAYHOUSE
(Dec. 8) The Jazz Room's holiday edition features "My Favorite Things" from The Sound of Music and "How the Grinch Stole Christmas." Musicians include returning Jazz Arts Initiative artists and other top players from the Charlotte area.
CHARLOTTE BALLET: NUTCRACKER
(Dec. 10-23) More than 100 dancers and the Charlotte Symphony put on this production each year. Choreography is provided by Jean-Pierre Bonnefoux, the legend and leader of Charlotte Ballet.
CLARA'S TRIP: A NUTCRACKER STORY
(Dec. 11-12) After stumbling at a Christmas party, Clara LeBlanc makes a trip to the hospital and learns she has a broken ankle. That night, friends and characters invade her dreams. Trippy, man.
GRINCH
(Dec. 12) The Open Door Studios Youth Ensemble, a group of young dancing students, is behind this balletic take on the classic Dr. Seuss story. Stay after the show to have some cookies and take photos with the ensemble.
THE 61ST ANNUAL SINGING CHRISTMAS TREE & THE SINGING CHRISTMAS TREE FOR KIDS
(Dec. 12-13) The concert, a tradition for many families in the area, moves this year from Ovens Auditorium to Knight Theater. Singers. Dancers. A 32-foot-tall Christmas tree.
'TWAS THE NIGHT BEFORE …
(Dec. 12-23) Written and directed by April Jones, this story was crafted specifically for Children's Theatre of Charlotte. Elements of Hanukkah, Christmas, and Kwanzaa are combined.
SOULFUL NOEL
(Dec. 18) Quentin Talley directs the OnQ Ensemble in another dose of holiday soul. The revue offers holiday classics and storytelling.
CHARLOTTE SYMPHONY: MESSIAH
(Dec. 18-19) Kenney Potter conducts this version of Handel's masterpiece. Get ready for the goosebumps and calming movements of "Messiah."
PARRANDA NAVIDENA: 2ND ANNUAL VENEZUELAN CHRISTMAS CELEBRATION
(Dec. 19) Celebrate the holidays with Venezuelan flair. Juan Carlos Arcaya and SwinGaitero perform the country's classics. Cultural food and traditions are offered.
THE HIP HOP NUTCRACKER
(Dec. 29-Jan. 3) Putting a contemporary beat to Tchaikovsky is a novel approach, as are the additions of breakdancers, MCs, and DJs. See The Nutcracker through a new lens.