An Evolving Masterpiece: Inside Crazy Jane's Transformation of a Myers Park Home
And why Tom Holley's work on this project is never done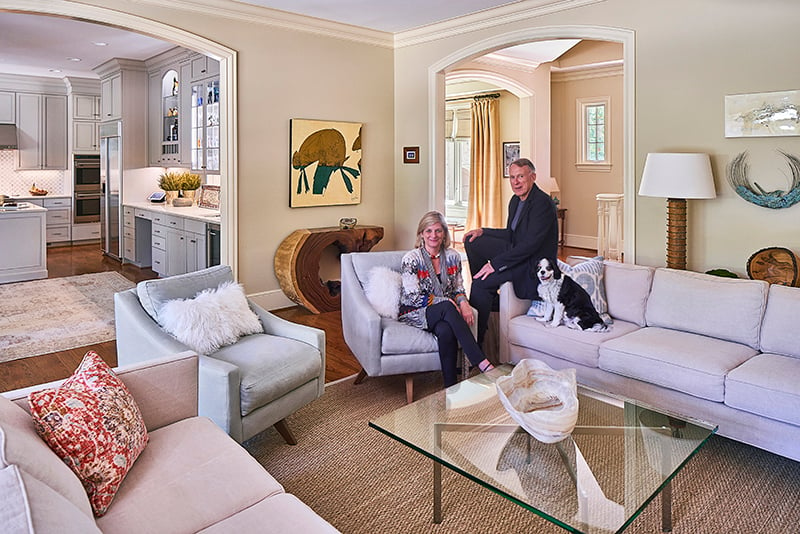 When Tom Holley met Kathy Harkness in 2016, he says, their friendship was instant. "From the second we met, we just clicked. She had no intention of redoing her whole house—she came in (to the showroom) for a chair," he says with a laugh, "but once she starts something, she wants to keep going and get it complete. I think it must be the banker in her."
Harkness designed the Myers Park home in 2003, but her demanding job at Wells Fargo didn't allow much time to decorate the 4,856-square-foot space. "It wasn't ugly, it just didn't look designed," Holley says. "She had much more generic furniture, nothing really special." Harkness kept a few sentimental pieces, like a coffee table that belonged to her grandmother, but she gave away most of her furniture to friends and family and the rest to consignment.
The six-month transformation was a designer's dream because, Holley says, his client had no specific wish list: "Her style is light and clean, and she likes reclaimed, one-of-a-kind pieces like I do." One of her few requests was that he incorporate her grandmother's art collection, which includes blown glass, agate geodes, and paintings by local and regional artists. Otherwise he had creative control.
Holley, president and owner of Crazy Jane's, the interior design firm and showroom in South End, began with a neutral canvas of beige, gray, and cream throughout the home. He wanted a calming backdrop for elements Harkness favors: distressed wood and pops of color. "She loves rusty and teal accents," he says. "You can see it in her art."
An acacia wood root console by contemporary furniture group Phillips Collection anchors the living room, and petrified wood stumps on the main floor carry the "modern organic" motif through the home.
The dining room has a long credenza with a glass façade painted to look like agate, topped with two matching agate lamps and a raw-edge onyx bowl. The solid wood dining table, accented by a cotton branch centerpiece, has a herringbone pattern and a metal base. For something unexpected, Holley covered the room's "fifth wall," a.k.a. the ceiling, in shagreen wallpaper. A distressed wood sideboard by GJ Styles, a High Point-based furniture company, parlays the rustic vibe, and a Rod Wimer-commissioned painting of Harkness's dog Daisy adds some whimsy to the room.
In the kitchen, a sleek stainless-steel Wolf stove and mounted vent hood give a high-end look, but the light gray cabinets and patterned tile backsplash keep it from feeling too formal. Holley added a mirrored backsplash under the cabinets, and mica wallpaper on the ceiling over the breakfast nook for more visual interest. An agate chandelier hangs over a live edge acacia wood table, and recycled leather chairs and a herringbone hide rug invite guests to have a seat.
Off the breakfast nook, the screened-in porch has cushioned couches covered in durable turquoise chenille. The porch faces a manicured backyard and pool surrounded by red brick walls.
In the living room, Harkness's blown glass and agate accents line the bookshelves, and a Lucite fan and marble fireplace add more of the textural elements she loves. Across the hall in the den, Holley added another wallpapered ceiling and furnished the room with a red velvet love seat, as well as two reclaimed wood side tables with antiqued mirrors on the front. More pieces of petrified wood and a Moroccan-inspired rug tie the room together.
Holley covered the entire powder room in agate wallpaper, which was a departure, even for him. "I usually don't do wallpaper on walls," he says, "mostly just on ceilings." Agate shows up again in the master bathroom, which has a porcelain floor—and walls—made to look like agate. The walk-in closet brims with Missoni dresses, Ferragamo boots, and Pucci scarves; on the floor, a hair-on-hide rug.
The master bedroom is bright, airy, and offers a view of the pool. On either side of the king-size bed are Chelsea Textiles tables with woven leather handles. Upstairs is a second master bedroom with abstract teal paintings that complement the turquoise bedding.
The second floor has three more bedrooms, plus a bonus room with a pool table and custom acacia wood bar table. This room opens up to a covered balcony that overlooks the pool, making it a hub for game nights and parties. Holley says this space is a work in progress and will likely see more furniture or new artwork. Harkness also plans to renovate the two upstairs bathrooms, and her art collection is, of course, never complete.
This project will remain on Holley's docket for a while, and not just because he counts the homeowner as a friend. As Leonardo DaVinci said, "Art is never finished, only abandoned."
Consider this one Holley's masterpiece in motion.
This story has been updated from its print version.