An Interview with Fall Out Boy's Pete Wentz (Plus: The Weekday Roundup)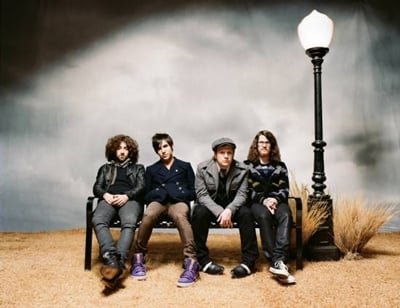 Things have changed for the Chicago-born rock outfit Fall Out Boy.
In the past decade, the band has traded punk clubs for arenas, songs about heartbreak for musings on fame and society. Their current tour includes a date at PNC Music Pavilion on July 23, and in a conference call with the Revue blog, bassist and principal lyricist Pete Wentz tackled topics ranging from new material to the band's evolving live show. The venues have changed (though the band still makes time for small clubs), but according to Wentz, there are lessons from those early days of touring that remain true.
"You have to maintain some state of hygiene," Wentz says. "When we came back from Warped Tour in 2004, I was a changed man. I knew you could exist on just baby wipes and water."
The Momentour, which includes co-headliner Paramore, comes after the release of the band's fifth album, Save Rock and Roll. The LP followed a hiatus, from 2009 to 2012, as the music scene evolved. "Since we went away and came back, the music moves so quickly now and you're able to do tons of different things," Wentz says, "as long as things are authentic to you as an artist."
Those "different things" include the music video series "The Young Blood Chronicles," a narrative that includes all tracks from the new record. The bloody finale for the series, created for the LP's title track, features Elton John (who comes to the same venue Saturday, June 14). These days, Wentz and bandmates Patrick Stump, Andy Hurley, and Joe Trohman feel less pressure to release albums on a frequent basis, opting for new outlets to accompany material.
"We are coming up with all kinds of crazy ideas," Wentz says. "It's not necessarily a song or an EP. Doing the Young Boy Chronicles was a lot of fun for us. If anything, we're far more open now to doing something that's outside of our genre. The things we've written so far are vastly different than anything else we've worked on."
Though Fall Out Boy came out of the pop punk scene in Chicago, the band quickly grew out of the genre's conventions. "It's kind of a strange place to be in as a band, because I'm not exactly sure who our contemporaries are," Wentz says. "That's how we've been working on songs now. The next thing for us is more about creating something that will exist within Fall Out Boy's legacy than thinking of things that are immediate.The idea [is] that Fall Out Boy in 2014 is about the curation of ideas as much as creating albums."
The band last played Charlotte in June 2013, supporting Save Rock and Roll at The Fillmore. It was 10 years after the release of Take This to Your Grave, the group's debut studio album. Despite a sea of smartphones and increased theatrics for the 2014 live show, the band still tries to keep it intimate. Even with meet-and-greets, the group encourages fans to keep the smartphones in their pockets.
"For us, it offers a chance to create a teachable moment," Wentz says. "We're not the kind of the band that's a geriatric band that's telling fans to get off our lawn. We try to be playful with it and create the most interactive format possible, meaning we'll go in the crowd and people are forced to participate. We have fun with it."
Fall Out Boy comes to the PNC Music Pavilion on July 23. Tickets are available here.
And now, the Weekday Roundup:
MONDAY
TWIN FORKS
From prominent emo frontman to folk rocker, Chris Carraba took on a new sound when he hooked up with Suzie Zeldin, Ben Homola, and Jonathan Clark to create Twin Forks. Start off the week with this Chop Shop show.
TUESDAY
BOSTON
The Heaven on Earth Tour brings the "More Than a Feeling" rock group to NC Music Factory. See them tackle the hits and the deep cuts with this performance.
WEDNESDAY
CHARLOTTE SQUAWKS X: TEN CAROLINA COMMANDMENTS
Every year, the Charlotte Squawks troupe provides a show that satirizes pop culture and politics, specifically in the realm of Charlotte, North Carolina. See what aspects of our city will be lampooned this year in this Saturday Night Life-esque performance.
THURSDAY
DIE ANTWOORD
The name means "The Answer" in Afrikaans, but whatever your opinion is on Die Antwoord, you can't deny that the South African alt-hip-hop group puts on an energetic live show. See what Rolling Stone and Spin have been buzzing about with this Charlotte show.