An ode to Olde Mecklenburg Copper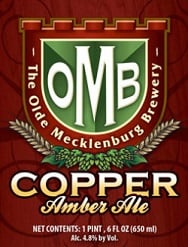 When I'm not writing about craft beer (continuing on the long path to be classified as a local beer expert), a good part of my time involves music. I'm a huge music fan, spanning a number of genres, and try to go to as many live shows as my wallet allows. I love discovering new songs and artists, but I love the classics, too.
My iPod landed on a song the other day by the late great Waylon Jennings: "Luckenbach, Texas." The song is about a couple who have hit it big but the success has put strains on their marriage. The singer wants to leave the big city with his wife and relocate to a small town so they can get back to "the basics of love." It's a great tune, and I was fortunate to be in Mexico when My Morning Jacket and Ben Bridwell from Band of Horses did a tremendous cover of it earlier this year.
So, by now you may be saying, "Thanks for the music recommendation and all, but what in the world does this have to do with craft beer?"
Well, to paraphrase Waylon, maybe it's time we got back to the basics of local beer.
And that's where Olde Mecklenburg Brewery Copper comes into the picture. A report from retail market agency IRI Worldwide recently announced that Copper has risen to become the No. 1 selling packaged craft beer in Charlotte. It's not just beating out local breweries; it's beating out national and regional brands such as New Belgium, Sam Adams, Sierra Nevada, Stone, Terrapin and others. That's some good company to be in front of, and furthering the good news is that Charlotte will be able to enjoy more Copper thanks to an upgraded bottling line at the brewery. Now, Olde Meck can turn over 180 bottles a minute, versus the previous eight bottles a minute.
Copper was the first beer that took off in Charlotte's surge to craft beer popularity. And it's been around long enough that I think sometimes it gets lost in the mix with everything else going on. Maybe it's because we're always chasing after the next big thing or newest style (I've been guilty of this on a number of occasions). But I found myself pausing two months ago as I had a Copper at a Knights game, thinking, "Damn, this is a really good beer."
What's great about Copper is that for such a tremendous taste, the ingredients are a simple, basic few: Bavarian hops, malt, yeast, and water (OMB brews in strict accordance to the Reinheitsgebot, or Beer Purity Law, if you didn't know). Even the style, altbier, translates to "old beer." As Olde Mecklenburg's Copper description of its "old-school beer" states on the Web site, "there are no crazy flavors or gimmicks with Copper—it's just an amazingly fresh, easy-drinking beer."
And that was exactly my thought that day at BB&T Ballpark: the freshness of Copper is unmatched, especially on a hot day. If I'm being honest, Copper isn't my first OMB beer choice (that would be Mecktoberfest. Related: is it fall yet?) but the hard work and production Olde Meck's brewers and staff put in to churn out a consistently great flagship beer year after year definitely needs to be recognized.
For all the fancy lettering up on a wall/chalkboard, label design, food trucks and/or live music, most people go to a brewery for one thing: beer. And you need to have good beer to keep them coming back. That's what continues to put Charlotte in the discussion of top craft beer cities, and it all started with the city's first brewery during this golden age of craft beer that we're experiencing.
Since OMB opened its doors in 2009, Copper has only gotten better and more popular, and now it ranks as both the top Charlotte beer choice on draft and in packaged sales, even with the influx of new breweries and beers over the last few years.
While I'm always excited to see what's coming next for Charlotte's breweries and beers, sometimes indeed the old-school option can be the best option—and it's good to have a basic reminder of that every now and then.