An Ode to the Chinese Buffet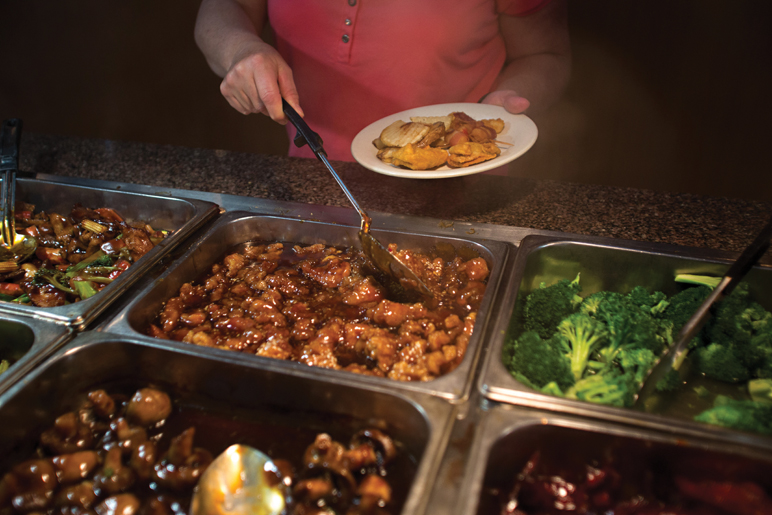 HERE COMES a quartet of women, students at a beauty school, wearing jackets and nametags. They stride with purpose toward lunch. It's a brilliant spring day, and they are not in the mood to waste time. The buffet awaits.
"This is the first time I've been to lunch here," Tosha Siniard says. "I usually come for dinner with my boyfriend." Why? "They have crab legs."
We're outside the Lotus Buffet on North Tryon Street in University City, and therefore in a strip mall. "Our talented, experienced chefs create authentic Chinese dishes using fresh ingredients and traditional Chinese recipes," the Lotus website proclaims. "Exotic sauces and flavors intermingle on your plate, and the hot, tangy aromas waft up to meet your nose, creating an exciting taste journey you can experience only in our restaurant."
The four beauty school students are ready to begin their exciting taste journey. They could not care less about the authenticity of the "authentic Chinese dishes," which is a good thing, because among the items steaming in trays inside are macaroni and cheese, potato wedges, and, plaintively, "meat ball"—dishes as authentically Chinese as borscht. "Their fried chicken wings are good," says Francesca Murphy. "They're usually real crispy."
Verna Sims has heard enough. "It's quick, it's easy, it's cheap," she explains. "And I'm going in." And she's gone. The others follow. In my back pocket is a slip of paper, a memento of my own recently completed Lotus Buffet taste journey. "You will receive unexpected support over the next week," it says. "Accept it graciously."
Thank you, ladies. Thank you.
***
URBANSPOON, THE ONLINE restaurant guide, lists 320 Chinese restaurants in the Charlotte area. When you scan the list, it becomes obvious that Urbanspoon applies the term "Chinese" as loosely as Lotus Buffet uses the word "authentic." Listed are Jia Asian Fusion & Sushi Bar, Cuisine Malaya, and, of course, P.F. Chang's.
It's not fair to criticize Urbanspoon—or Lotus or any other Chinese establishment—for stretching the definitions. What we know as Chinese food, Americanized Chinese food, is an amalgam of traditional, new, and modified Asian dishes (plus, with amusing frequency, French fries). For the past generation or so, it's increasingly been eaten at or taken out from a buffet.
Nobody, at least no one I could find, keeps track of how many Chinese buffets there are, or how many there were 20 years ago, or what their per capita density is relative to the more old-fashioned Chinese takeout or dine-in. But the people who pay attention to the shape-shifting dragon of American Chinese cuisine generally agree that buffets are becoming at least as prevalent as other kinds of Chinese restaurants, and that they're especially popular in the South.
I picked Lotus Buffet at random; I'd never been there. Authentic or not, it did the job, especially the spicy fried rice with chicken and pork. Factor in a handy coupon from the restaurant website, and I filled up for less than eight bucks. The staff refilled my drink without my having to ask. ("Accept it graciously.")
Buffet encounters can be dicey. But this was a good one, which made me wonder why Lotus and countless other Chinese restaurants still employ some version of that "exotic sauces and flavors" pitch, as if General Tso's chicken was some rare delicacy. That might have been necessary 40 years ago.
These days, and especially in these parts, what's exotic is the familiar re-imagined. Cutting-edge chefs are busy turning traditional Southern home-cookin' into haute cuisine, drizzling red wine demi-glace over fried green tomatoes and infusing grits with goat cheese and basil. Working-class Southerners, who once ate humbler versions of those dishes because they couldn't afford better, don't want country-fried steak as the centerpiece of an $18.95 entrée for lunch. They want grub that's fast, filling, cheap, deep-fried, and served in vats. Chinese, once enticingly foreign, is now as homey and familiar to Southern diners as a meat-and-three.
***
MY BUFFET QUESTIONS befuddle even the man who has likely eaten more American Chinese meals in more American Chinese restaurants than anyone alive.
His name is David R. Chan. He's third-generation Chinese, a lawyer and accountant who lives in Los Angeles. As of mid-April, he had eaten meals at 6,739 Chinese restaurants, all but about 200 of them in the States. (He's catalogued all of them in a spreadsheet, which is how he knows he's eaten at 6,739.) Chan is renowned among restaurant critics in southern California, who often ask him for advice on where to eat.
Chan blogs about his adventures, and he's written with authority about the evolution of Chinese food in the States. It's fascinating stuff. The first wave of Chinese immigrants to America in the 19th century came primarily from the county of Taishan, just southwest of the southern port city of Canton (now Guangzhou).
Anti-immigrant sentiment led to a national ban of Chinese immigration, starting in 1882, that Congress didn't fully lift until 1965. So most of the items Americans came to know as classic Chinese—wonton soup, chow mein, egg foo yung—are descendants of a Taishanese regional style. It would be like the Chinese learning American barbecue only from Lexington transplants. After 1965, Chan says, immigrants came from other parts of China, many from Taiwan, which favored a spicier menu that here became known as Szechuan or Hunan cuisine.
But for all his expertise, Chan can only generalize about the march of, and to, the buffet. "Definitely the South seems to have the greatest density," he tells me in an email. "Chinese buffets [in the South] didn't hit my radar at all until 15 years ago when I was in Atlanta and noticed one of the tourist magazines in the hotel room was peppered with Chinese buffet ads. Intrigued me so much that when I drove down to Macon [Georgia] I ate at one."
Curiosity piqued, Chan consults his database. "Your question did make me want to look up the first Chinese buffet I ate at," he writes me, "and it was a place called Golden Shark in Monterey Park, California, and it was in 1981 when I was 33 years old." I thank him and turn to the Smithsonian.
***
FOUR YEARS AGO, the National Museum of American History hosted an exhibit, "Sweet & Sour," of artifacts related to Chinese food in America—including utensils and a wok from the late 1800s and more recent objects such as menus and neon signs from restaurants. The display's lead curator was Cedric Yeh, the son of a couple who left China before Mao Zedong's Communist takeover in 1949. Yeh, 45, grew up in Chinese restaurants his parents owned in New England.
Buffets are easier for immigrants to run than dine-in restaurants because of the lower overhead, less need for wait staff, and fewer dishes made to order. But why buffets seem to be everywhere, why they're popular in the South, how many there are? Anyone's guess. They're almost all family-owned places, and there's no buffet trade association or national registry to consult.
Yeh offers a tantalizing clue, though. A few years ago, he says, he spoke to the son of the man who invented Springfield-style cashew chicken in Missouri in the 1950s. David Leong was the man's name, and he was working as a chef for a supper club when he had the idea to take a stir-fried chicken dish and change the preparation a bit. All of a sudden, diners couldn't get enough of it, and the new dish became such a hit that Leong was able to open his own restaurant in 1963. That restaurant, Leong's Tea House, stayed open for the next 34 years.
The one change? Instead of stir-frying the dish, he deep-fried it. "Deep-frying," Yeh tells me, "changes a lot of things."
***
LINDA SHI and her husband, Jimmy Lam, opened Lotus Buffet in 2001. Both hail from Fujian, the Chinese coastal province closest to Taiwan, but didn't meet until 1990, after their families immigrated to the Northeast—hers to New York City, his to Philadelphia.
They married in 1994, and family connections led them to Charlotte. A year later, they bought Lotus Chinese Cuisine, a sit-down Chinese restaurant near the intersection of West W.T. Harris Boulevard and West Sugar Creek Road. Shi and Lam still run that restaurant.
They opened Lotus Buffet, a 15-minute drive away, to take advantage of the construction boom that started in University City around 2000 and continues today. When I visited on April 1, construction crews were working on the LYNX Blue Line Extension light rail line site along North Tryon Street. "For the landscapers and construction workers, they come in, eat, and go," Shi, a petite 42-year-old with a pixie haircut, tells me at a back table as lunch hour approaches. "It provides a quick place for them to sit down and eat."
Volume is the key, she says. When you sell a lot of food for cheap, diners inevitably waste some, and you need to get enough paying customers through the door to cover the expense. So she and her husband have to prepare buffet dishes "in a way that accommodates an average," she says. They try to find a middle ground with, say, their sesame chicken—not too spicy, not too bland. But if someone requests a dish prepared a certain way, they'll make it.
"Our customers are very, very mixed," Shi says, referring to the ethnic blend at Lotus on any given weekday: Latino, black, Asian, white, young, old. "We have to take that into consideration."
Which is the secret, of course. The most authentic feature of this cuisine, the people who prepare it, and the democratic way it's served is that it adapts, it accommodates, it mixes. It gives diners the option to eat some things, pass on others, combine this and that. You can't ask much more from an American cuisine—to allow us to experiment, so long as we use a new plate for each trip and we eat what we take.
Greg Lacour is a contributing editor for this magazine. Read his political commentary on his blog, Poking the Hornet's Nest.