ANALYSIS: HB2, Five Years Later
Five years after the furor of House Bill 2, the LGBTQ community—in Charlotte, in North Carolina, and across much of the nation—fights attacks on new fronts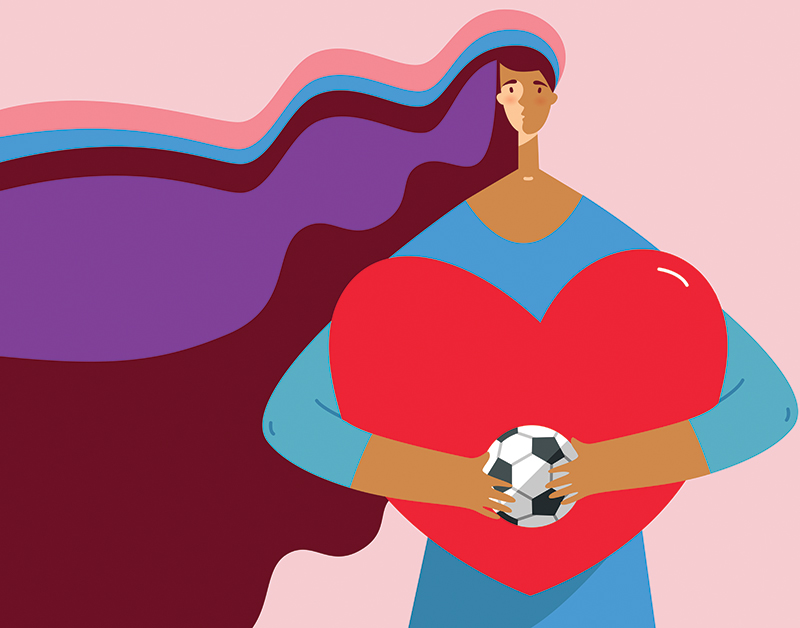 The LGBTQ advocacy organization Charlotte Pride held a news conference in late April in response to the murders of Jaida Peterson and Remy Fennell, two Black transgender women in Charlotte, in separate incidents earlier in the month. The group announced a new relief fund to pay for emergency housing, food, and other needs for Black transgender women, who speakers said are especially vulnerable. "Charlotte has been violent toward trans people for years," said Nada Merghani, Charlotte Pride's programs manager. "Our sisters are dying."
The murders were the organization's focus, but no one could miss the context. Charlotte was the epicenter of the fight over LGBTQ rights in North Carolina five years ago, when the legislature passed notorious House Bill 2. In the first months of 2021, N.C. lawmakers—and their counterparts in 31 other states—have introduced bills that target transgender people for discrimination on other fronts.
In 2016, North Carolina joined a slew of states that adopted "bathroom bills" that required transgender people to use public restrooms that matched their genders at birth. This year, the anti-trans bills mainly target two areas: health care and women's sports. As of this writing, lawmakers in 22 states have introduced bills that would either prohibit certain kinds of health care services, like those related to gender reassignment, or allow health care providers to refuse services based on "conscience." Legislators in 32 states have introduced bills that would prohibit transgender girls or women from participation in girls' or women's sports because, they claim, transgender girls and women are naturally boys and men with inherent physical advantages.
Some of the bills languish or have died in committee; others, like sports-related bills in Tennessee, Mississippi, and Arkansas, have been signed into law. To date, none of the three N.C. bills—Senate 514 and 515, which center on health care, and House 358, which addresses women's sports—have made it out of committee.
In April, a spokesman for Senate President Pro Tempore Phil Berger told WFAE in Charlotte that "(w)e do not see a pathway" for Senate Bill 514, which would bar doctors from performing gender reassignment surgery for anyone younger than 21 and require government employees, including teachers, to notify parents in writing if a child displays gender nonconformity. Late in the month, House Speaker Tim Moore told reporters that lawmakers wouldn't move forward on HB358, either. "A wise legislature," Moore told The News & Observer in Raleigh, "does not go out looking for social issues to tap."
To N.C. trans activists and civil rights organizations, though, the bills' chances of becoming law aren't the point. "It's a coordinated attack coming from groups like the Heritage Foundation and ALEC to push a, quote-unquote, conservative agenda that is primarily focused on creating a wedge issue through fear that will regain some of the traction that they've lost, particularly with white suburban women," says Kendra Johnson, the executive director of Equality North Carolina, a Raleigh-based advocacy and political lobbying organization for LGBTQ people statewide.
Last year, in the months before the presidential election, Republican women leaders warned that the party was increasingly alienating white female voters through President Trump's mishandling of the pandemic, insulting statements by Trump and other Republican officials, and deliberate aggravation of racial issues. Hurting transgender people under the guise of protecting children, Johnson says, is a useful way to exploit fear of "a greatly misunderstood and extremely vulnerable group" to regain political support.
"What we're seeing in North Carolina—which used to be a testing ground for a lot of hot-button issues, like HB2—is part of a broader national wave that is attacking transgender rights across the board," says Dustin Chicurel-Bayard, a spokesman for the ACLU of North Carolina. "So it's not just C-level players. It's a national, coordinated effort."
It's hard to pinpoint exactly what touched off the wave of bills or explains their timing. The election of a president and vice president who openly support LGBTQ rights may be part of the reason. But Johnson points to the U.S. Supreme Court's June 2020 ruling in Bostock vs. Clayton County, Georgia, that an employer who fires someone for being gay or transgender violates federal civil rights law. (Justice Neil Gorsuch, a Trump appointee, wrote the majority opinion, which infuriated some conservative activists.)
Should any similar legislation pass in the future, Chicurel-Bayard says, it would face a legal challenge on constitutional grounds, specifically that it violates the Equal Protection Clause and—in the case of the women's sports bills—Title IX, the federal law that prohibits gender discrimination in education programs or activities that receive federal funding. Equality NC has focused since last year on education and outreach to members of the LGBTQ community, members of the general public, and sympathetic local officials throughout the state, Johnson says: "We'll keep engaging the base, keeping folks informed, sharing as much information as possible … and we'll keep up the heat."
Merghani and the other trans activists at the news conference in Charlotte said they can draw a direct line from the attitude behind the proposed legislation to violence toward Black transgender women. Restrictions to health care and sports "create a situation where they're completely siloed from their communities," Merghani said. "Isolation is their tactic, and it will result in death."
Still, the door is now open for local governments to better protect their LGBTQ citizens from harm. House Bill 142, which Governor Roy Cooper signed into law in 2017 and replaced HB2, prohibited city and county governments from adopting ordinances that protected members of the LGBTQ community from specific types of discrimination—like forbidding them from using public bathrooms that match their gender identities. HB2 was a direct response to Charlotte's adoption of those protections through a nondiscrimination ordinance in 2016.
The HB142 prohibition expired on Dec. 1, 2020. Since then, at least eight local governments—including the cities of Greensboro, Chapel Hill, Durham, and Asheville—have adopted LGBTQ protections. Why hasn't Charlotte?
"Charlotte did the right thing when we discussed this originally in 2015 and then 2016, and Charlotte needs to do the right thing again. There's no reason to delay passing a nondiscrimination ordinance," says Matt Comer, Charlotte Pride's communications director. "It's the right thing for the city, not only because it's good for business, but more importantly because we need to protect the people who live here."
Charlotte city officials had been holding off not because they don't want to pass another ordinance but because they want to make sure they make it as airtight as they can, says Mayor Pro Tem Julie Eiselt. The Human Rights Campaign, a national organization, drove the nondiscrimination effort in Charlotte in 2015 and 2016. This time around, Eiselt says, city officials have worked with Equality NC on an ordinance tailored more precisely to the realities of North Carolina culture and politics—mainly the continued control of the General Assembly by the GOP.
"There is a definite desire on council to do this in a way that we feel we can get it passed and that is defendable, where we would win if we got sued," Eiselt says. "Whatever happens to Charlotte is going to impact the rest of the state, so we want to take our time to get it right."
Johnson, who confirms that she's been in touch with Eiselt and other Charlotte council members, says she understands the need for the state's largest city to exercise more care given its experience with HB2. An ordinance that endures, she says, is worth a few months' delay. "I believe," she says, "we'll see several more cities taking this step in subsequent months."