ANALYSIS: The Entertainment Emporium Has Arrived in Charlotte
A trend toward supersized bar/entertainment venues continues with the opening of Pins Mechanical Company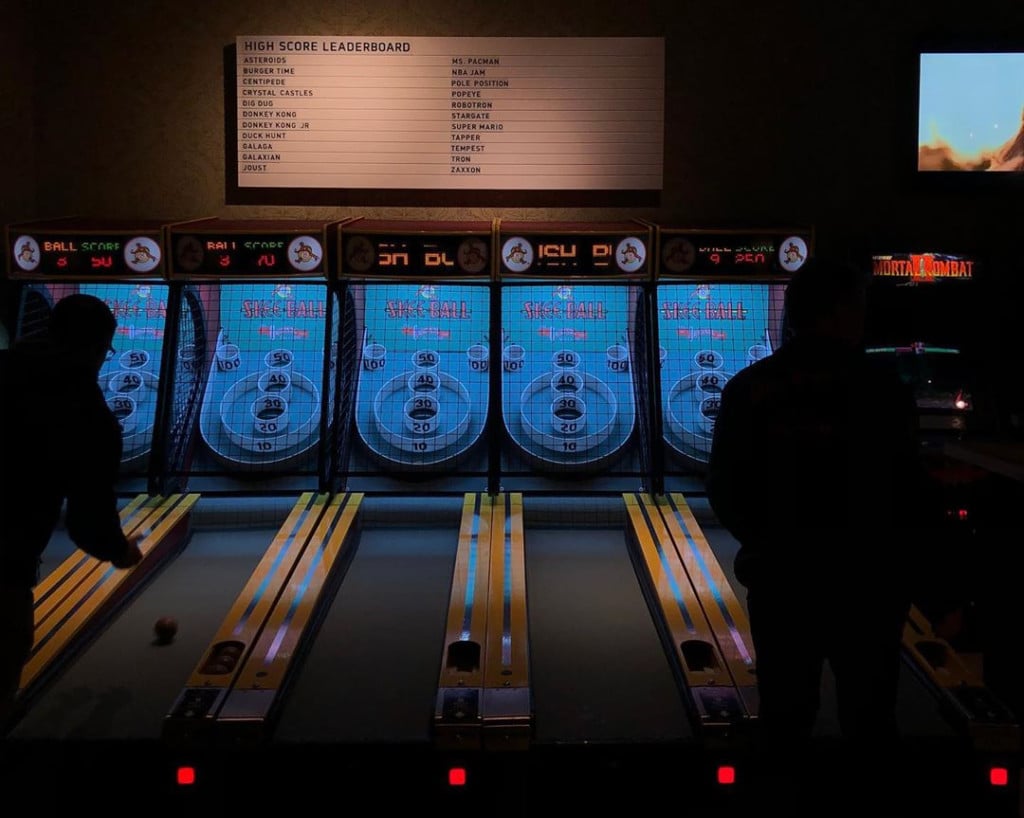 The foosball paddles were so new, so unsullied by age or use that they spun like a dizzying top each time my wrist gave them a flick. More than once, the salmon-hued foosball catapulted out from the table and into the expanse of the bar around it, once nearly colliding with a woman or landing in her drink like a fishbowl carnival game. And that, perhaps, is a better word for Pins Mechanical Company and 16-Bit Bar and Arcade, which opened Dec. 19 as Common Market's neighbor in South End: carnival. 
A carnival is a treat, an indulgence, a reward for enduring the monotony of the everyday drudge. It is cotton candy to a world so fundamentally missing of spun sugar. Calling Pins a bar, though, stretches the confines of the word. Pins does, indeed, have a bar. A bar that serves such cutesy concoctions as the Pinball Wizard; the Lisa Frank, which comes complete with the traditional Airhead rainbow sour belt garnish; and the Hulk Hogan, which the bartenders dunk a Bomb Pop in without explanations of how one is supposed to consume it.
But few will come to this bar for the bar. The bar is an afterthought, the salad bar at a Chinese buffet, a lunch menu on Thanksgiving. 
In continuing a recent fad of "supersized bars" – Plaza Midwood's similarly named Pinhouse, LoSo's Queen Park Social, and the collection of arcade bars across the city all fit under this new moniker – Pins is a chaotic amalgamation of 20 pinball machines, a pair of foosball tables, more than 30 vintage arcade games, a dozen lanes of duckpin bowling (a toned-down version of regular bowling), five lanes of SkeeBall, half a dozen screens of console games, a life-size Lite Brite, PingPong, Patio Pong, bocce ball, giant Jenga, and, because that wasn't enough, a rooftop with a stunning view of Uptown.
In summary, it is a symphony of beeps, an orchestration of boops, a parade of noise. 
It is also 23,000 square feet, according to the spot's marketing manager, Mike Clark. To put this gargantuan entertainment maze into perspective, at 23,000 square feet, it is larger than all but seven governor's mansions across the country. It is larger than the palace that holds New York's governor, larger than the mansion of California's governor. It is nearly three times as large as Alabama's executive mansion. It is expansive enough to subsume my three-bedroom-three-bath home nearly 11 times.
Pins is the latest iteration in a series of bars where serving beverages isn't enough, the latest cavity in a mouth already brimming with shiny, sparkly teeth. The evolution of physical entertainment spaces is beginning to mirror that of its digital brethren. Not only is it enough now to watch a TV show. You must also watch it while tweeting about it, following its cast for extras, using a special hashtag, voting on who you continue to watch on the show.  The age of passivity is over. The entertainment emporium has arrived. 
When arcade bars' popularity in Charlotte began to increase a few years ago, the novelty of it all was exciting. No longer would we bargoers be relegated to sitting and talking or, at best, picking from a mismatched pile of board games. Operation. Sorry. Battleship. 
Now, it seems, we've tired of that even. Pinball machines and vintage arcade games are nice. But with so many places to play Teenage Mutant Ninja Turtles or Mortal Kombat, how is a bar to stand apart? It adds 12 lanes of bowling on top of everything else in a 23,000 square foot entertainment metropolis.
This is not to say Pins is not fun. It was, in fact, very fun. It will be a welcome addition to the city for visiting family members or friends. It is a great low-stakes first date spot, or an ideal place for forced workplace bonding.  But Pins relies on the kind of fun that one tires of quickly once the novelty wears off, once you can no longer play any more frames of duckpin bowling and once the Bomb Popsicle has melted and is, thus, no longer suitable for an Instagram picture, which was the only reason its creators conceived it. 
What places like those lack is the perpetual charm of a gnarled and tangled tree spangled with holiday lights year-round. It's missing the character and personality of a watering hole where names from years past are written on bricks in an alleyway. It is, simply, not somewhere one yearns to return to for the space, the feeling or emotions.  You come for the cotton candy. But cotton candy's sugar high can only last so long before the cavity starts to set in. 
Jared Misner is a writer for this magazine. His work has appeared in Our State, The Chronicle of Higher Education, The Knot, and Logo.