Analysis: The Landscape of Museum Leadership in Charlotte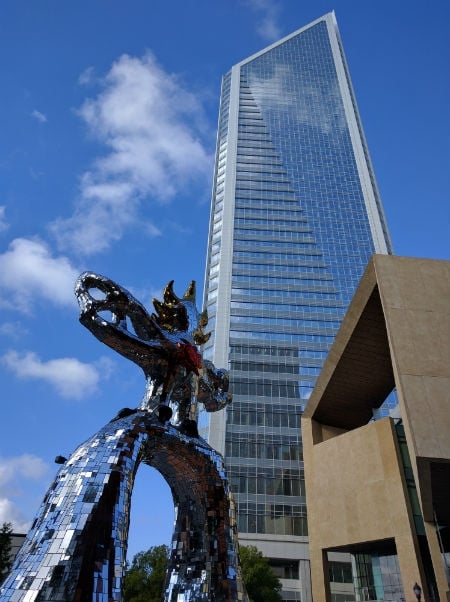 This story is the second in a series that focuses on accountability and transparency in Charlotte's cultural sector. Read the first installment, which focused primarily on the Bechtler leader's outside role, here.
THIS WEEK, the McColl Center for Art + Innovation named Alli Celebron-Brown, formerly of Foundation For The Carolinas, its new president and CEO. In 2018, the cultural sector continues to see enormous shifts in arts leadership in Charlotte. With this in mind, the second installment of our series on accountability in Charlotte arts takes a critical look at the numbers surrounding Charlotte museums, in terms of leadership, revenue, and attendance. It's been a decade since the recession that devastated the cultural sector. And as leaders now come and go, it's difficult to keep up with the broader picture of our museums.
In a few areas, comparing museums isn't a fair endeavor, as each has its own mission and audience. However, there are a few trends to notice as you read though this guide. There's a gulf in compensation for leaders of similarly sized organizations. Also: The context of some of the higher numbers change when you consider whether an institution has multiple campuses.
Information for this story was acquired from Charity Navigator, prior IRS Form 990s, and the referenced museums.
---
Discovery Place, Inc.
President/CEO: Catherine Horne
President's Salary (as of 2016): $234,266
Revenue (as of 2016): $11,617,948
Attendance (as of 2017): 828,053
Analysis: Horne is responsible for four institutions: an interactive science museum, two children's museums, and a nature museum. As a collective, Discovery Place is the No. 5 most-visited in the state, and uptown's Discovery Place: Science, on its own, is approaching the top 10 at 485,312. No other Charlotte institution is in the top 10, as it's difficult to compete with Raleigh's free state museums. Aside from being the only major museum to solely target kids, this makes Horne's leadership key to our cultural sector.
Bechtler Museum of Modern Art
President/CEO: John Boyer
President's Salary (as of 2017): $274,374
Revenue (as of 2017): 2,941,467
Attendance (as of 2017): 56,000
Analysis: At seven years old, the Bechtler is a young museum. Bringing on curator Jen Edwards in 2015 was pivotal in terms of robust exhibitions and programming at the museum. Recently, some former board members and staff have raised questions over the museum president's outside activities. In the past four years, the museum's had a turnover rate of 72 percent, in comparing prior staff listings, which ex-staff members say is related to that lack of communication. Read more about the leadership's response to that report here.
The Mint Museum
President/CEO: Dr. Todd Herman
President's Salary (as of 2017): N/A. Prior leader Kathleen Jameson made $198,388.
Revenue (as of 2017): $7,089,588 (Mint Museum Auxiliary, an independent organization that supports the Mint, has a revenue of $417,670, as of 2016.)
Attendance (as of 2017): 144,0843
Analysis: Mint Museum Randolph is the oldest art museum in the state, with Mint Museum Uptown opening in 2010. Both locations represent an enormous and integral part of Charlotte's cultural character. In choosing a new leader for both of its museums in the coming months, the Mint needs someone who knows how to both take advantage of the brand's strengths: a speciality in both craft and design and a capacity to carry some of the most exciting touring exhibitions available in contemporary art. Last year's "Year of the Woman" brought a group of strong, bold related exhibitions from the Mint. This year's "Year of Fashion" initiative was unexpected when announced in April and has yet to justify its proclaimation. The schedule for the next year, with the inclusion of the Mint's involvement in the citywide "In Focus/Enfoque" project, is most promising in exhibitions unaffiliated with fashion.
Harvey B. Gantt Center for African-American Arts + Culture
President/CEO: David Taylor
President's Salary (as of 2016): $137,117
Revenue (as of 2016): $2,413,535
Attendance (as of 2015): 34,104
Analysis: With help from Hugh McColl and museum namesake Harvey Gantt, the current $10 million endowment campaign is the investment this museum needs. More money for programming and staffing will help the Gantt can continue what's been a strong year in terms of curation. The departure of creative director Jessica Moss was a major blow to the staff, as she had spent the past year creating a new energy around the museum. We're hoping this endowment campaign facilitates the hiring of someone as strong.
Levine Museum of the New South
President/CEO: Kathryn Hill
President's Salary (as of 2016): $110,000
Revenue (as of 2016): $2,273,938
Attendance (as of 2017): 50,000+
Analysis: CEO Emily Zimmern and historian Tom Hanchett both retired from the museum late last year, and both were beloved, community-engaged leaders. This year's major staff changes (on all levels of the organization) brings uncertainty to how the Levine will continue to evolve. In light of these major changes, it's unfair to judge this year's curation against previous years, but one can hope that future programming will bring another show like the groundbreaking ¡NUEVOlution! Latinos and the New South.
Charlotte Museum of History
President/CEO: Lisa V. Gray (interim)
President's Salary (as of 2016): N/A. Recently exited leader Kay Peninger made $74,401.
Revenue (as of 2016): $390,140
Attendance: N/A
Analysis: Peninger's role was vital in leading the museum's comeback after the recession. She left this past summer to become director of museum education at Washington's Museum of the Bible (which is now led by longtime Central Piedmont Community College President Tony Zeiss). This museum's robust programming hopefully continues in the coming year to help remind people about this vital part of Charlotte history tucked away in East Charlotte.
McColl Center for Art + Innovation
President/CEO: Alli Celebron-Brown
President's Salary: N/A (Recently exited leader Suzanne Fetscher made $200,253.)
Museum Revenue (as of 2016): $1,659,827
Attendance (as of 2017): 25,710
Analysis: As Charlotte's only residency program bringing in local, national, and international artists, the McColl has a special function in Charlotte beyond its exhibitions. Fetscher led this effort for nearly 20 years, and part of the McColl's talent in cultivating community is shown in the residents who ended up staying in Charlotte.