Andrew Blair's Grows Up
Montford Drive's Andrew Blair's seems to have finally come into its own as a dining destination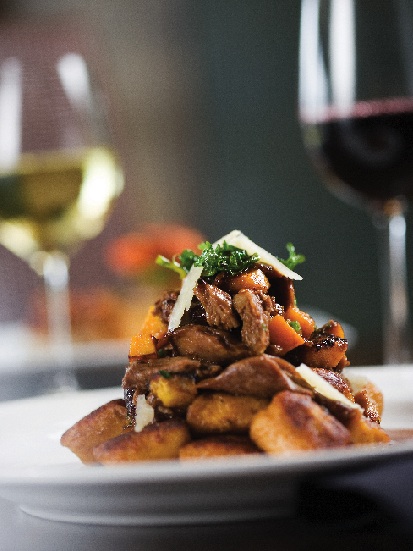 Marc Jacksina brought some soul to the reanimated Andrew Blair's on Montford. His refreshed and updated menu shows some of the simple (and largely affordable) bistro-style dishes that made his previous restaurant Lulu such a gas. Gone are ill-designed and downright weird dishes like clam chowder pot pie; in their place are exciting and fresh selections including roasted sea scallops, braised short ribs, and black cherry plank salmon.
One of the dishes that Chef Jacksina has brought with him virtually unchanged from Lulu is the Belgian favorite moules et frites ($14). A cone full of crisp pommes frites accompanies one of three flavors of steamed mussels: Mariniere, Bangkok, or Beer Belly. All are served tender and cooked to perfection, swimming in a fragrant pool of sauce. A St. Louis rib special is a steal at $9.99 with soft and tender ribs powdered in a crisp and savory dry rub. And Middle Eastern flavors shine through in a comforting lamb and gnocchi dish. Tender braised leg of lamb is served atop roasted butternut squash and house-made winter squash gnocchi ($21). The soft dumplings pair well with the lamb, and the satisfying dish has a warm, toasty edge of paprika and cinnamon.
The space hasn't changed much since it opened in 2008. The bar is still a good place to grab a quick drink or a bite to eat before heading out to the many other places along Montford. There is also a large function room just off the bar that turns into a crowded dance floor late on weekend nights. But design was never the problem—the menu was. With a renewed sense of what it is, Andrew Blair's now demands your attention.
Following this review, Chef Marc Jacksina an-nounced he was moving to another restaurant. Andrew Blair's menu will remain the same.

Andrew Blair's
1600 Montford Dr.
704-525-8282
$$-$$$, BR, D, FSB, P
andrewblairs.com