Angela and Vanessa Simmons Hosting 'Gotta Vote Block Party' this Saturday in Charlotte
Respect My Vote! campaign also holding volunteer training Saturday at unrelated event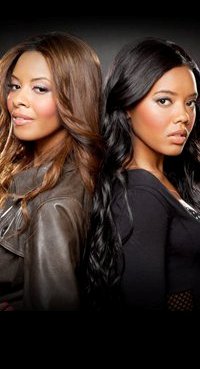 I was mowing my front lawn, trying to beat the sunset, when Obama hit me on the hip. Obama for America, President Barack Obama's reelection campaign, sends out text messages often to subscribers. The one I received this evening informed me that OFA-NC is putting on the Gotta Vote Block Party tomorrow (Saturday, June 16) 1-3 p.m. at Nu-U Barbershop, 1801 N. Tryon St. The reason it's a big deal, and the reason I'm blogging about it, is because the event is being hosted by Angela and Vanessa Simmons.
While these two young ladies are most known to many as the daughters of Joseph Simmons, a.k.a. Run of legendary hip hop group Run-D.M.C., b.k.a. Reverend Run, Angela and Vanessa are stars in their own right. They're designers of the Pastry footwear line, as well as models and actresses. You'll have the opportunity to meet the Simmons sisters at Saturday's event, as they talk about why they're supporting President Obama and why you gotta vote. There will also be music and food…a block party. Angela and Vanessa were in Miami today for a similar event.
This event is part of the Obama campaign's Gotta Vote Weekend of Action, where volunteers are getting together all around the country on Saturday and Sunday, talking to people to make sure they're registered to vote. Specifically in North Carolina, there's also a concerted effort with barbershops and beauty salons across the state "to register voters and start conversations about the work our President is doing in African American communities, and the future we are building together," according to OFA-NC. The timing coincides with this being Juneteenth weekend. Juneteenth is an annual celebration (recognized as a holiday in some states) of African-American heritage that commemorates the announcement of the abolition of slavery in the state of Texas on June 19, 1865 (click here for details on the Juneteenth of the Carolinas Festival).
While this blog is titled The DNC In The CLT, because it focuses on the buildup to the 2012 Democratic National Convention taking place this September in Charlotte, which is led by the Democratic National Convention Committee and the Charlotte in 2012 Convention Host Committee, I periodically post presidential election campaign events and news here as they relate to Charlotte and if they're particularly newsworthy. That goes for President Obama and his Republican challenger Mitt Romney—no partisanship or endorsements here.
Respect My Vote!
While we're on the subject of election-related events, the Hip Hop Caucus Charlotte Leadership Committee is holding a volunteer training session for the Respect My Vote! campaign this Saturday, 11 a.m., at the Urban League of Central Carolinas, 740 W. Fifth St. The Hip Hop Caucus is a national nonprofit organization, based in Washington D.C., and Respect My Vote! is its nonpartisan voter registration, mobilization, and education campaign targeting young people between the ages of 18 and 40, supported by a national coalition of two dozen organizations as well as leadership committees in cities like Charlotte, Raleigh-Durham, Atlanta, Miami, and Chicago, and with celebrity spokespeople.
You can expect plenty of celebrities to come through Charlotte this summer and fall, whether it is on behalf of the Democratic National Convention, Obama or Romney campaigns, or voter outreach organizations like the Hip Hop Caucus. North Carolina is a very important swing state and Charlotte is its largest city. Lucky us.