Answering the Call
In his first two years as president of Johnson C. Smith University, Ronald Carter has begun reaching beyond the school's traditionally closed gates. It's just the first step in reintroducing the institution to Charlotte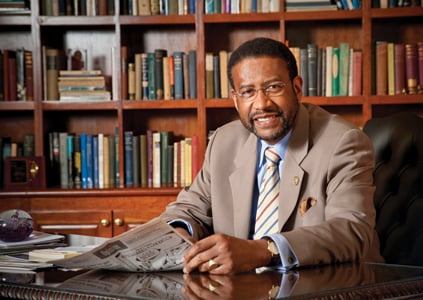 It's a warm September morning, about three weeks into the fall semester. A couple hundred college freshmen, most of them dressed in black and white, in button-down shirts, ties, slacks, skirts, and dresses, are congregated outside Jane M. Smith Memorial Church on the campus of Johnson C. Smith University. They're making small talk as they await the cue to walk in for convocation. This annual ritual formally welcomes the freshman class to the university.
"This is the beginning of your journey," says JCSU President Dr. Ronald L. Carter, as convocation gets underway. "You will make life-changing decisions that will not only affect your college experiences, but will mold you into the individual you will become from this day forward."
Carter, tall and lean, could be mistaken for a retired athlete, but his manner of speech leaves no doubt that he's an academic. In his baritone, he enunciates each word in a deliberate manner, beginning his welcome address with the traditional remarks you expect from a university president. But then he makes a more poignant statement to his freshman class.
"Be more than just a student who goes to class and returns home," he intones. "I encourage and challenge you to be a part of the community around you. Seize every opportunity to reach out, to make friendships, become student leaders, to become agents of positive change, and engage the Charlotte community."
This is not only the message Carter conveys to his students, but it's also been his mantra since becoming JCSU's president in July 2008.
The 143-year-old university on Beatties Ford Road has a rich history in Charlotte and the African American community. But historically black colleges and universities (HBCUs) face new challenges today as they fight to remain relevant. As most colleges nationwide have made strong efforts to diversify their student bodies, black students have more options than ever, and some students even see HBCUs as second tier. Plus JCSU's campus is located in northwest Charlotte, in an area that has largely been overlooked during the city's many revitalization efforts.
So Carter has committed himself as much to the surrounding community as he has to his university. He's working to ensure that JCSU is seen as more than the black school in that part of town. And in many ways, the future of a large segment of the city could rest on the school's success.
As a private university, JCSU's 105-acre campus is gated, resting in the corner of a busy corridor where Beatties Ford Road, West Trade Street, West Fifth Street, and Rozzelles Ferry Road intersect. It's a unique crossroads—just outside uptown Charlotte, only a mile from the shiny trappings of Gateway Village (home to Bank of America offices and Johnson & Wales University)—one that potentially positions it well both physically and culturally. But despite its high-traffic location, throughout much of the university's history it has largely kept to itself.
The security guard house at the main entrance ensures that only students, faculty, and expected visitors are admitted. JCSU hasn't connected to the community the way the open campuses of UNC-Charlotte and Queens University have, for example. But Carter is changing that.
"Our role as Charlotte's premier independent urban university is to be a hand-in-glove partner with the city and especially with the corridor in which we live," says Carter, sixty-two. He has pushed for the university to become a part of its community and to help solve problems that it has been facing for decades. Several times a month you'll find community groups and nonprofit organizations holding meetings on campus. Often there will be JCSU students in attendance, which Carter believes is an important part of their learning experience. And he, too, is often present.
The same day Carter spoke at convocation, he addressed community members who assembled for an Urban Business Network meeting. About seventy-five people gathered inside the theater at Biddle Hall, the campus's oldest building and quite an architectural gem—its Romanesque style evokes the look of a castle and the clock tower on top is one of the university's most recognizable symbols. The attendees are here for the presentation of a white paper commissioned by the Urban Business Network and produced by a team of JCSU professors and researchers.
The Urban Business Network is a membership-based organization, made up primarily of African Americans, that provides resources and opportunities to help urban and small businesses become more successful. The organization received unwanted attention when Bob Johnson made controversial remarks at a banquet it held at the Westin in March. Johnson had sold majority ownership of the Charlotte Bobcats to Michael Jordan a couple weeks earlier, and he had been invited to the banquet to receive an award. This, in some ways, was a parting gift from Charlotte's black business community. But Johnson had a parting shot of his own.
"Charlotte is a very, how would I call it, close-knit, arrogant, sometimes incestuous town," Johnson told the audience of 200. "It's close knit, and if you come to this town, and you look like you're one of those people that might break some glass … it's going to be tough for them to relate to.
"The thing that concerns me is that I'm just surprised that the city doesn't do more for African American small businesses. And I don't really understand that."
Fast forward to this September evening, and black businessmen and women have come to JCSU to understand that. Johnson's remarks prompted community leaders like Carter to begin taking a closer look at Charlotte business practices, and tonight each audience member receives a copy of the thirty-page paper, titled "Gaining Traction in Doing Business in Charlotte, North Carolina: Compelling Reasons for Community Wide Support for Minority Owned Businesses." A handful of JCSU professors take to the podium, one by one, to explain their findings. The complex study reached a simple, yet troubling, conclusion: well-educated and experienced minority business owners in Charlotte, with great credit histories and savings, face many of the same challenges and obstacles getting access to capital as economically disadvantaged minorities. Even more troubling is the finding that they face more obstacles than their white counterparts, including white business owners who didn't match their levels of business experience and finances.
The more the findings and inequities in business practices were explained, the more anxious the crowd became. Kelly Alexander Jr., a local funeral home director and member of the North Carolina House of Representatives, stood up to speak during the question-and-answer segment. "I don't need a bunch of mathematicians to ask, 'Why aren't [lenders] helping us?' " he said in a loud, agitated tone. "We need to recognize that everything they're talking about up there [in the white paper] needs to be done not tomorrow, but yesterday."
Alexander's remarks represent what is often heard from an underserved group: complaints about problems, but no tangible steps toward resolving them. Heck, even billionaire Bob Johnson had his grievances, but no solutions. Carter's response at this forum sums up his approach, and the reason he decided his university would partner with the Urban Business Network on the study. "We're saying to ourselves that we keep hearing this," Carter said. "Well, the time has come to research this. … We cannot continue to say there is a problem and not define the problem."
Carter and members of his team from the university proposed next steps. Many of the key recommendations will be overseen by two initiatives he created within his first year as president. The Metropolitan College at Johnson C. Smith University focuses on degree and certificate programs for nontraditional students, and the Center for Applied Leadership and Community Development has a mission to connect JCSU's faculty and students with nearby neighborhoods, greater Charlotte, nonprofits, local government, faith-based institutions, and businesses. Carter got a huge vote of confidence for those programs last fall when the Duke Endowment gave JCSU $5.7 million, the largest single gift in the university's history. And now he's putting those resources to work in the community.
"It really makes my life a lot easier when you have a [university] president who is so involved," says Charlotte City Councilman James Mitchell, who for the last eleven years has represented District Two, where JCSU is located. "Dr. Carter could've taken another route and just focused on the students at Johnson C. Smith and their academic performance, which is still a top priority for them. But he's chosen great staff and said let Smith go beyond these gates and have influence in shaping this [community]."
Carter is a High Point native, but he possesses worldly experience. It's that attribute that persuaded the JCSU board of trustees to hire him nearly two and a half years ago. After graduating magna cum laude with a degree in sociology and philosophy from Morehouse College in 1971, he began working at Boston University's Martin Luther King Jr. Center, which houses a large collection of manuscripts, letters, and files from the late civil rights leader. A decade later, he'd become the school's youngest ever dean of students. During his time at BU, he also earned a master's of theology and a PhD in philosophy of religion.
His calling led him to Johannesburg in the late 1980s during apartheid. There he worked as a senior administrator at the University of the Witwatersrand. Within five years, he became the school's dean of students, a rarity at the traditionally white institution.
Carter returned to the United States in 1997 to become the provost and dean of faculty at Coker College in Hartsville, S.C. He would spend eleven years there before being tapped by JCSU to fill the vacancy left by Dr. Dorothy Cowser Yancy. Yancy, who'd served as president for fourteen years, had announced a year earlier that she would step down in June 2008. At the time, she touted that the university's $75 million fundraising campaign had surpassed $80 million.
Where Yancy built the university upward, Carter seeks to expand it outward.
In September, JCSU opened the Arts Factory to house the university's new visual and performing arts programs. Located on West Trade Street just a few blocks from JCSU at the intersection with Beatties Ford Road, the 14,000-square-foot renovated facility used to be the Griffin Brothers Tire Sales building. It marks the first time the university has constructed an academic facility outside of its campus.
The Arts Factory is modest compared to most new university buildings, but it stands out in an area where a Bojangles' is one of the few viable businesses. The one-story, L-shaped building is flanked by large glass windows that take the place of former garage doors, letting in plenty of natural light. Inside, there are classrooms, a black box theater, and painting and dance studios.
"It's going to be an exciting place for our students," Carter says. "That decision to put it [there] pivots to our strong commitment to revitalize Beatties Ford Road. … We will be responsible neighbors by building into the community."
Carter has a long-term plan to build a performing arts center next to the Arts Factory, as well as student housing. He hopes those kinds of developments will spur other projects. City Councilman Mitchell is even more enthusiastic about the potential.
"I told Dr. Carter that's just the beginning," Mitchell says. "I would love for us to create a vision for the West Trade Street corridor almost like Georgetown. A lot of energy, a lot of synergy. … I would love for us to paint some of the sidewalks blue and gold [JCSU's colors]. I just want the city of Charlotte and its citizens to know that this is what we're trying to bring—a new image to the West Trade Street–Beatties Ford corridor, and Johnson C. Smith is a catalyst for that."
Mitchell says he's built a great working relationship with Carter and lauds him for taking a chance on having the university take the lead on redevelopment in its community. "I think that's a testimony to Dr. Carter for saying, 'I'm in the community and I would like to make a difference.' He's developing a great reputation of being a hard worker, a very spiritual leader, and someone who's really engaged in the
development of the Northwest corridor."
Carter has engaged community leaders, too. "I like [Dr. Carter's] vision," says Mattie Marshall, community association president of Historic Washington Heights, which is located near the campus. "Connecting more with the community is really good. And I like seeing JCSU used as a magnet to connect all of these other pieces together. We're a valuable resource to this city, and I think the entire city should pay more attention to the uniqueness and the special gifts of this university."
Fayetteville native Erica Hilton is excited about the changes she's seeing at JCSU. The gregarious senior would be a shoo-in for "Most Likely to Succeed" superlatives. And as the current Student Government Association (SGA) president, she understands Carter's vision for the university. "We both care about the students," Hilton says. "And so I want to make sure the students get what they want and also what they need. And he's working with me, which I love because I know he's busy."
Hilton has heeded Carter's call for the student body to get involved outside the campus gates. Over the summer, while working with Democracy North Carolina, she and another intern came up with the idea to bring together student leaders from each college in Charlotte. They wanted to talk to them about creating initiatives that would encourage students on their respective campuses to go out and vote in this year's election. From that idea, the vision of an alliance grew. "Not only did we want them to get out and vote, but we also wanted to form a bond with the other schools," Hilton says.
The budding committee includes student government representatives from JCSU, Johnson & Wales, Central Piedmont Community College, Queens University, Davidson College, and UNC-Charlotte.
Hilton says that, at Carter's encouragement, the SGA has also been focusing on developing more student leaders. "One of the things we keep talking about in student government is how we can make more leaders on campus," she says. "Because that will make more students stay, and that will make the students go out into the community and get more males to come." A study conducted last year by the Associated Press showed that only 37 percent of black students at HBCUs finish a degree within six years. Just 29 percent of HBCU males complete a bachelor's degree.
Of the 1,331 students enrolled this year at JCSU, 59 percent are female and 41 percent are male—only slightly different from the average of all colleges nationwide. But if national statistics for HBCUs hold true for the 223 freshmen who've just began their college careers at JCSU, by the time they walk across the stage in 2014 for graduation, women will make up 71 percent of the group that started out together.
"We must do everything we possibly can now to get all of our students through the education pipeline so that they're eligible, so they can be recruited, and matriculate in colleges and universities in this country," Carter says. "My concern is if we do not do that, then we'll have a majority of minority students who are disenfranchised, who are undereducated, and not capable of taking advantage of higher education. And higher education could return to an elitism that I think would be detrimental to the country."
Johnson C. Smith was founded by a Presbyterian Church originally as the Biddle Memorial Institute, two years after the Thirteenth Amendment abolished slavery. Over the next 100 years, the school would provide higher education to many African Americans around the state and country, particularly when other institutions in the South wouldn't admit them. Even after most colleges began integrating in the 1960s, schools like JCSU remained popular for students of color.
But Carter, and others, realize that HBCUs need to diversify to sustain their relevance. The beginnings of those efforts can be seen in the tagline the university adopted during Carter's first year: "Charlotte's premier independent urban university." Although urban has come to represent black in the modern lexicon, the use of the word is a strategic approach by Carter.
"We are claiming our history and being imaginative about our history, and that becomes our theme," Carter says of the tagline. "By 2020, the majority of students who should be eligible to populate the classrooms in higher education will be students from minority groups," Carter adds. "And so we are now moving to the point where it's really not the issue of an HBCU or predominantly white institution as it is an issue of educating the majority of students in this country. … Smith is deliberately defining itself as that urban university, that has a strong hold in history as an HBCU, and we will use the richness of that to educate white students, Latino students, Asian students, and anyone who wants to come and to understand how to operate in a civil way in this new society that will be in front of us within ten years."
And within about ten years is when it will be possible to assess if Carter's efforts have paid off: if JCSU is retaining and graduating African American students at a higher rate while also diversifying its student body. If the Northwest corridor becomes home to growing businesses, revitalized neighborhoods, new housing, and campus facilities.
And if people are viewing this part of the town similarly to how they covet other neighborhoods surrounding uptown. If all this happens, then we'll be able to look back and say President Carter had an effective administration.
Jarvis Holliday is a freelance writer in Charlotte.