Anthony Abbott: More Than Words
Five decades ago, poetry saved a Davidson College professor from despair. He's spent the rest of his life sharing the gift of writing with others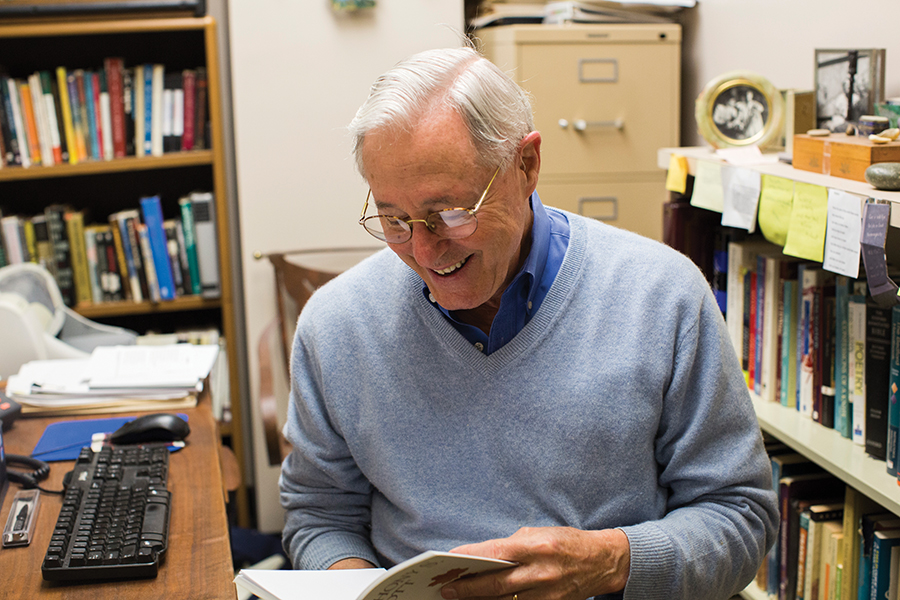 Anthony Abbott sits in his cluttered office at Davidson College, reciting Yeats by heart.
"Have you read 'When You Are Old'?" he asks. "No?"
The lesson begins. He closes his eyes. His head begins to nod like a metronome. He pauses, and his blue eyes open wide and shine. Like the conductor of an orchestra, he floats his hands in midair, keeping tempo. His voice is professorial—assertive and slightly hoarse—punctuated by dramatic pauses.
This is a man who types out poems and tucks them away in his shirt pocket to pull out and memorize in his free time. He studies them line by line, reading aloud at stoplights in his car or while walking his dog. Once he knows a poem by heart, it joins dozens of others, yellowed and creased, in a bulging manila folder.
Poems sustain Abbott. They have given him strength and lifted him to impressive heights. His first book of poetry, The Girl in the Yellow Raincoat, was nominated for a Pulitzer Prize. As a professor at Davidson for 41 years, he spearheaded the creation of the creative writing program. With seven books of poetry, two novels, and four books of modern literary criticism, he's a treasured institution among writers throughout the state. Now 79, he's reflecting on a life transformed by poetry.
***
One night when Abbott was nine, he was lying in bed when he overheard an explosive fight. There was a commotion, yelling, and the sound of a shotgun firing. His mother shot his stepfather through the shoulder. He was injured, but alive. Abbott doesn't remember exactly what happened next; all he knows is that a few days later, his mother took him to speak to the police.
By then, he was accustomed to chaos. His mother and father were both alcoholics, "wild young things," who divorced when he was very young. "I'm told they were just like Scott and Zelda [Fitzgerald]," he says.
After the shooting, his mother divorced again and moved from Connecticut to New York City to become a waitress in a hotel. Abbott's 18-year-old sister and stepfather moved to the city separately, leaving Abbott without a guardian.
"According to Freud, I should have been a total failure," Abbott says. But his godmother stepped in. Marion Lowe was an old friend of his parents from California, and she was generous with her wealth. She sent Abbott to the Fay School, a boarding school in Southborough, Massachusetts, where he found solace in strict rules and high expectations.
Still, he was essentially homeless. Vacations and holidays were divided between family members or guardians, who were often busy with their own lives. So while most boys balked at Fay's flavorless rationed cafeteria food and the harsh paddling they received for misbehavior, Abbott relished the structure and attention he received. School was the closest thing he had to a home.
"He didn't have an easy time starting off," says Hal Hamilton, one of Abbott's two best friends at Fay. But he became a success story, a smart boy from a broken family who excelled with proper instruction. "They gave him a special alcove in the dormitory," Hamilton says. "He was considered almost a prodigy."
***
When he was 11, Abbott took a train to New York City to visit his mother for the weekend. He waited on a bench at the train station for half an hour, he later wrote in the poem, "In Grand Central Station." Scanning the crowd, he searched for "his mother's blue coat with the torn hem and the white scarf." Time passed, and Abbott began to cry. Embarrassed and alone, he put "his tears away in the pocket with his used handkerchief," and refused to allow himself to be that vulnerable again. When his mother died a few years later, from cancer and complications related to alcoholism, he couldn't cry.
Press "Play" to hear Abbott reading "In Grand Central Station."
He thrived as a professor. He and his family lived in the John Blake house, built in the 1860s for the chairman of the faculty who presided over the college when Woodrow Wilson was a student. The elegant white house stood on Main Street, with a long front porch, rocking chairs, and an olive green gable roof. From his front steps, Abbott could walk to class in minutes.

In the summers, the family vacationed in a house on Lake Norman. Abbott took his role as a father seriously, giving his children the home he never had.

***

The Sunday after Easter, 1967 was a typical evening in the Abbott household. Anthony and his wife, Susan, put the children to bed: Steve, the youngest, Lynn, the middle child, and David, the oldest. Lynn was a month away from her fourth birthday, with a bob of shiny brunette hair and long eyelashes decorating giant eyes. Anthony called her "my deep-eyed dove."

The next morning, the Abbotts woke to find Lynn silent in her bed. They called the family doctor, knowing it was too late.

The family never learned for certain what caused her death, but they believe it was a kind of encephalitis, a massive swelling of the brain.

"It just came and—boom," Abbott says. "I had no language to express what happened." Having put his tears away all those years earlier at Grand Central Station, he couldn't cry.

Abbott had buried most memories of his parents, but now he began recalling and writing about his childhood. He wrote poetry. He wrote short stories. In 1977, he went on sabbatical to teach in Australia, where he wrote the first draft of his semi-autobiographical novel, Leaving Maggie Hope.

Ann Wicker, a student of his in the 1970s, remembers Abbott as a "dynamic, charismatic, challenging" professor. "He's a light-hearted person, but very serious about poetry and literature," she says. Wicker spent 12 years writing for Creative Loafing in Charlotte before earning her MFA from Queens University and writing a book. "When my book came out," she says, "I tried to think of how Tony would read it aloud."

In the late 1970s, journalist and poet Dannye Romine Powell nominated Abbott for a scholarship to the Bread Loaf Writers' Conference at Middlebury College in Vermont. There, he studied under John Irving, Tim O'Brien, and other luminaries. He had been writing what he calls "the poor-old-pitiful-me-poem." With guidance, he learned to express himself without being sentimental and melodramatic. He started to write like this:

Words are the only fingers of the soul
words spoken and heard
written and received
like hands thrust deep into bowls
of ripe cherries, then pulled,
burgundy stained, into the air.

***

In 1980, a student in Abbott's freshman composition class at Davidson wore a yellow raincoat. She was lovely and smart and exactly the age Abbott's daughter would have been. He began to imagine his daughter as a freshman at Davidson, and it inspired his first award-winning poem, "The Girl in the Yellow Raincoat."

A girl waits at a bus stop, and a man looks out his window and wonders where she is going. Is she smiling because she received a letter from a lover? Is she humming classical music? Is she dreaming of far-off places? The man begins to weep, and splinters from the windowsill cut his hands.

"It was really the death of my daughter that led me to poetry," Abbott says.

He took over teaching creative writing at Davidson, and the college added a course in creative nonfiction. In 1989, newspaper publisher and alumnus John McGee directed a donation to the creation of the McGee Visiting Professorship in Creative Writing, and Abbott helped selected a distinguished writer to teach advanced writing once a year. Over the years, Davidson welcomed stars like the poet Al Young and novelist Robert Morgan. The school progressed from having only one creative writing class in 1978 to nearly a dozen workshop-based classes and a major in English with a focus on creative writing. Abbott was a huge part of that.

"He was absolutely captivating," says Jacqueline Bussie, who graduated from Davidson in 1991. "He's a dramatic lecturer. He doesn't look at any notes, but recites from memory and has dramatic pauses. No one was ever doing anything else except for listening to him. His eyes were always twinkling, and they still are—like he was up to something."

For someone who loved to teach and stay busy, Abbott was reluctant to retire at 66. But once he did, he found much more time to write. Between 2001, when he retired, and 2011, he published three books of poetry and two novels. He still teaches writing locally, speaks at book clubs, and gives lectures on religion in literature at churches across the state.

He's served as the President of the North Carolina Poetry Society, the North Carolina Writers' Network, and the Charlotte Writers' Club. If anything, he is reading and writing more since retirement.

Work and family are still his priorities. On an afternoon last fall, Abbott sits in his office in E.H. Little Library, where he does most of his writing. Framed photos of his three sons, grandchildren, and his parents jostle for counter space. A photo of his granddaughter, Clara, sits next to one of Lynn. Their large eyes and dark hair are remarkably similar. A card rests on the shelf among the photos. "May there always be an angel by your side," it reads.

There's a poem in The Girl in the Yellow Raincoat that seems to fit his mood. It's called "Before Forty," and it ends with this stanza:

So you want a happy ending? I don't know
much about that. I cry a lot these days.
Not for broken shoelaces or spilled beer,
but for Bach and the Beatles and for
beauty where I find it. I sleep later,
dream more, and write stuff like this.

The Angel Dialogues is Anthony Abbott's latest book of poetry, released in March by Lorimer Press. The story follows a poet and his angel.

Hannah Taylor is a regular contributor to this magazine. She can be reached at hltaylor12@gmail.com.