Anthony Foxx on HB2: 'A Level of Tyranny That I Think Is Dangerous'
Former Charlotte mayor wants to start conversation about transportation and opportunity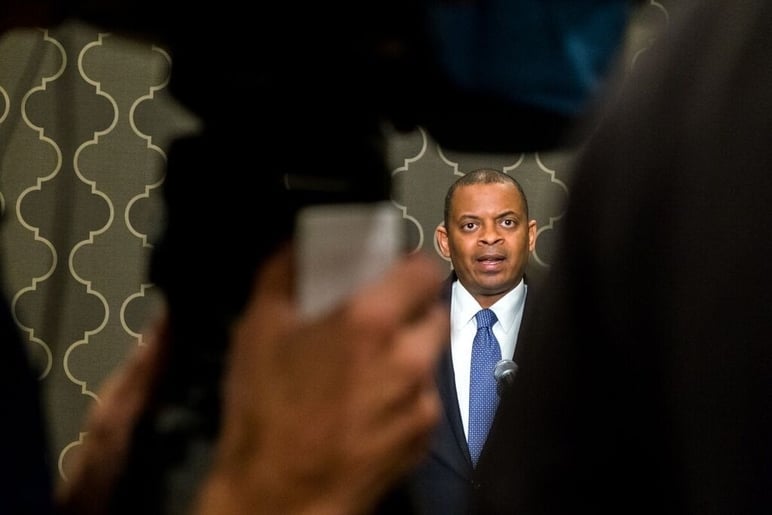 Anthony Foxx, the U.S. Transportation Secretary and former Charlotte mayor, made a Rotary Club of Charlotte luncheon this afternoon the first stop on a nationwide "call to action," as he put it, for communities to start thinking about the link between road construction and economic opportunity.
Foxx grew up in Lincoln Heights, a west side neighborhood hemmed in on all sides by highways—Interstates 77 and 85 and the Brookshire Freeway. The roads, built during the Urban Renewal days of the 1960s and '70s, isolated Lincoln Heights as similar projects did, mainly to poor and minority neighborhoods, in cities throughout the country. Interstates were conceived as a way to connect isolated communities to cities, Foxx said during his speech, "but instead of connecting each other, highway decision-makers essentially separated us."
He said he wants to start a large-scale conversation now, as the need to repair and replace aging highways grows. It's a bold endeavor, thought to be the first of its kind for a Secretary of Transportation; The Washington Post published an in-depth story about it this morning. I'll be writing more about the details and historical context in a day or two.
But at the news conference that followed, several questions from the assembled reporters concerned the now-notorious LGBT-hostile House Bill 2, rammed through the legislature and signed into law March 23, that has drawn condemnation around the country from business and government leaders alike.
"It's incredibly hard for me to watch what's happening here in North Carolina, because I know fundamentally that this isn't who we are," Foxx said. "But ultimately, people have to remember that the people they elect make these decisions, and they've got to think about that … I think the outcry you're seeing nationally is a significant outcry, and I hate to see it happening, but it's a lockstep with a lot of things I've seen coming out of Raleigh." He said he couldn't rule out the possibility of the state losing federal transportation funding.
"This is going beyond ideology," he said. "This is going into a level of tyranny that I think is dangerous."
Later, he expounded on his remarks in a one-on-one interview with me:
"The most important thing, I think, is that our society is one in which we really do have to live together. This is actually part and parcel of what I was talking about today, which is that we're not in an era in which you can just build a wall and just not look at somebody. We have a society in which LGBT folks are working next to everybody, they're paying taxes, they're doing everything everybody else is doing, and why we would take the time to say to someone that the protections against discrimination don't apply to you, that who you love matters more than what you bring to your work or your school or the people in your neighborhood, that just doesn't add up. I have a lot of hope that our state will eventually come to the same conclusion."