Aphasia: The Movie Released on DVD
Local screening honors its star, Carl McIntyre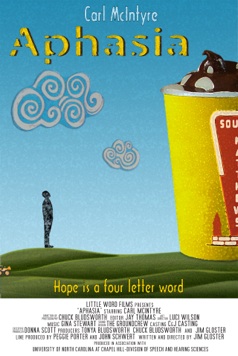 Carl McIntyre was a well-known, Charlotte-based actor who was a fixture on the Southeastern theater scene. But a severe stroke in 2005 almost stole his ability to speak.
Almost.
After the stroke, McIntyre was diagnosed with aphasia, or an inability to speak. Like many stroke survivors, McIntyre was told his recovery would plateau between six months and a year and a half. After the eighteen-month threshold, little progress should be expected.
That turned out to be untrue. McIntyre has made — and continues to make — big strides. Speech and occupational therapy have helped him learn to talk again, though he still has difficulty with sentences longer than a few words. His vocabulary has improved, and his coordination is almost to the level it was pre-stroke.
McIntyre's cognitive abilities are largely intact. His memory and his reasoning skills are both very strong.
In 2008, the actor began making presentations to speech-language pathology classes about his experience and his subsequent recovery. The presentations, which feature McIntyre's technique of picture association to recall words, were such a success that the idea for a film was born. And McIntyre plays himself in the movie.
The local theater community stepped up to co-star in, film, direct, and produce Aphasia The Movie. Local actor, writer, and director Jim Gloster wrote the screenplay. Actress/producer Donna Scott produced.
You can witness the power of friendship in the healing process when the movie screens April 27 at Theatre Charlotte at 7 p.m. Tickets, details.
The short narrative film, now out on DVD, will be available at the screening event which will feature McIntyre and Nancy Helm-Estabrook, a speech language pathologist most recently seen in a 60 Minutes interview discussing her work with Gabby Giffords.
Scott said the Aphasia project is important because "it brought a group of Charlotte's finest film artists together to tell a compelling story about one of our own and his personal strength of will to triumph in the face of adversity."
Scott said she and her producing team "couldn't be more proud of the project and especially of the support we've consistently felt right here at home in Charlotte. Aphasia has screened over forty times in twenty states on both coasts and in the Midwest, including Los Angeles and New York, and in four countries worldwide. We have an Australian premier upcoming in Sydney in August."
"It's a wonderful example of the use of creative entertainment media for educational purposes," she continued. "It has provided a second chance for its star, Carl McIntyre, to continue to flex his theatrical muscle with motivational speaking, continue his career and has opened doors for him to other projects."