Apply for a Grant from Keep Charlotte Beautiful
The committee will award $5,000 for projects that make lasting impacts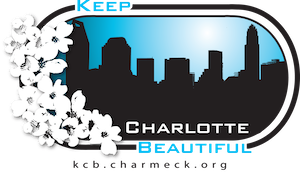 Neighborhoods, home-owner associations, schools, and nonprofits can receive $500 to $5,000 for projects that better their areas. Applications for the Keep Charlotte Beautiful Committee's Beautification Grant are due this Friday, April 25.
The committee, a part of the City of Charlotte's Neighborhood & Business Services division, looks for projects that make a lasting impact and improve quality of life. Examples of eligible projects include public art installations, nature trails, community gardens, tree plantings, park improvements, and entrance signage.
"Planting a few flowers can really change the feel of an area," says Louise
Bhavnani, program manager for Keep Charlotte Beautiful. "If you put care into something, people will treat it with more care."
The grant program has been in place for five years. It was known as the Adopt-A-Neighborhood grant, but the committee's board members recently changed the name to the Beautification Grant and broadened the eligible applicants to include schools and nonprofits.
Last year, two applicants received grant money. Piedmont Middle School used its $2,500 to create the Schoolyard Habitat Classroom and Beautification Art Project. The Commonwealth Park community also received funds to demolish three derelict buildings known for encouraging criminal activity and make the area into a neighborhood gathering space with signage, benches, and landscaping.
The Beautification Grant program targets small projects with quick turnarounds. The 2014 recipients must complete their proposed projects by June 30, 2014.
"The turnaround is immediate," Bhavnani says. "It's a small impact that we hope can brighten [a] corner of the city."
Bhavnani suggests applicants include as much information as possible. Details show board members that the project is well thought out and capable of implementation. Projects that involve partnerships with multiple organizations, show broad-based participation, and provide a benefit to communities below the city's average median income receive special consideration.
The Beautification Grants are one piece of Keep Charlotte Beautiful's efforts to improve the city's quality of life by engaging residents to take responsibility for their neighborhoods' cleanliness and aesthetic appeal. The committee was founded in 1974 and is an affiliate of Keep America Beautiful. To apply for the grant, click here.