Are Dogs Replacing Kids?
In some modern-day families, pets aren't just a step toward children—they're replacing them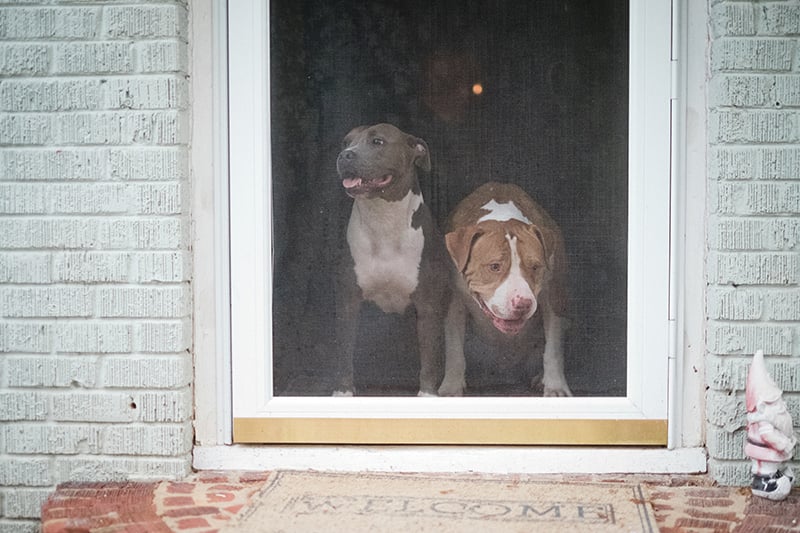 "WE'RE NOT GETTING a pit bull."
I remember my husband's tone as we drove to The Humane Society on a Sunday afternoon in January 2015. Jon wasn't being condescending or demanding, but it was clear he had strong feelings about this.
I couldn't argue. And I couldn't blame him for saying it. Nine years ago, I felt the same way. I told my brother Adam he was crazy when he adopted a pit bull puppy, a runt he named Alliyah. Yet she never bared her teeth on another creature until she was old and blind and couldn't tell where a treat ended and your fingers began.
At The Humane Society, Jon and I played with a few dogs, but we didn't find the overwhelming chemistry I hoped I would feel.
"Were there any other dogs you wanted to see?" Jon asked me.
Yes, there was.
She was a skinny thing, about a year and a half old. Even at that young age, I could see she'd likely nursed puppies. As I walked by, she put her front paws up on the cold metal fence, one of her back paws in a puddle of urine. I was drawn to her eyes, big and brown and sad as hell. Her name was Tippi, named so by the staff because she had a big scab on the tip of her tail. She had the dreaded HW+ marking on her tag, noting that she was heartworm positive.
Jon looked at me, sighed, and agreed to bring the young pit bull into the playpen.
"She has to blow me away for me to say yes," he warned me.
I was confident she would impress him. But when the handler brought her into the playpen, Tippi wouldn't move. The only hope I had left was that Jon would pity her.
Forced by a tug at the end of the leash, she began crawling toward us. After 10 minutes or so, she warmed up to me, letting me pet her and showing me those sad brown eyes. She was scared of every movement Jon made. She was seized by Animal Control after being left outside, alone in a crate in the cold. The high temperature the week they took her was far below freezing. Still, she looked like a gentle soul that needed a home. Jon and I agreed to talk about it over lunch.
As I got in the car and buckled my seat belt, he looked over at me.
"Let's go get a bed and a leash."
***
WHEN I WAS YOUNGER, I believed that my life would follow a plan. I would go to college, graduate, get married at 26, and have kids by 30. I'd stay home with them while my husband worked.
That was my childhood. My mom stayed home to raise me and my two brothers. I wanted to be like her, to give that same gift to my own kids. A homemade lunch every day. Helping with homework. A phone call away if a child gets sick at school. My life started on that path. I graduated college. I got married at 26.
I didn't consider how my career would affect this life plan until I began studying journalism. It's not a field you can enter halfway. I dedicated myself to it, inspired by the importance of storytelling and factfinding. I worked early mornings in the mailroom at The Washington Post, scheduling my classes in the afternoon so I could still serve as features editor of the college paper. My career in newspapers led me to meet Jon, who also worked at the Post and now oversees content at American City Business Journals. Our mutual love of journalism is a big reason we fell in love with each other. We understand the importance of the other's career, and our reporter's curiosity makes us want to travel, explore, and experience the world up close.
That's hard to do with children. In our Plaza Midwood kitchen one day not long after we got married, I looked at Jon.
"I don't know that I want to have kids," I told him, nervous about how he'd react, given that it was a reversal of everything I thought my life would bring. His answer surprised me. He wasn't worried. He was … relieved.
"I feel the same way," he said.
We're not the only people who have this conversation. According to U.S. Census numbers, the percentage of women 25 to 29 years old without children has jumped from 30.8 percent in 1976 to 49.6 percent in 2014. Thirty- to 34-year-old women are showing the same trend, the childless jumping from 15.6 percent in 1976 to 28.9 percent in 2014.
Now, when people ask me and Jon whether we plan to have kids soon, we say we're not sure we want to be parents.
Kelly Waugh, the 36-year-old owner of Lucky Dog Bark & Brew with her husband, Randy, tells me there's a name for people like us: DINKs. Double-income, no kids. A lot of us DINKs have dogs. She and her husband are DINKs, too, with four fur babies. Waugh says she's always been career-focused and loves to travel. Having kids was never something she wanted. But dogs? They fill the need to dote on an adorable subject, without most of the harder parts.
"My husband always jokes, 'Your dogs are so spoiled.' And I always say, 'What's going to happen? Are they going to be bad adults?' " she says. "Who cares? I want them to be spoiled. They came from a rough setting and I want them to have everything that they want. That's probably why I'd probably be a horrible child parent."
Their four pups, a lab mix, a boxer, and two pugs, are all rescues. The guilt they felt leaving their dogs on Saturdays to watch Michigan football at a bar inspired their business. Lucky Dog Bark & Brew, with locations in Lake Norman and FreeMoreWest, is both a boarding facility and a full bar, with play areas for large and small dogs.
"It's because we're busy professionals, and always on the go, but we still love our pets," Waugh says. "We always wanted our dogs to be around us at all times, because we don't have that child to look after."
Kids aren't allowed at Lucky Dog, both because it's a bar and there are a lot of dogs running around. Most of the families coming here, though, aren't affected by the no-kids policy.
Most DINKs with pets want to go out and have fun, and they like it when they can do things with their dogs they could never do with kids.
***
AFTER WE BROUGHT Tippi home that day, we renamed her Rosie to better represent her sensitive personality. We bought her sweaters to hide her rib cage as we worked on getting her to a healthy weight and heartworm free. We slowly introduced her to friends, and she started slowly introducing herself to us.
We had to stop ourselves from talking about her nonstop and showing everyone pictures of her. We soon started surrounding ourselves with other "dog people," couples our age whose Instagram posts are full of snouts and the hashtag #adoptdontshop, married couples who don't see children as a mandatory next step.
Jon, the same husband who vehemently said he didn't want a pit bull, soon became a pit bull advocate.
A few months after we brought Rosie home, a friend tagged me in a social media post by a woman who was desperately trying to find a foster family for a dog. The dog was abandoned on the side of Nations Ford Road and sat there a full workday in the June heat waiting for the jerk who left him behind to come back. You could tell he'd spent a lot of time alone. His collar was growing into his neck.
The women who found him, Liz and Lauren, already had three dogs of their own and couldn't keep him. They're like us, a couple happy to share their life with their dogs. When Liz proposed to Lauren, the dogs were dressed in formalwear.
They named the big red dog they found Titan, and we began to foster him through the American Pit Bull Foundation. Jon wanted to rename him Brutus, after the Ohio State mascot, but I said no. I was afraid the poor dog would be confused when his adopted family picked a name of their own. Two names in a year is a lot for a dog, and three is too many.
I should have let him. Shortly after Titan finished his heartworm treatment, we adopted him. We had to teach him how to be an indoor dog; it was clear he'd always been left outside. We had to deworm him—we had no idea how many types of worms one dog can get. He had ringworm, whipworm, and heartworm. We had to increase his 67 pounds to a healthy weight of 100, and we had to teach him how to be a beloved pet.
***
IT'S BEEN a challenge. He's big, headstrong, has a lot to learn. We haven't been able to teach him that a person sitting on the toilet does not want kisses on the face or that it's impolite to sniff human crotches. Even Rosie, as a result of her malnourished past, still creates a puddle of drool on the floor whenever she sees us eating, our own version of baby spit-ups. But both dogs love people, even though people haven't been kind to them in their pasts.
We're proud of the dogs we're raising.
Recently, I was out to dinner with a friend, due with her first child in September. She and her husband used to be a dog couple, too.
"I have to tell you the most embarrassing thing that happened to me," she told me.
She was walking to a Knights game with her husband, sister, and brother-in-law. As the group strolled past the bubbling fountains at Romare Bearden Park, she sneezed—then wet herself.
In my head, I thought, Well, there's another reason to not have kids.
Then she explained the emotion of creating human life.
"It's just the most incredible feeling," she said.
I sipped my cocktail, smiling.
Later that night at home, Jon was scrolling through photos of the day we took Titan home, his "freedom ride," and his first night with us. Jon started tearing up as he compared the big red dog laying next to his chair to the skeleton in the photos.
We took a picture of Titan standing in the same spot, and compared the photos side by side.
It was heartbreaking to see what he was, and heartwarming to see what he'd become. We are as proud as any parents, but not all of us are meant to have kids. Maybe the plan for some of us is to scoop up poop instead of change diapers, to trade the stress of teenage years for the heartbreak of losing your four-legged best friends over and over in a lifetime. After all, someone had to take a scared pit bull and a scrawny red dog home from the kennels, and we're showing each other what it means to be part of a family.
It's just the most incredible feeling.
With our family (which also includes Desmond, a Russian tortoise), our jobs, and our travels, Jon and I have full lives. We go to work, we go to dinners, we go to bars, and some nights, we take the dogs out with us.
We take them to doggy day care when we'll be out after work; we buy them $55 bags of dog food. They each have a spot on the couch. But we don't have to run them to soccer practice and ask them to clean their rooms and worry about grades or adolescent hormones. They take away our stress every time we walk in the door, butts wagging with excitement to see us. They give us a greater purpose without making our lives mainly about theirs.
Parents do everything they can to keep their babies safe from all the terrible things people can do to them. We're doing everything we can to make our fur babies forget the terrible things people have already done to them. That takes all the love and attention we can give.
Kristen Wile is senior editor of this magazine and editor of Charlotte Home + Garden. Reach her at kristen.wile@ www.charlottemagazine.com or on Twitter: @kristenwile.
Want to give a pet a home? Visit AdoptAPet.com to see animals in need near you.
---
This article appears in the August 2016 issue of Charlotte Magazine
Did you like what you read here? Subscribe to Charlotte Magazine »
---