Are You a Bridezilla?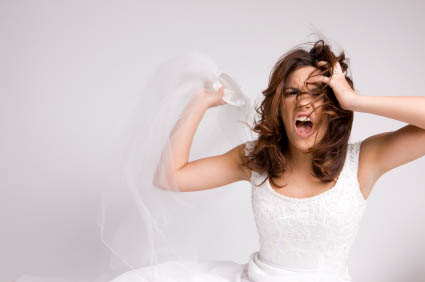 I know most of you reading this are probably saying "There is no way I am a bridezilla!" We all like to think we are cool under pressure and have it all under control, while being the picture perfect and politely poised bride. But let's face it… wedding planning can bring out the fierce side of a personality! Check out these five ways to avoid becoming a bridezilla, from MyGlassSlipper.com.
1. Choose your color scheme early – this will reduce the stress you put on bridesmaids, florists, and your wedding planner. Be sure NOT to change the colors once the ball is set in motion, otherwise you might make a lot of people angry.
2. Be careful when choosing your wedding party – choose men and women who are capable of handling a long to-do list and being there for you on your big day. Nothing says stress more than a bride having to do her bridesmaids' makeup.
3. Book your venue ASAP – whether your big day is three months away or two years, decide now what you and your fiance want in a venue and go find it. This will ease some stress when it comes to wedding day layout, not to mention invitations (after all, you can't send out invitations until you can tell your guests where the party's at).
4. Make reception decisions now – what kind of reception do you want? There are so many decisions to make (from food and music to lighting and dance floors) that you need to get planning early.
5. Flowers – myglassslipper.com suggests you order flowers at least six months ahead of time. Any closer to your deadline and you run the risk of florists being too booked to take on your order… and this could lead to a temper tantrum from the stressed out bride.
Afraid you might be turning into a bridezilla? Take this quiz at TheKnot.com to find out.