Around Towns: A Trip to Albemarle
Near the Uwharries, Albemarle's Main Street thrives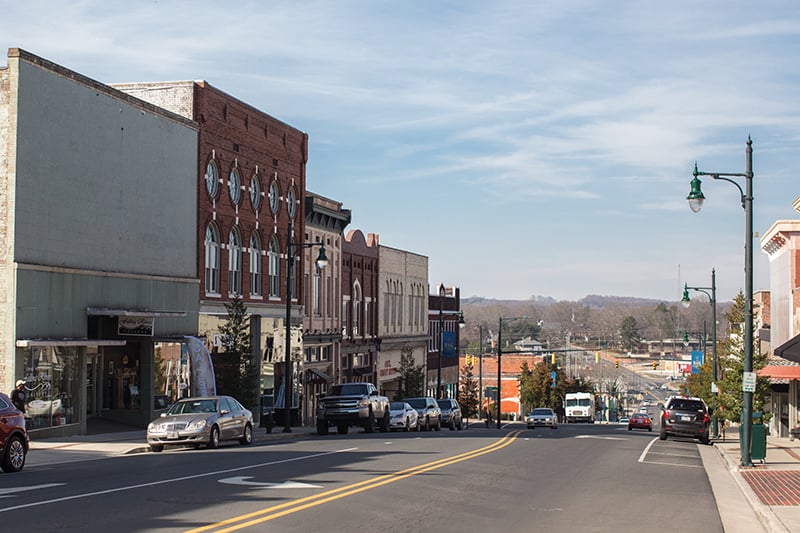 STANLY COUNTY SNEAKS UP on you. One minute, you're grinding brakes through the strip-mall-sign clutter of Albemarle Road on a spring Saturday, and the next, you're waving to a man on a green tractor waiting to turn onto Highway 24-27 just past a place called Stuffy's Taxidermy. It's easy to forget you're 25 miles east of uptown, as you pass rusted silos in towns with names like Red Cross and Frog Pond and Endy. Mailboxes every quarter-mile or so stand in front of gravel drives leading back through rolling acres of fresh-cut grass or neat rows of soybean plants to trim white houses with red shutters.
Drive farther east, and the hills get steeper until you turn off the highway. Behind the trees and old flour mills, quarter-empty storefronts and buildings with faded ads on redbrick along a small-town Main Street come into view.
Downtown Albemarle is busy for a Saturday morning. Runners recover from a 5K outside GloryBeans CoffeeHouse, while up the hill, at the old courthouse square, crews assemble a bandstand for tonight's beach music festival. Nearby, a purple sign reads, "Welcome to Albemarle, Home of Kellie Pickler," in honor of the country singer who competed on American Idol in 2006.
"There's a lot going on today," Chris Bramlett says from behind the counter at Starnes Jewelers, one of those narrow Main Street stores with a polished art deco front. Inside, two counters keep going back for what feels like a football field.
F.E. Starnes opened the store on Main Street back in 1907, says Bramlett, an Albemarle city councilman and 36-year resident. Back then, it shared space with a furniture store and undertakers, and the Opera House upstairs provided the best entertainment in town.
Bramlett's wife, Patricia, grew up around the store as one of the third generation of Starneses. Patricia and Chris rattle off historical facts about the Opera House and the churches and the old Alameda Theater as we walk through town. They are proud of the town's history, but not stuck in the past. Albemarle's history, as reflected in these downtown streetscapes and buildings, is an asset for a town that's sometimes faced an uncertain future.
That future, they believe, lies in bringing new energy to these old buildings. Buildings like the old Pontiac dealership, which is now the Five Points Public House, where day-hikers from the nearby Uwharrie Mountains drink craft beer on the patio, and implausibly polite teenagers dressed up for prom night wait nervously for tables on a Saturday night. Across the street is Lillian Mills, an old textile factory, which sat abandoned for years, now the headquarters of health care company Monarch downstairs, with loft apartments above. The same block awaits another transformation. When Pfeiffer University opens a new doctoral program in occupational health and a physicians assistants school downtown in 2020, the city will revive the Albemarle Hotel, a project that has languished for decades.
The prospect of 200 or so graduate students living and working downtown was once hard for some town leaders to imagine. Now, it has them wondering what else is possible.
"Society had to discover us before we discovered ourselves," Bramlett says.
Albemarle has always been an easy place to overlook. Kayakers and beachgoers pass by headed for Lake Tillery or the beaches beyond without thinking much about the town. For Charlotteans, it's a little too far for commuting and close enough that we take it for granted.
Tucked into dense forests at the base of the Uwharries, the town grew around a store on the old Salisbury-to-Fayetteville wagon road. When the state built its first railroads in the 1850s, the mountains were too steep a climb, so they built the North Carolina Railroad in a crescent from Raleigh to Charlotte, cementing an urban growth pattern repeated by the interstate highway system a century later.
Albemarle wouldn't get its own train stop until the 1890s. Soon after, the textile industry bloomed with mills such as Lillian, Efird, Albemarle Spinning, and Wiscasset. Alcoa's aluminum plant on the Yadkin River opened a few years later. For 90 years or so, textiles and aluminum pumped enough money into the economy to support a thriving downtown with movie theaters, clothing stores, and car dealerships. Later, to the east along Highway 24-27, shopping centers and a Wal-Mart and suburban subdivisions popped up as the city grew to more than 16,000.
In the 1990s, things started slowing down. Most of the larger textile mills closed, and the Alcoa plant shut down for good in 2007. Like many North Carolina counties, Stanly shed about 4,000 manufacturing jobs between 2000 and 2010. While about 500 additional manufacturing jobs have come back since, and Bramlett is confident more will, the manufacturing sector that once kept all those Main Street businesses flush is half the size it was in 2000. At the same time, the number of people working in agriculture in the county has bucked state and national trends, rising from 100 to nearly 300 jobs.
Even with the mills gone, Stanly County is still proudly making things—things such as fabricated steel at Chicago Tube and Iron and car interiors at IAC and parts for fiber-optic cables at Preformed Line Products. Michelin makes massive aircraft tires, which once supplied NASA's space shuttle program, a few miles away in Norwood.
They're making things downtown, too.
Next to Starnes Jewelers, the old Belk department store is now the Falling Rivers Gallery, where 35 sculptors, painters, and photographers from around the county display their art.
Inside, Nancy and Ed Lipe are busy showing customers Nancy's stoneware pottery and jewelry, and Ed's photos of farm equipment, landscapes, and other local scenes. The Lipes are among a few dozen artists who keep the gallery running. Ever the engineer, Ed keeps steering the conversation to the structural details of the model steampunk airship hanging in the lobby. It's become the unofficial centerpiece of the gallery.
"We wanted to do something that would attract attention and get people talking," Ed says.
Ed Lipe grew up on a nearby farm before leaving to work for Boeing in Seattle for 30 years. About 10 years ago, he and Nancy came back.
"I never thought when I was growing up here that I would be selling art in the old Belk building one day," Ed says.
There are lots of folks like him in Albemarle who grew up here, left, and—whether for family, property, or just the small town vibe—returned in retirement. But Bramlett hopes Albemarle can become a place young people don't want to leave in the first place.
Farther up the hill and around the corner, some of the Falling Rivers artists' work lines the walls at Off the Square, where the waitstaff is winding down from a busy lunch crowd.
Since opening in 2010, Off the Square has abandoned the small-town mold of barbecue joints and meat-and-threes, with dishes like their best-selling mustard-crusted salmon or pan-seared duck. The restaurant has quickly become a favorite, drawing locals and out-of-towners alike.
It's easy to feel the Charlotte influence here, as a bartender pours a Triple C IPA and discusses the merits of Plaza Midwood bars with a welder, who has just moved to the area from Connecticut.
Albemarle has an ambivalent relationship with Charlotte. It's just far enough away to keep from being consumed by commuters, such as Concord and other cities close to what is now a 2.5 million-person metro area, and just close enough to visit the city for shows or shopping.
"Sometimes I wish I could put up a wall," Bramlett says, mentioning the growth of commuter subdivisions in the western part of Stanly County, such as Locust. "But we know that growth is good; we just want to do it without so many stoplights. You can do that."
Some people come specifically for the lack of stoplights.
When Eureka Vacuum Cleaners told Peter Asciutto to move to North Carolina from Florida and take over the Charlotte sales region in 1998, he had no interest in another big city. A home base of Albemarle let him cover his territory and come home to peace and quiet at night.
"They wanted me to move to St. Louis in 2004," Asciutto says. "I told them forget it."
Instead, he opened a shop on First Street combining his expertise—vacuum cleaner repair—with his passion—running. Some old-timers slowly shook their heads when Vac & Dash first opened, selling vacuum cleaners and running shoes. The combination seemed odd, and there weren't a whole lot of runners in Albemarle back then. But 14 years later, the shop is busy, with phones ringing and a back room filled with bikes under repair—a third line of business Asciutto has since added.
It's unconventional, but unconventional has gotten Asciutto's little shop a lot of attention, and the races he hosts bring runners from throughout the country to Albemarle. There's the Waffle House 10K, whose route travels directly between the Waffle House on Highway 52 and the Waffle House on Highway 740. The Moonlight Half-Marathon starts and ends at the Badin Road Drive-In, allowing supporters to catch a movie while waiting.
And then there's the April Fool's 5K, which travels through Asciutto's house.
"Through your yard, you mean?" I ask him as he tells me this.
"No," Asciutto clarifies, "through my basement, up the stairs, and then through the Slip 'N Slide."
An employee confirms this. "Yep, through his house," she says with a slight eye roll.
One morning, Asciutto and some friends ran from downtown Albemarle to the top of Morrow Mountain—a full 19.7 miles. The Stanly News and Press ran an article about the group. Later that week, his wife was in a waiting room when she overheard, "Did you see where those idiots ran up Morrow Mountain?" And the annual Fellowship of the Idiot 19.7-mile run was born. Last year, Asciutto says, 202 people, including only seven locals, took part.
Morrow Mountain, the tallest hill in the Uwharrie range, might look a lot different today if not for timing and terrain. James McKnight Morrow bought the land in the late 1920s, envisioning a real estate development called Mountain View Park. The Great Depression and difficulty working on the rough terrain of black slate ended that dream, so Morrow donated 1,000 acres to North Carolina for a state park. In the mid-1930s, hundreds of Civilian Conservation Corps workers built trails and roads and cleared camping grounds. Today, more than 400,000 people visit the park every year.
You could run here, I guess. Or you could hike a few of the 21.5 miles of trails, or you could take the easy way and drive straight to the 936-foot summit, where groups of bikers cool off in the shade, families hold birthday parties on picnic tables, and a teenage couple eats Subway sandwiches sitting on the stone wall overlook.
Out along the gravel path that rings the mountain's peak, through the hazy heat, you can see the rooftops of a farmhouse or a vacation home cut into the dense green of the woods, and boats making ripples into the silver water of Lake Tillery. You'll understand why Morrow wanted to sell second homes up here, but you'll be even happier that he didn't get the chance.
Back down the mountain as dusk settles in, a line of cars forms at the drive-in theater. Early arrivals set up lawn chairs in the beds of pickup trucks, while kids chase each other around the playground. Charlotte is a world away.
---
EAT
Off the Square
Try the mustard-crusted salmon with the potato nest. The bar serves a rotating selection of local craft brews and wine. 114 S. 2nd St., 704-986-0621
Five Points Public House
This is a rib eye and potato kind of place. Catch a game on one of the many big screens, or just grab drinks on the patio. 304 E. Main St., 704-550-9647
Dennis Vineyards Winery
Muscadine and Old World-inspired wines available for tasting seven days a week. Tours of the vineyards take place on Saturdays. 24043 Endy Rd., 704-982-6090
DO
Morrow Mountain State Park
21.5 miles of hiking trails with a panoramic view at the top and camping, hiking, swimming, and fishing. 49104 Morrow Mountain Rd., 704-982-4402
Badin Road Drive-In
The two-screen drive-in theater with a full kitchen concession stand opened in 1948. Double features start at dusk from April through September. 2411 Badin Rd., 704-983-2900
SHOP
Falling Rivers Art Gallery
A co-op gallery of 35 local artists with pottery and crafts, paintings and photography. 119 W. Main St., 704-983-4278
Albemarle Sweet Shop
In business for more than 100 years, this bakery is known for clown cookies and friendly banter. 128 King Ave., 704-982-1235
Vac & Dash
The vacuum cleaner repair part of the shop takes a backseat to its running shoe sales and bike repairs. Take part in one of several races the shop hosts throughout the year. 154 S. 1st St., 704-983-3274