Around Towns: A Trip to West Jefferson
Town draws in visitors with mountain scenery, accent art, and cheese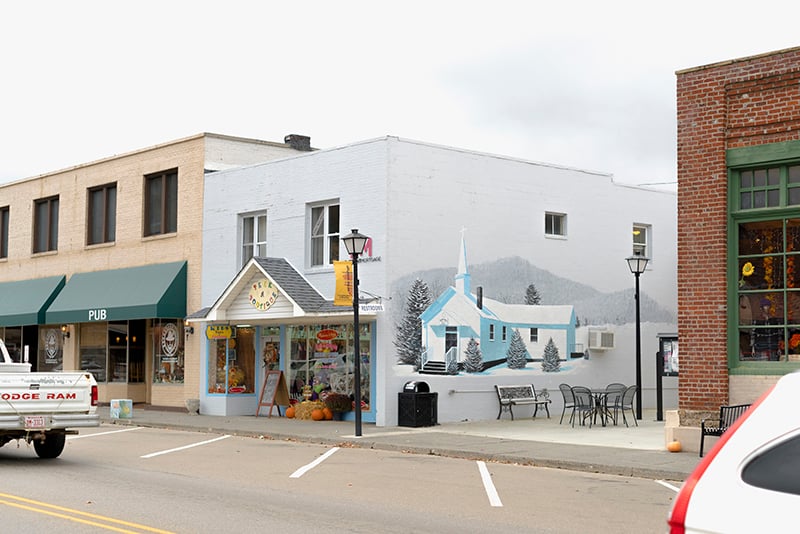 SNOW FALLS over the mountains, over the steeple of an old church. Rich Hill Baptist Church is surrounded by sturdy evergreens standing straight along its edges. They look cold. It's a charming scene painted onto a brick wall in downtown West Jefferson. An air conditioning unit pokes out from the mural.
This mural is one of more than a dozen in the mountain town, about two hours north of Charlotte. The art depicts country-Carolina scenes: a banjo-fiddling duo along the nearby New River, a vibrant fall tree scene, and one that harks back to the days when the Norfolk and Western Railway reigned supreme. Art is a point of pride here, in a traditional town with roots in hunting, trapping, and farming—at least until the railroad came along.
Public art pairs well with another Ashe County art form: cheese-making.
Stephen Willingham grew up in Georgia but has lived in Ashe County for more than 40 years. The self-taught artist is one of many who has worked to transform downtown West Jefferson. In the late '90s, the Ashe County Arts Council established the arts district—to rub a little rouge on the somewhat sallow downtown façade.
It took Willingham's artistic eye to see that a splash of paint and a little creativity could make over the industrial milk-storage tanks of Ashe County Cheese into three cheery cows. He recruited students from Ashe County High to complete the fabrication and welding; Willingham painted the spots.
Today, the photogenic cows poke their metal necks over a pasture fence, greeting guests in search of the Carolinas' oldest cheese-manufacturing plant. The premise is even pastoral—rolling tree-lined hills in the distance, mountains rising high. A huge American flag flies overhead.
In operation since 1930, Ashe County Cheese produces more than 20 varieties of cheese. In the gift shop across the street, a giant ceramic mouse in a plaid shirt and overalls offers up samples of cheese curds. Preserves and jellies and jams, locally made wines, homemade maple-nut fudge (among many other flavors), and country butter line the tables and coolers.
Next door, town history is commemorated with an outdoor art wall. Five serious men, some in linen shirts and coveralls, all with farm hats, work to cut the grain behind the Southern States building in a sepia-toned scene. It's one of more than 10 photographs, their barn-wood frames covered in moss, that capture the essence of a time long gone—and gives the cows something to look at.
West Jefferson's population is about 1,300. When the fall foliage peaks, though, the streets are full with visitors searching for nothing in particular in area boutiques and stopping in for a High Country Burger at Boondocks Brewing or a warm latte at Bohemia. A small, carved black bear greets you at the entrance of the cozy coffee shop on North Jefferson Avenue, and local paintings and wildlife photography line the walls inside. Stay for a cup or arm yourself with something warm to go; there's more to see.
One wall of St. Mary's Church, just south of town, depicts the Madonna with child.
These are the notable frescoes of St. Mary's by North Carolina native Benjamin Long. Following extensive studies in Florence, Italy, the Asheville-born artist journeyed back to his home state, eager to share his new craft with North Carolina communities. As the story goes, the dwindling membership—down to just 13 at one point—of St. Mary's Episcopal Church gave the pastor reason enough to allow Long to contribute his art to the town. Today, the frescoes attract thousands of visitors each year and are a favorite stop for locals as well.
Long produced two more frescoes at St. Mary's, "John the Baptist," and "The Mystery of Faith," a crucifixion and resurrection scene. Push a button on the wall and learn the meaning behind each work.
When it's time to head back to Charlotte, you'll have another stop to add. Those beautiful frescoes that line the lobby of the Bank of America Center uptown? Those are Long's, too. And he's the artist behind artwork at St. Peter's Catholic Church uptown—the original fresco cracked and fell years ago, but his art is still featured, framed around the campus.
Driving out of town, if you look in the rear-view mirror, the storefronts of West Jefferson line the rolling street like a painting, as fog rises above the mountains in the distance.
---
EAT
Located in the one-time Old Hotel, built to serve passengers aboard the Virginia Creeper train that ran through the area between 1915 and 1977, The Hotel Tavern serves up no-frills fare like burgers, pizza, and sandwiches. 5 W. Main St., 336-846-2121.
Authentic Cuban food provides an unexpected treat at Havana Café. Opt for the tostones burger with crispy fried plantains in place of a bun. Other go-tos are the empanadas, a Cuban sandwich, and a decadent homemade tres leches cake. 109 BackStreet, 336-846-2800
Made-from-scratch breads, pies, cakes, and donuts delight at The Rosebud Bakery & Diner, which also serves breakfast, wraps, Reubens, pot pies, and more all day. 102 N. Jefferson Ave., 336-846-3333.
SHOP
The bee is top of mind at The Honey Hole. Specialty honey, skin care, and other bee-related products line the shelves at this shop adjacent to Ashe County Cheese. 6 N. Third Avenue.
Vibrant colors and patterns mark Ashe County's barns—stop in and visit the Quilt Square Girls to see how it's done. 5 E. 2nd St.
DO
Create a barn quilt square at the Florence Thomas Art School. Renee Brooks, a one-time graphics artist and present-day barn quilt master, leads the class. No time for a workshop? Tour the open gallery space, which often features the work of local and regional artists. 10 S. Jefferson Ave., 336-846-3827.