Around Towns: Belmont
How a tiny city along the railroad tracks became the coolest, newest old mill town around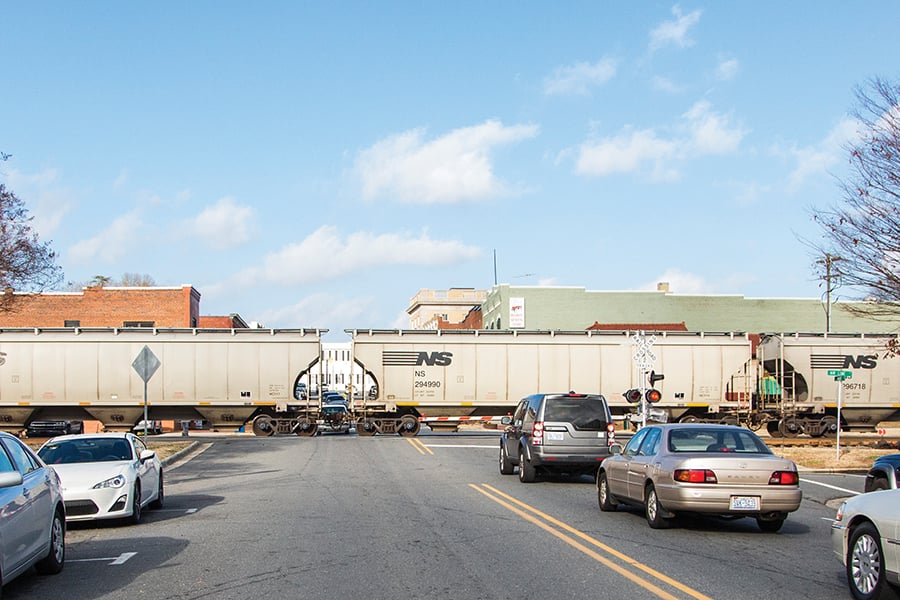 One photograph changed Allen Millican's life. In it, the 1951 Belmont Christmas parade marches down Main Street. It's one of those pictures with endless details for a history buff to appreciate: the letter girls leading the parade, wearing shirts spelling B-E-L-M-O-N-T, if not the cheeriest expressions; late 1940s model Fords and Chevys lining the street; old signs promoting Belk and Stowe Mercantile; the candid expressions of people frozen in ordinary moments. "It reached out and grabbed me," Millican says now.
Millican, who grew up in Wilmington but has lived in Belmont most of his adult life, couldn't bear to see the photo stuffed back into a drawer and forgotten. So he restored it, fixing the edges and the blemishes. That one photo turned into a hobby, and that hobby turned into the opening of the Millican Pictorial History Museum, dedicated to photos of Belmont and the surrounding area. The museum is in Belmont's oldest home, built in 1868, and the place barely contains the nearly 16,000 photographs inside. Millican joked to a friend a few years ago that his wall space was so limited that he'd display photos on the ceiling one day. Then, the joke became reality, and up to the ceiling photos went.
"I spend hours on each picture," he says. He acquires them from personal collections, local organizations, and The Associated Press. The easier jobs take about five hours; the more difficult ones take 20 or more. He repairs scratches, fixes tears, and increases contrast. And in the process, he's saving snapshots of life in a rural textile town in the early-to-mid-20th century. Millican's initial interest was in restoration, but his attention turned to the subjects of those photos. He's even gotten to meet some of them.
"I've had people come in here and start screaming, jumping up and down," he says. "Sometimes people start crying. People find their family in these photos." The work has made him an enthusiastic historian of Belmont. "When people want to know about history, I go bananas," he says.
For many old North Carolina textile towns, their best days are behind them, preserved through black and white pictures like the ones on Millican's walls. Belmont, though, is more than just the old photos. It's an exception. It boomed during its mill years a century ago, and now, it's experiencing a boom of another kind.
***
BEFORE BELMONT was Belmont, Belmont was Garibaldi, named for John Garibaldi, who oversaw the construction of a water tank near the new railroad that came through the area in the early 1870s. About 30 years before that, Stowesville Mill was established on the South Fork River. It was the first cotton mill in what would become a big textiles town in the late 19th and early 20th centuries.
Cotton. Mills. Railroad. So far, the narrative is familiar in North Carolina history. But this story has an element that most Carolina towns do not: monks. In 1876, Benedictine monks from Pennsylvania arrived in Garibaldi to take possession of land they would use to establish their new abbey. This did not go over well in very Protestant Garibaldi. Nonetheless, the abbey was built—as well as an adjacent Benedictine college—and both still exist, known today as Belmont Abbey and Belmont Abbey College.
This is when history becomes less certain. What we do know: Garibaldi became Belmont in 1886. What we don't know: who inspired the name. It's a bit of a controversy. Ask some, and they'll tell you that Belmont was named after August Belmont, a New York banker and one of the wealthiest Americans at the time. Ask others, and they'll tell you that the abbey bishop looked from his window and proclaimed Crowders Mountain to be a "beautiful mountain." (Belmont, in Latin, means beautiful mountain.) Whatever the inspiration, the following decades were good ones for Belmont. By the 1950s, 32 textile plants stayed busy, employing 60 percent of the town's working population.
In the late 20th century, of course, the textile industry moved overseas. Belmont is no longer a textile town—only two mills remain, and due to automation, one person can do the work that once employed hundreds. Yet Belmont hasn't succumbed to the fate of many historic towns that have become museums to their former selves or traded regional originality for national chains.
***
"PEOPLE ARE VERY Belmont-proud," says Tillie Bergmeier, who works at Provisions by Sandy Creek, a local market. "We have things from North Carolina, South Carolina, things that most people consider to be very local. But there's a demand for what's actually from here, so anything we can get locally, we do."
A large point of Belmont pride is its downtown park. Stowe Park offers eight-and-a-half tree-filled acres with a little something for everyone: playground, walking trail, athletic fields, and a gazebo stage that hosts weddings, concerts, and oftentimes, little kids running in circles. The Spirit of the Fighting Yank, a statue built in 1946 to honor Belmont residents who served in World War II, greets guests at the entrance. Since its creation in 1951, Stowe Park has hosted most of Belmont's beloved traditions. Over the summer months, the park draws upwards of 10,000 people to Friday Night Live, a family-friendly concert series. In December, it transforms into a Christmas village for a night with carolers, horse-and-wagon rides, and Santa. For Halloween, families come for carnival games and a costume contest. And for the Fourth of July?
"Our Fourth of July is second to none. The fireworks! Oh, the fireworks!" says resident Grace Hohman, who's known around town as Gigi, the owner of GiGi's Boutique.
Belmont has balanced this love of tradition with an ability to change. As the mills closed, the city sought new ways to attract fresh faces. In the early 1990s, a million-dollar streetscape plan updated Main Street: The city reduced four lanes to two and used the extra space to widen sidewalks and add trees, encouraging visitors to linger. Voters allowed another big change in 2000: Belmont, dry at the time, began alcohol sales. New restaurants and bars soon graced those widened sidewalks.
"There isn't a bad restaurant in town," says Lawson Brackett, owner of the LB's Southern Specialities store in the Belmont General Store. "We often have people driving down from Charlotte on their lunch breaks to eat here."
One popular restaurant is The String Bean. On a November Saturday, tables are nearly full, and diners begin to occupy the bar. The speakers play an upbeat soundtrack of classic rock—Tom Petty, The Animals, The Stones—and tables host couples, families with small children, and a group of girlfriends who are taking selfies over their brunch plates. It may be a low-key place, but The String Bean isn't just another small-town café. For one thing, it has an Award of Excellence from Wine Spectator, placing it in a small Charlotte peer group with the likes of McNinch House and BLT Steak.
Another popular spot is Cherubs Café. If you want comfort food, you come here. Grilled cheese. Asparagus soup. And the chicken salad is a Belmont favorite. But many people come to Cherubs for more than the food. The café is nonprofit, employing a staff of individuals with developmental disabilities, providing them with vocational training and job opportunities.
"Where else can you go to a restaurant where you've got a young, autistic person serving you alongside adults who are committed to seeing those young people having a career of their own? If you have a day you need a blessing, you go over there," Hohman says.
Whether it's the park festivities, the renewed Main Street, the food, or the booze, the changes Belmont has made have worked. Between the 2000 and 2010 censuses, the population of this historic town actually grew younger, a rarity for an old Carolina textile town. There are nearly twice as many people living in Belmont now as there were during its boom mill years.
***
IT'S A BRIGHT November afternoon, and Charles Whitley relaxes in a camp chair along the railroad track, just off Main Street and bordering Stowe Park. He has a cooler of soda at his side and a phone in his hand. But he's not looking at his phone; he's enjoying the sun on his face. Whitley has two chairs on either side of him. On one side are two 15-year-old boys, and on the other are two empty chairs. Soon, though, a couple arrives, nods to Charley, and occupies the chairs. They're here, simply, to watch the trains pass.
"It's better than just sitting inside and watching TV, I think," says Whitley, a flight attendant with US Airways. "When you've been with people nonstop for four days, sitting out here in the peace and quiet does wonders."
One of the 15-year-old boys sitting near Whitley is Matthew Haskett. He's been a fan of trains since he was a little boy, but he's long since traded train toys for high-tech gadgets: A scanner in his cup holder alerts him to the next train's arrival, and a tripod with a camera stands poised to capture the next video for his YouTube channel. His love of trains has grown from a childhood fascination to a long-term goal. "I want to be a locomotive engineer," he says.
This seems like a curious hobby to have today, especially for a teenager. It's so earnest, so simple, and so blessedly un-ironic. These train enthusiasts return to this spot regularly with their chairs, their cameras, their quiet camaraderie, and settle in for an afternoon. Spend a few moments with them, and soon their hobby seems no longer curious, but inspired.
Behind their chairs, in Stowe Park, parents push kids on swings, groups of girlfriends take walks, and joggers huff through the chilly air. Several photographers lead families to spots by the fountain and the stage for family photo shoots. One photographer tries to corral two high-energy young boys into ordered adorableness with limited success. But then, work comes to a stop.
"Train!" a child screams from the far side of the park. Haskett lifts his scanner. And sure enough, the crossing bars lower across Main Street, and red lights flash. A train is on its way.
Several train watchers position tripods to capture pictures or video of the oncoming train. The train sounds its horn, then approaches the park. Onlookers wave to the engine. Kids ditch their swings to watch. The two high-energy boys freeze at the sight of the train speeding by, jaws open, eyes wide. Their photographer senses opportunity and captures the moment.
While the train speeds past, Belmont stands still. After the train is gone, the hum resumes: Kids return to swings, photographers review footage, and the train enthusiasts wander to the general store for sodas. With all the photos being taken around Belmont—of families in parks, of speeding trains, and of girlfriends at brunch at The String Bean—will these be the snapshots causing a little commotion a century from now? Perhaps these will be the pictures that will cause people to jump and up and down when they see them, the pictures that will make historians go bananas, the pictures hung proudly on a Belmont museum wall.
Or perhaps a ceiling.
Jen Tota McGivney is a freelance writer in Charlotte. Read her portfolio at jenmcgivney.com, or reach her at jennifer.mcgivney@gmail.com.
---