Around Towns: Davidson
A Main Street Town and a College Town Walk Into a Soda Shop…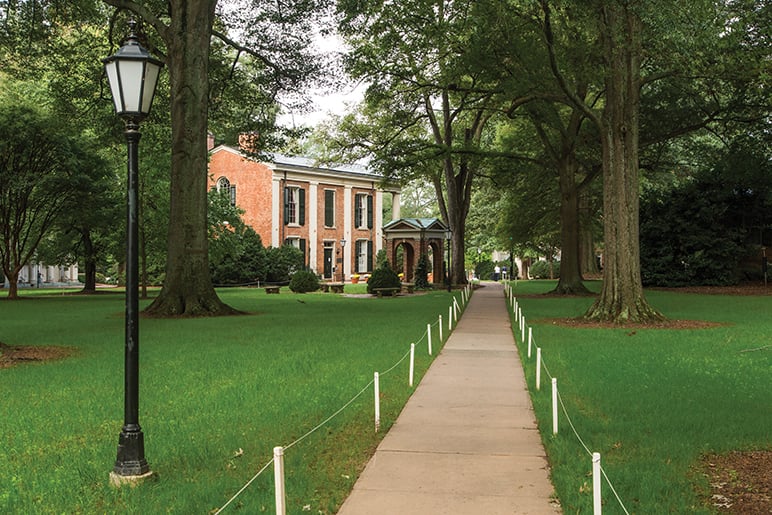 Seven o'clock on a late summer evening, and the Southern sun lingers for a while before it departs. Its pale yellow glow shines through the willow oak leaves and off the redbrick buildings on the Davidson College campus. The only sounds are chirping crickets and the high-pitched whir of cicadas. In the distance, a James Taylor cover band plays a rendition of "Country Road."
Toward Main Street, families with folding chairs sit side by side under tents as the band plays on the public library's steps. The crowd is so big tonight that some people sprawl out across the street on the lawn of Davidson College's Presbyterian Church.
Young children ride scooters along the brick sidewalk. A yellow lab and a boxer growl at each other as their owners pull at leashes and apologize. Packs of teenagers amble down Main Street with melting ice cream cones from the Soda Shop or the Ben and Jerry's down the block, popping in their iPhone earbuds to drown out the band.
South of the Town Green, a line of old shops stretches along Main Street. The Davidson College campus sprawls to the north. Down Concord Avenue, the street is lined with century-old homes, their yards full of even older willow oaks, azalea bushes, and yes, a white picket fence or two. It's like a snapshot of some Norman Rockwell painting, except for the tattooed jogger winding his way through the crowded sidewalk and the BMWs and Lexuses on the street.
On nights like this it's easy to forget the noisy interstate a mile away and the big-city sprawl it's brought to this corner of northern Mecklenburg County. The college students call it the "Davidson bubble." It's the feeling that whatever happens in the outside world, the tall oaks on the front lawn of campus will always provide shade and the Soda Shop on Main Street will always serve egg salad sandwiches and black and white milkshakes. And whether you're in town for four years or 40—whether you have anything to do with the college or not—you'll know what they mean.
It's not that Davidson shuts out the world—although it is pretty darn hard to get into the college. Students and professors here come from a few dozen countries, and it's hardly strange to overhear conversations in French or Russian or some language you can't quite place. And it's not that the town refuses to grow, either. Since 1990, its population has tripled, from a little more than 4,000 people to a little less than 12,000 today. It's just that, compared to the other towns around Lake Norman, Davidson seems preserved in amber.
Davidson wouldn't exist, at least not as it is, without the college, which opened in 1837. But today, many newcomers have no affiliation with the school. Still, they move here for a reason: In this growing region around Charlotte, there's no place like Davidson. And Davidson works hard to keep it that way.
***
IF DAVIDSON HAS a town crier, it's David Boraks. Catch up with him, if you can, while he's chasing a fire truck out Concord Road or darting from one event to another with a camera over his neck and a reporter's notepad in his back pocket. In 2006, Boraks, a former reporter and editor at The Charlotte Observer, started an online newsletter for his South Street neighborhood called davidsonnews.net. "It was totally an experiment, but the feedback was tremendous." Boraks kept expanding, and he later started a similar site for Cornelius, corneliusnews.net.
Today his two sites draw about 90,000 or so visitors a month. Most of those visitors, Boraks says, come from Charlotte during workdays—folks at desks in office towers planning their commute or just wishing they were home.
Those who work in Charlotte and live in Davidson experience different worlds on the opposite ends of their often slow commute up and down Interstate 77. Back in the 1990s, other towns on the shores of Lake Norman were sprawling outward in rows of shopping centers and subdivisions. Davidson knew it would have to grow—but it didn't want to grow like that. So town leaders came up with a plan. Downtown buildings would be taller, new neighborhoods would be walkable, and denser development would happen closer to I-77's Exit 30, a mile from town. For the most part, Davidson stuck to those plans.
Sure, some residents gripe about the new three- and four-story office buildings on Main Street, where turn-of-the-century houses used to be. Or the condos and shops near exit 30 (One alumni weekend, I overheard someone in a bookstore say of the shops: "It looks like Huntersville vomited on Davidson.") But there are no strip malls here. And no drive-through fast-food restaurants. Davidsonians like to brag about that. A couple of miles east of town, a wide greenway stretches through cornfields and grazing cows. It's some of the last agricultural land in Mecklenburg County. And it wouldn't be here without Davidson's strict development standards.
One morning this spring, a new sign appeared on the Town Green lawn. Next to the sign, men in orange vests peered through surveying equipment. The sign announced a new project—a five-story parking garage to "improve" the Green. Designer Herb N. Blyte would get the contract. It was the annual davidsonnews.net April Fool's Day prank. Most people got the joke. Those who didn't got mad.
"You just ruined my day," a driver shouted from his car.
Most weekday mornings, the Green is empty but Main Street is not. When Davidson College students are in town, Summit Coffee buzzes with youth and caffeine. Inside, tables are strewn with laptops and lattes. Next door is Main Street Books, one of the few surviving independent bookstores in the Charlotte area. The 30-plus book clubs in Davidson give it more than enough business, says Betty Reinke, who co-owns the store with founder Barbara Freund. Flyers in the window advertise public courses on Dostoevsky and environmental studies. You can buy a newspaper here on the honor system, too. Just slide your money through the old mail slot.
"The New York Times readers are the worst about forgetting that," Reinke says. "They'll just leave it on top of the stack. You know, they're supposed to be the smart ones."
Down the street, customers window-shop at the Village Store or eat breakfast on the sidewalk at Toast Cafe. Nearby, an Osage orange tree hides an old house and a wraparound porch, set back from the road. Elaine McArn has been running the Needlecraft Center out of this house for 43 years.
Colored yarns cover the shelves along the walls. A Davidson native, McArn never considered leaving Main Street, even as some businesses moved into shopping centers near the highway. Her customers come from all over. Downtown Davidson, she says, is a shopping destination.
"Change is tough," McArn says. "But I think Davidson has grown really well. We have what people want to emulate."
***
AN OLD BARBER'S POLE spins in a building squeezed between the Pilates studio and a new artisan bakery on Main Street.
Even on a Monday, Raeford's Barber Shop is crowded with college students and businessmen. They talk of school schedules and football and take bets on whether the Wildcats will win a game this year.
On the wall is a reminder of a strange incident in Davidson's history. A framed box holds a barber's brush and comb beside a black-and-white photo of a smiling man, scissors in hand. The man is Ralph Johnson, who at one point owned much of Davidson's west side. From the 1920s through the 1960s, Johnson, a black man, ran a well-known barbershop not far from where Raeford's is today. During segregation, the chairs in Johnson's barbershop were constantly full of white customers. That didn't sit well with some local blacks, who resented long trips to Huntersville for haircuts. In the 1960s, idealistic white college students started to question the practice, too. One day in 1968, two local black men walked in and asked Johnson for a haircut.
He refused. A few days later, people began to picket.
It was a confusing scene, the almost exclusively white and long-haired Davidson College students protesting a black-owned barber shop for refusing to cut black hair. Many in Davidson's black community soon joined. The picketing ended after a few weeks, but the effects lingered for a few years, until 1971, when Johnson had lost too much business to keep going and he closed the shop.
"When I started this shop, the white people said you are only going to cut white hair," Johnson said at the time, according to the book One Town, Many Voices: A History of Davidson, North Carolina. "Now the white people say we want you to cut black people's hair also. When do I get to make a decision?"
Johnson later opened a grocery store and lived off the rental income from several properties on the west side. He wrote a scathing autobiography blaming the college for the loss of his shop. In 2001, shortly before he died at 97, Johnson donated several of his properties to Davidson College to fund a scholarship for black students.
"This is not a gift to Davidson College," Johnson told the Observer. "I consider it restitution to me."
***
IN 1989, Hurricane Hugo descended on the Charlotte area and ripped through a tree grove near Davidson College, leaving it barren.
A year later, another storm of a different kind: The Charlotte-Mecklenburg County Library announced it would close the small downtown Davidson and Cornelius branches in favor of a more modern branch off the side of a highway in Huntersville.
Davidson residents did more than complain. They packed hearings. They wrote letters. And they raised money—almost twice as much as they needed—to build a new library.
Davidson College offered the land to the town for a $1-a-year lease. The land included the former tree grove. That grove would become the Town Green.
Losing a library, Mayor Russell Knox said at the time, would be "like losing a member of the family."
And looking around the Green on that late-summer night, with the James Taylor band playing and the people sitting in folding chairs and the kids on scooters and the teenagers with the earbuds and the yellow lab and the boxer, it's pretty clear that in Davidson, family's worth protecting.
Chuck McShane is a writer in Davidson and a frequent contributor to this magazine. Reach him at chuckmcshane@gmail.com. On Twitter: @chuckmcshane
---
PLAN YOUR DAY TRIP
//Eat//
* Il Bosco: About a block off Main Street, this cozy Italian restaurant serves a seasonal menu of Tuscan classics.
127 Depot St., 704-987-1388, ilboscoristorante.com.
* For lakefront dining, try North Harbor Club off Exit 30 in Davidson Landing. The menu includes steak, seafood, and salads, and the club is available for private events. 100-D North Harbor Pl., 704-896-5559. By boat, Marker T4 in Davidson Creek,
northharborclub.com.
* Chef Sara Hord's breads and French pastries fill the display cases at Millstone Bake House and Provisions. Hord began
selling them at the Davidson Farmers' Market a few years ago, then opened the restaurant. Breakfast, lunch, and dinner menus are also available. Closed Mondays and Tuesdays. 208 S. Main St., 704-895-9836, millstonemeadowsfarm.com.
//Shop//
* Opened a year ago in an old textile mill two blocks west of
Main Street, the Rumor Mill Market is filled with funky antiques and crafts—from Mason jar chandeliers to repurposed church pews. It now includes a wine shop and coffee bar. 217 Depot St., 704-765-1663, rumormillmarket.com.
* One of only a few surviving independent bookstores in the Charlotte area, Main Street Books offers a wide selection of new books. The store also offers audiobook rentals and coordinates the town's Read Davidson program. 126 S. Main St., 704-892-6841.
//Do//
* A big draw for decades, the Christmas in Davidson festival brings about 25,000 people to town each night that it runs. Events include horse-drawn carriage rides, hay rides, strolling carolers, and a Christmas tree village. Dec. 4-6, 6 p.m.-9 p.m.
* Davidson has become a magnet for farmers' markets. On Saturday mornings throughout the year (every other Saturday in winter), the Davidson Farmers' Market (704-400-0880) offers fresh fruits, vegetables, and other local items next to Town Hall. On Thursdays through Saturdays, vendors at the Eden Street Market (106 Eden St., 704-562-7052) sell local arts and crafts, as well as fresh seafood.
* Hikers and bikers should check out Fisher Farm Park off Shearer Road a few miles away from downtown Davidson. The 200-acre park includes miles of trails and pastures for picnics. 21215 Shearer Rd., Davidson.